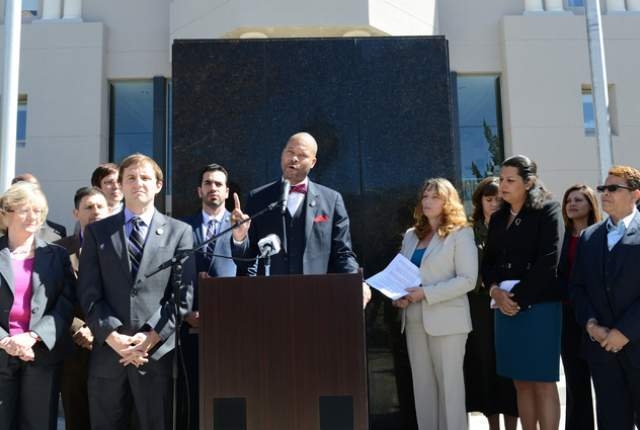 CARSON CITY — Democratic leaders in the Nevada Legislature announced their plans and priorities for the 2015 session Monday, claiming Republicans are pushing an agenda for special interests over the middle class.
Members of the Senate and Assembly Democratic caucuses held a midday news conference to unveil their "Nevada Blueprint," a six-page booklet that emphasizes their goals for education, the economy, seniors and the working class.
"We are indeed working to expand and protect the middle class in this state," Senate Minority Leader Aaron Ford, D-Las Vegas, told the small gathering.
The news conference also underscored the political realities of 2015. Republicans control both chambers for the first time in decades and have fast-tracked their efforts to act on issues long denied when Democrats were in charge.
Two examples are construction defect and prevailing wage reforms, both of which were introduced early and were signed by Republican Gov. Brian Sandoval. Republican-sponsored legislation also targets minimum wage, the Public Employee Retirement System and overtime laws.
Ford said legislative Republicans are "standing up for special interests."
"Just because the political power has changed doesn't mean Democratic priorities have," he said.
Assembly Minority Leader Marilyn Kirkpatrick, D-North Las Vegas, said although Nevada's economy is recovering, many people are struggling to catch up.
"We will be here at every turn and make sure their voice is heard," she said.
Highlights of the blueprint:
■ Tax breaks for education expenses; reducing student debt; apprenticeships for vocational training.
■ Raising Nevada's minimum wage; a sales tax holiday for back-to-school purchases; lower car registration fees; and earned sick leave.
■ Implementing same-day voter registration and Election Day voting centers; automating the Department of Motor Vehicle's voter registration system.
On the education front, Democratic priorities are similar to those outlined by Sandoval in his State of State address in January — all-day kindergarten; more funding for science, technology, engineering and math programs; easing overcrowding; and expanding English Language Learner programs.
With one-third of the 120-day session in the rear-view mirror, Democrats have criticized the fast pace of the session and what they call a lack of deliberation over complicated issues.
"Six weeks in, and we're not talking about real education priorities," Kirkpatrick said.
The blueprint lacked details on how the Democratic priorities should be funded, though it did provide a glimpse of a possible tax plan.
"Currently, most Nevadans pay more in property tax than do some of the largest corporations in our state, including Donald Trump," the document said. "That is just not fair. Our Nevada Blueprint will close the loopholes that allow big corporations to avoid paying property taxes like the rest of us."
It also touted replacing the Live Entertainment Tax, a complicated admissions fee, with a tax on luxury purchases and revising the state's business license fee to ensure fees on small businesses remain "consistent and low."
Sandoval's business license fee proposal would replace the current flat rate of $200 paid annually with a tiered schedule, ranging from $400 to $4 million, depending on gross receipts.
The governor is expected to present details of his proposal next week during a joint hearing of the Senate Revenue and Assembly Taxation committees.