Donald Trump rallies in Elko on first day of early voting
Updated October 20, 2018 - 7:20 pm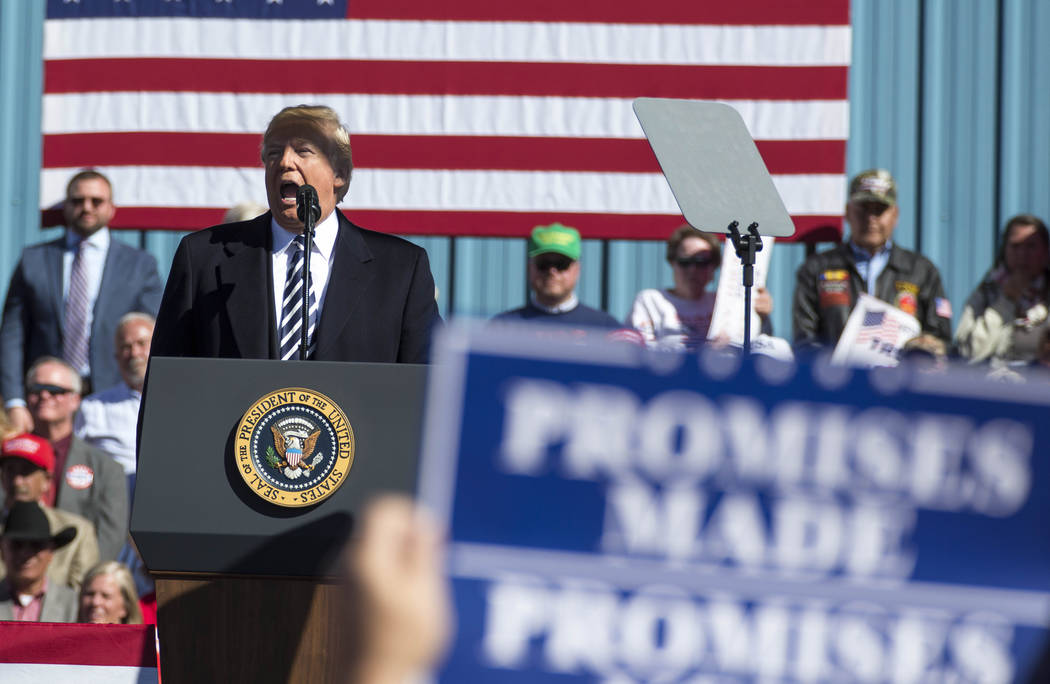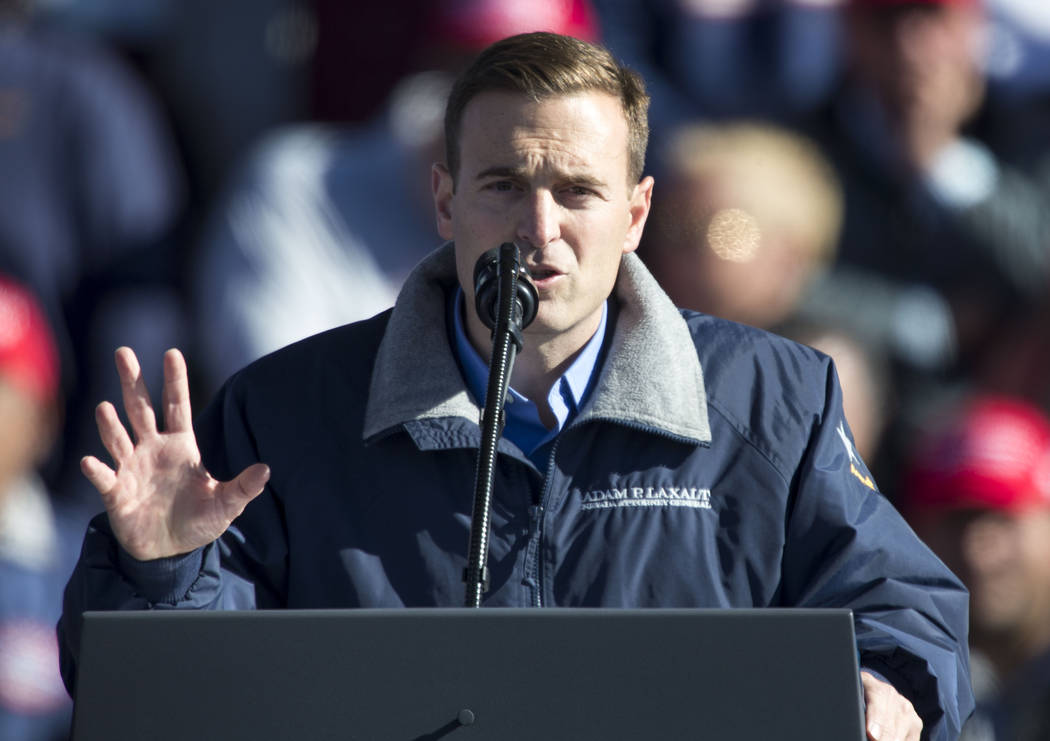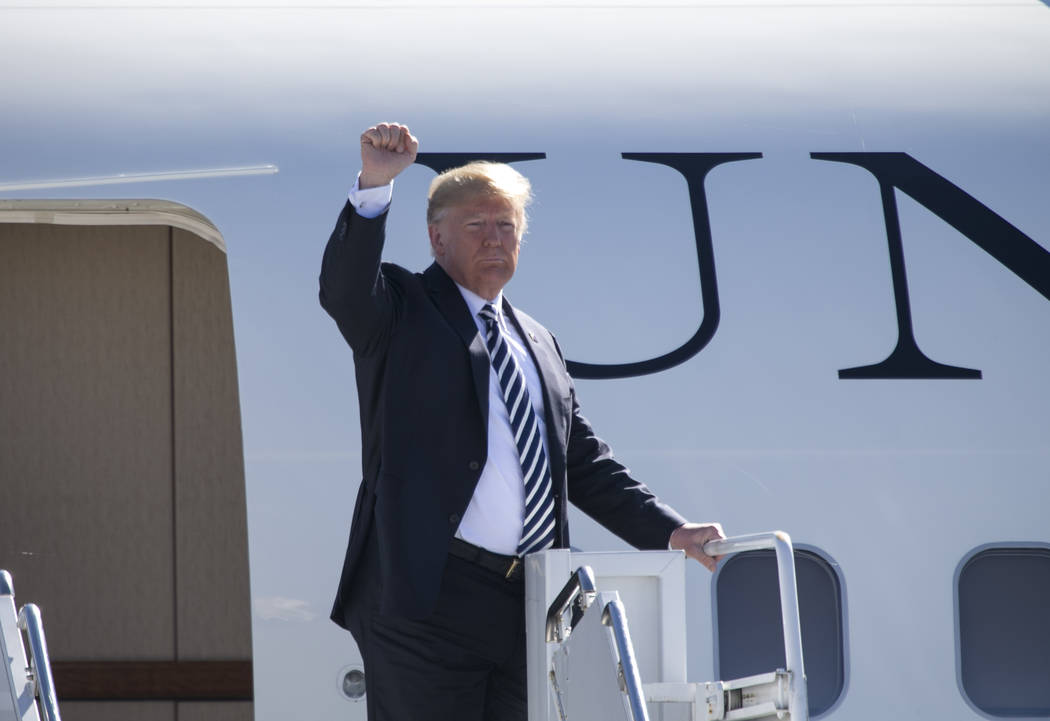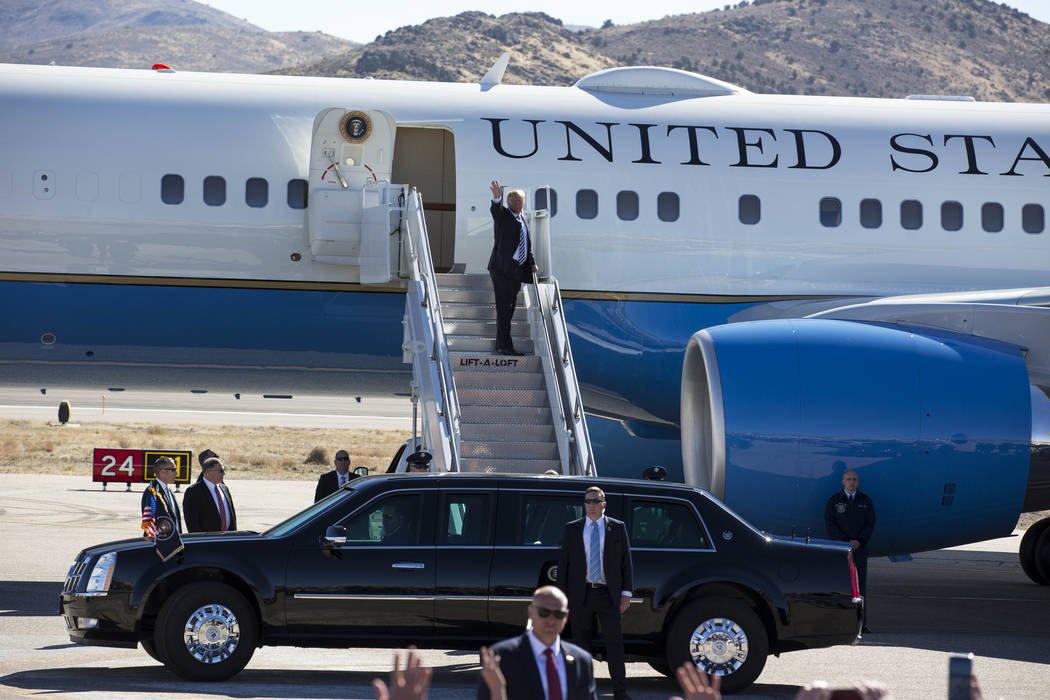 ELKO — Air Force One dropped down from a cloudless high-desert autumn sky just after 11 a.m. Saturday ahead of an outdoor rally where President Donald Trump hoped to impart the passion of his die-hard devotees to Sen. Dean Heller and other Republican candidates facing tight midterm elections in this critical swing state.
Trump's arrival was met by several thousand supporters who swelled this mile-high northeastern Nevada mining town for the president's rally at the regional airport. It was the third and last stop of the president's most recent three-day swing through Western states. He rallied crowds in Missoula, Montana, on Thursday and in Mesa, Arizona, on Friday on behalf of Republican Senate candidates.
"Under Republican leadership, America is winning, America is thriving," the president said. "The Democratic party has become an angry, ruthless, unhinged mob, determined to get power by any means necessary."
The biggest non-campaign news of the day, though, happened away from the stage and crowd in Elko, with Trump telling the traveling press pool after the rally that the U.S. would pull out of the intermediate-range nuclear missile treaty the U.S. and the former Soviet Union signed in 1987.
Before boarding Air Force One, he also told pool reporters that House Republicans were working on a tax cut for middle-income wage earners by early next month. Lawmakers, however, are now out of Washington and unlikely to reconvene before their scheduled return on Nov. 13.
Arriving on the first day of early voting in Nevada, the president urged his audience to take immediate advantage.
Crowd building for @realDonaldTrump 's rally in Elko, NV. He's expected to speak at 11 and give @DeanHeller a boost in race vs. @rosenfornevada . And @JoeBiden is in Las Vegas today, 1st day of #earlyvoting. https://t.co/KtB0CKW3IO. Go do your Sat. errands and keep checking back pic.twitter.com/glvEko6KmA

— Bill Dentzer (@dentzernews) October 20, 2018
"Do you promise you will leave this site, go out and case your vote right now?" he said, earning cheers.
The president went down a short list of Nevada's Republican candidates — Adam Laxalt for governor, U.S. Rep. Mark Amodei, and Heller, referring to the senator's Democratic opponent, Rep. Jacky Rosen, as "Wacky Jacky."
"Jacky votes against the people of Nevada every chance she gets," Trump said.
.@realDonaldTrump in Elko, NV rally: "The Democratic party has become an angry ruthless unhinged mob, determined to get power by any means necessary." #Midterms2018 pic.twitter.com/dz6fSgSY8B

— Bill Dentzer (@dentzernews) October 20, 2018
Democrats, he said, are "openly inviting millions of illegal aliens to break our laws, violate our borders, and overwhelm our nation."
The president invited Republican governor candidate Adam Laxalt and Heller to the microphone to make some remarks after praising each of them separately. Heller, referencing Elko's mining industry, welcomed Trump to Nevada's "Gold Country."
"Mr. President, you know a little bit about gold. In fact, I think that everything you touch turns to gold," Heller said.
The line drew a rapid-response needling from the Nevada state Democratic party, which released video of Heller's comments with the headline, "Heller Sucks Up to Trump."
Two days before the Elko visit, in Missoula, a liberal pocket of Montana, Trump drew cheers from attendees but widespread condemnation elsewhere for praising Republican Rep. Greg Gianforte's "body-slam" assault on a reporter for The Guardian newspaper in 2017. Stumping for GOP Senate candidate Matt Rosendale, the president also attacked Sen. Jon Tester, a Democrat running for re-election who has a slight lead in the polls.
His rally in Arizona Friday primarily was to support Republican Senate candidate Martha McSally, who lags her Democratic opponent, Rep. Kyrsten Sinema. McSally was an Air Force colonel who flew in combat, whom Trump described as "a great fighter" and "a warrior." He called Sinema a "far-left extremist" and stoked fears about undocumented immigrants and Democrats taking control of the Senate.
But the tightest Senate race, and one seen as critical to Republican and Democratic chances for controlling the chamber, is in Nevada, where Heller is in a virtual tie with Rosen. Of the three states, it's the only one Trump lost in 2016. He carried Montana by better than 20 percentage points and Arizona by four.
Trump lost Nevada overall by 2.5. points, but he carried conservative Elko County by a nearly 4-to-1 margin over Hillary Clinton.
It's the first visit to Elko by a sitting president since George Bush came in 2006. Trump did not visit Elko in 2016, though his son, Donald Jr., did. Overall, the Elko rally is the president's 13th visit to Nevada since 2015, when he announced his candidacy. He appeared in Las Vegas on behalf of Heller just five weeks ago.
The president has held more than two dozen rallies to boost GOP candidates ahead of the Nov. 6 election. His Elko visit coincided with a Las Vegas stop by former Vice President Joe Biden. Former President Barack Obama visits Las Vegas on Monday.
Though ostensibly here to stump for Nevada candidates, the president spent a large portion of his speech listing his accomplishments in his office, peppered with the customary asides and shout-outs.
"Is that sun hot or what? This wasn't part of the game," he said after nearly an hour on stage, later joking about the sunburn he would take back to the White House.
"Just remember, Elko, you did it to me," he said.
With a population of about 20,500, Elko is the biggest city for better than 200 miles in every direction and the largest city in northeastern Nevada. The largest segment of its workforce is employed in the mining industry, mostly gold mining, and its per capita and household income are above the national average. Its unemployment rate is about 3.3 percent as of Aug. 31, below Nevada's 4.5 percent and the U.S. rate of 3.7 percent.
The president was on stage for nearly 55 minutes before walking off, as is his custom, to the song "You Can't Always Get What You Want," by the Rolling Stones for his flight back to Washington, D.C.
But before he got on Air Force One, Trump told reporters that the administration will unveil something before Election Day. "We're looking at putting in a very major tax cut for middle-income people," he said.
Contact Bill Dentzer at bdentzer@reviewjournal.com or 775-461-0661. Follow @Dentzernews on Twitter.