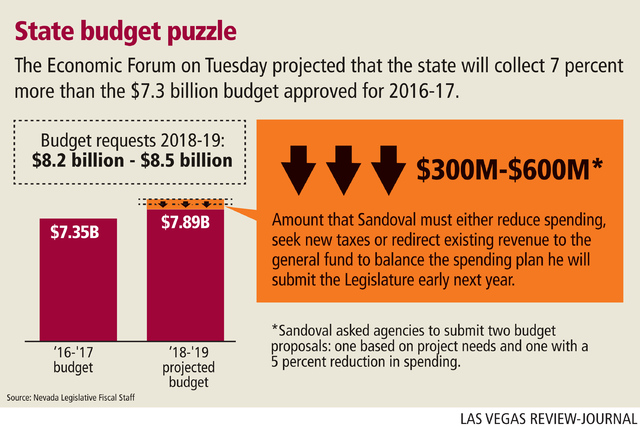 CARSON CITY – The size of the next state budget became clearer Tuesday when financial experts projected Nevada will collect $541 million more in tax revenue over the next two years than it did during the last budget cycle.
The Economic Forum projects the state will collect $7.9 billion in general fund tax revenue in fiscal 2017-18, a 7 percent increase over the current $7.3 billion budget approved in 2015. The projection will be used to pass a balanced budget, as required by state law.
While the projected revenue is greater, it is still $300 million to $600 million less than the total budget requests state departments submitted to Gov. Brian Sandoval in October.
That means Sandoval must either cut spending from the preliminary requests, seek new levies or redirect existing revenue to the general fund to balance his recommended spending plan, some details of which will be released in January in his yet-to-be-scheduled State of the State Address. The Legislature convenes Feb. 6.
Ken Wiles, chairman of the Economic Forum — a panel of five appointees that projects the state's major tax revenues based on analysis by agency and legislative fiscal staff — said the improving revenue picture reflects a dramatic rebound in the state economy since the recession.
'REASON TO BE HOPEFUL'
"We appear to be on a fairly positive and hopefully sustainable growth path," he said. "The economy seems to be more diversified. Not only across different market segments but even within the gaming industry that has become more diversified in terms of the types of revenues we receive.
"But obviously we're still subject to both national and international economic changes and there is a tremendous amount of uncertainty that we will face over the next couple of years, but there is some reason to be hopeful."
The Economic Forum's projection, which incorporates expected collections from gaming and sales taxes as well as the state's new commerce tax, is $541 million higher than the 2015-16 budget, but well below the $8.2 billion to $8.5 billion in budget requests submitted in October.
Even meeting the low end of that range would be difficult for some cash-strapped agencies. State Corrections Department chief James Dzurenda, for example, indicated he would have to close a prison the size of the Lovelock Correctional Center, which houses more than 1,600 inmates, to meet the lower figure.
That means Sandoval will have to closely scour state spending to try and find the money to fund education, prisons, social programs and a host of other public services for the coming two-year budget cycle.
Sandoval has already floated the idea of an increase in the Clark County room tax, primarily to pay for increased education and Medicaid spending.
Increased enrollment in K-12 schools and higher learning institutions and caseload growth in Medicaid alone are forecast to cost $446 million over the two-year budget cycle that will begin on July 1, 2017.
The governor toyed with the idea of proposing the additional hotel tax at a special session of the Legislature in October to consider the now-approved Las Vegas domed stadium financing plan, but ultimately opted not to include it as part of the agenda.
NO DEFICIT, SANDOVAL AIDE PLEDGES
But it could still become part of the 2017 budget discussion to close a potential funding gap.
While some observers have described the state as having a $400 million budget shortfall, Mike Willden, chief of staff to Sandoval, said in October the situation is not so dire. He noted that the state had a $400 million surplus at the end of fiscal year 2016 on June 30 and said the idea of seeking an additional bump in Clark County's room tax rate was an attempt to help meet growth demand on the horizon, not plug an immediate hole.
"The state will not begin with a deficit," Willden said at a budget briefing in October. "The governor will present a balanced budget."
The Economic Forum will have an opportunity to revise its forecast in early May 2017, when the budget is moving toward final approval.
Contact Sean Whaley at swhaley@reviewjournal.com or 775-461-3820. Follow @seanw801 on Twitter.