Election denier Marchant to challenge Rosen for US Senate seat
Updated May 3, 2023 - 9:57 am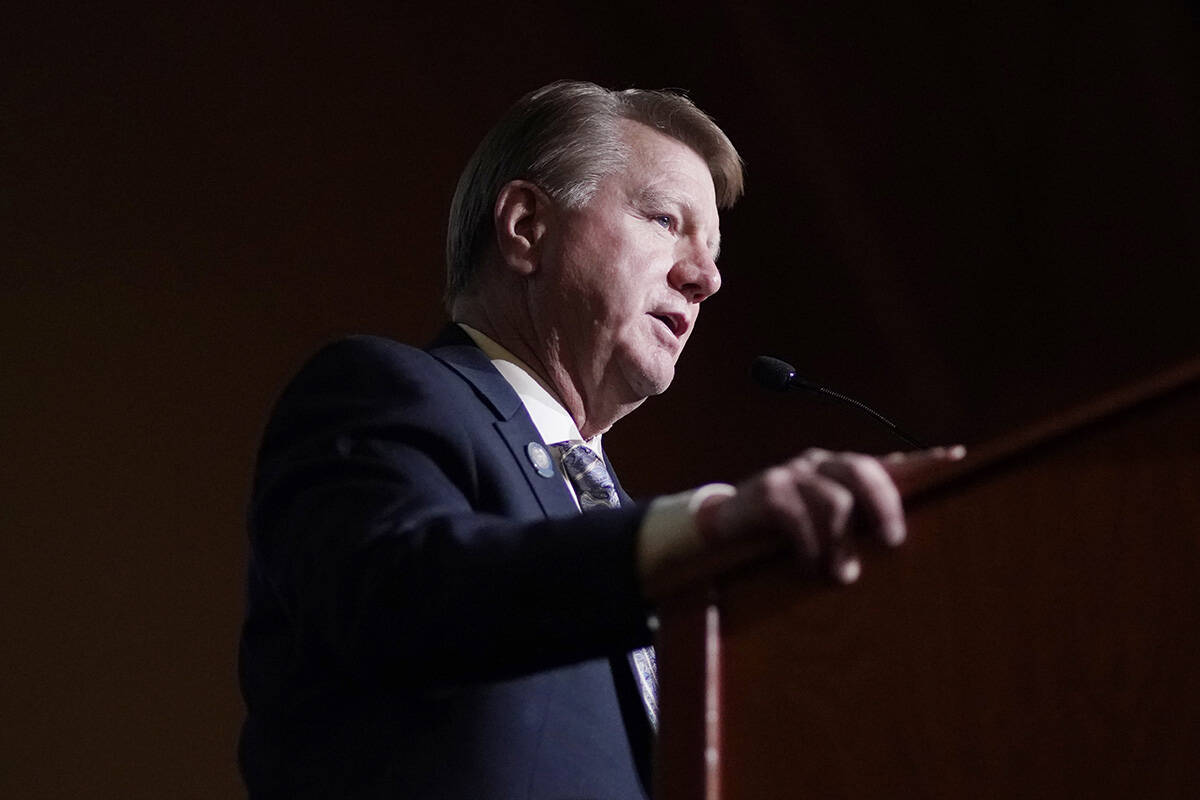 Republican election denier and failed secretary of state candidate Jim Marchant intends to run for U.S. Senate against Democratic Sen. Jacky Rosen, he announced Tuesday at a Make America Great Again Rally in Las Vegas.
Marchant told attendees he is running for Senate to preserve personal liberty, fight government censorship and hold the Biden administration accountable for violence at the border.
"I know the people of this state," Marchant said in his speech. "From the miners, the ranchers, to the restaurant servers and the tireless workers on the Strip; from the police officers, to the nurses and doctors."
"Jacky Rosen has not cared for nor represented their values, their interests, but I will," he said.
In 2022 Marchant unsuccessfully campaigned for secretary of state on the platform of election integrity, vowing to reform Nevada's election system by doing away with mail-in ballots, implementing voter ID and cleaning up voter rolls. He cast doubt on the results of the primary, even though he won. He lost the general election to Democrat Cisco Aguilar by more than 23,000 votes.
Marchant has been a prominent election denier since 2020 when he lost his bid for Nevada's Congressional District 4 against Democratic Rep. Steven Horsford, claiming that he was a victim of election fraud.
He joined other Nevada Republicans' efforts to repeal the 2020 election results, signing a fake Electoral College certificate claiming Donald Trump won the 2020 election, part of a scheme to prevent President Joe Biden's victory from being certified in Washington, D.C. on Jan. 6 of that year.
In 2021 Marchant organized the America First Secretary of State Coalition with a goal to elect "America First" secretaries of state to "achieve voter integrity and counter and reverse electoral fraud."
New campaign
Marchant, a businessman who started three technology companies and retired in the early 2000s, talked about his success in the internet provider industry and lobbying Congress and the FCC to not classify the internet as a utility.
Before moving to Nevada in 2005, Marchant lived in Florida and worked with then-Florida Gov. Jeb Bush when he served on the Florida Information Service Technology Development Task Force.
"That's where I got my feet wet in politics was in Florida," Marchant said.
As a member of the Nevada Assembly in 2017, Marchant voted conservatively and received an A+ ranking from the NRA, he said.
"When I get into office, I will not change," Marchant said. "I will not compromise my principles for anybody. My goal is to be there for you."
In his announcement speech, Marchant said he will stand for the Second Amendment, fight transgender issues and critical race theory, and expose the "Deep State," which is a term used by some Republicans to signal an alleged secret network of government officials conspiring with other entities to "sabotage the Trump agenda," according to Government Executive.
Marchant gained attention when he attended a QAnon rally in Las Vegas in October 2021, although he had said he did not know what it was and just wanted to reach as many voters as possible.
Democrat response
In response to Marchant's campaign announcement, Rosen said in a statement that Nevadans deserve a senator who will fight for them, not a "MAGA election denier."
"While far-right candidates like Jim Marchant spread baseless conspiracy theories that undermine our democracy, I've always focused on bringing both sides together to solve problems and stand up for hardworking Nevadans," she said in a statement.
Contact Jessica Hill at jehill@reviewjournal.com. Follow @jess_hillyeah on Twitter.