Embattled state senator created legal defense fund in August
Updated September 22, 2023 - 5:03 pm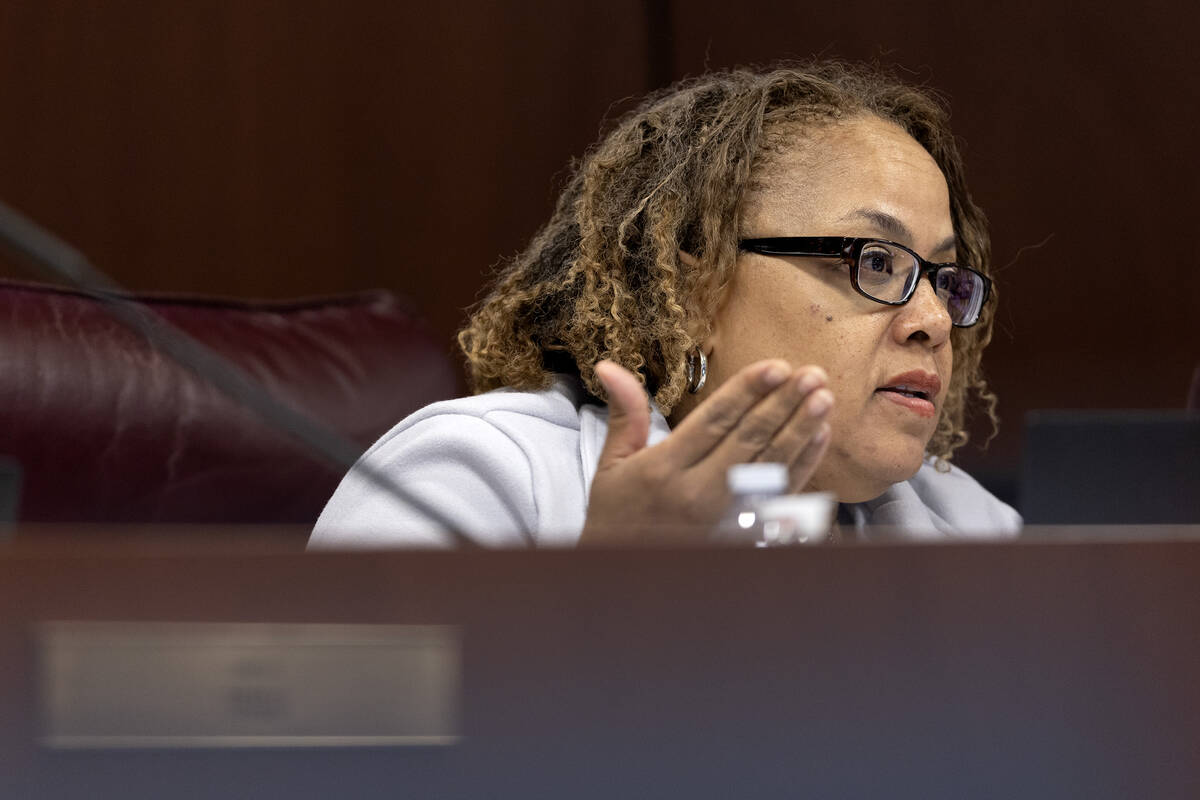 An embattled North Las Vegas state senator formed a legal defense fund just months after the Review-Journal revealed she was under investigation for allegedly directing funds to unqualified companies, records show.
Sen. Dina Neal filed a legal defense fund statement of formation form with the secretary of state's office on Aug. 17, according to the state's campaign finance disclosure website.
"The fund is being created to pay for legal defense fund," Neal wrote in the section asking for a description of claim or legal proceeding for which the fund will be used.
The Democratic senator, who has served in the state legislature since 2011, listed herself as both the officeholder and the administrator on the form. Neal could not be reached for comment, so it's not clear if the filing is connected to the previously reported investigation.
When asked why Neal's reasoning for the fund's formation could be nonspecific about which legal challenge the funds would be used to defend against, a spokesperson from the secretary of state's office said the agency has historically not proactively audited campaign finance documents, which are only more closely scrutinized if a complaint is filed.
"Secretary (Cisco) Aguilar is mindful of the need for transparency and is looking into potential adjustments to internal policy," a statement from the office said. "He feels it's important to make decisions that are strategic, instead of hastily reacting to any single issue. This is especially important in areas where statute is silent, and there is no legal precedent."
In May, the Review-Journal reported that Neal was under investigation after a College of Southern Nevada professor claimed she had pressured him to direct federal money toward businesses that didn't meet grant requirements, including one owned by her friend. Neal said at the time that the complaint was a "red herring" and that she had acted appropriately.
Later that month, the Review-Journal reported that North Las Vegas city officials met with law enforcement regarding concerns Neal had used campaign funds to pay a $20,000 lien on her home, a claim Neal adamantly denied.
Neal first to create fund this year
According to state law, a legal defense fund is an account created to cover legal costs, including attorney's fees, incurred by a candidate or public officer in the course of a campaign, the electoral process or during the performance of their official duties. The funds can be used if the candidate or officeholder becomes subject to any civil, criminal or administrative claim or proceeding.
Legal defense funds operate separately from campaign finance accounts. Individuals and groups that have already given the legal maximum contribution to a candidate's campaign can still give up to $10,000 to the defense fund.
But money in a legal defense fund can't be dumped into a candidate or officeholder's campaign account after they're no longer in legal trouble. Unspent money in the defense fund must be returned to donors or donated to any tax-exempt nonprofit entity after the conclusion of the legal action for which the fund was created.
The person administering a legal defense fund is required by law to notify the secretary of state's office of its creation within five days. Contributions and expenditures made by a legal defense fund are required to be reported to the secretary of state's office at the beginning of each year.
But candidates don't have to create a legal defense fund to use donor money for legal proceedings. Nevada law allows officeholders and candidates to use campaign funds for legal challenges that may arise in the course of their jobs or candidacy.
Neal is the first elected official to create a legal defense fund in 2023, adding her name to a list of just 17 candidates and public officials who have created a legal defense fund since 2010, according to the secretary of state's office.
Included on that list is Gov. Joe Lombardo, who created a legal defense fund in 2022 to fend off legal challenges from election denier and Reno attorney Joey Gilbert over the results of the Republican gubernatorial campaign.
Contact Taylor R. Avery at TAvery@reviewjournal.com. Follow @travery98 on X.