EPA chief says he is disarming agency 'weaponized' by Obama
February 6, 2018 - 2:50 pm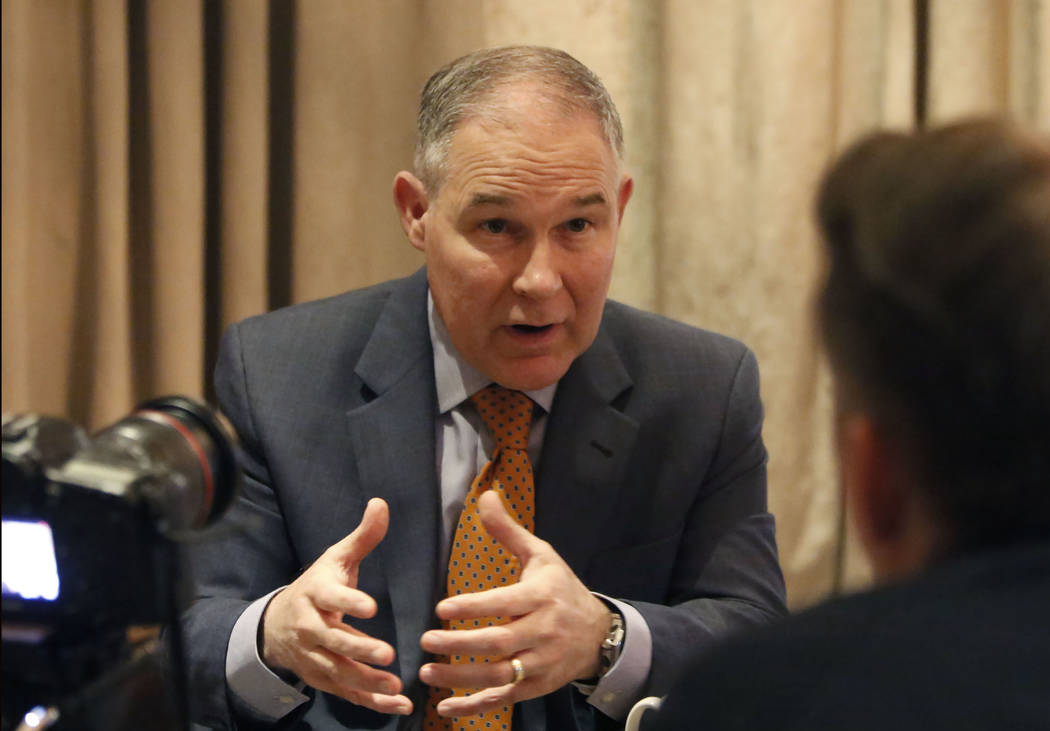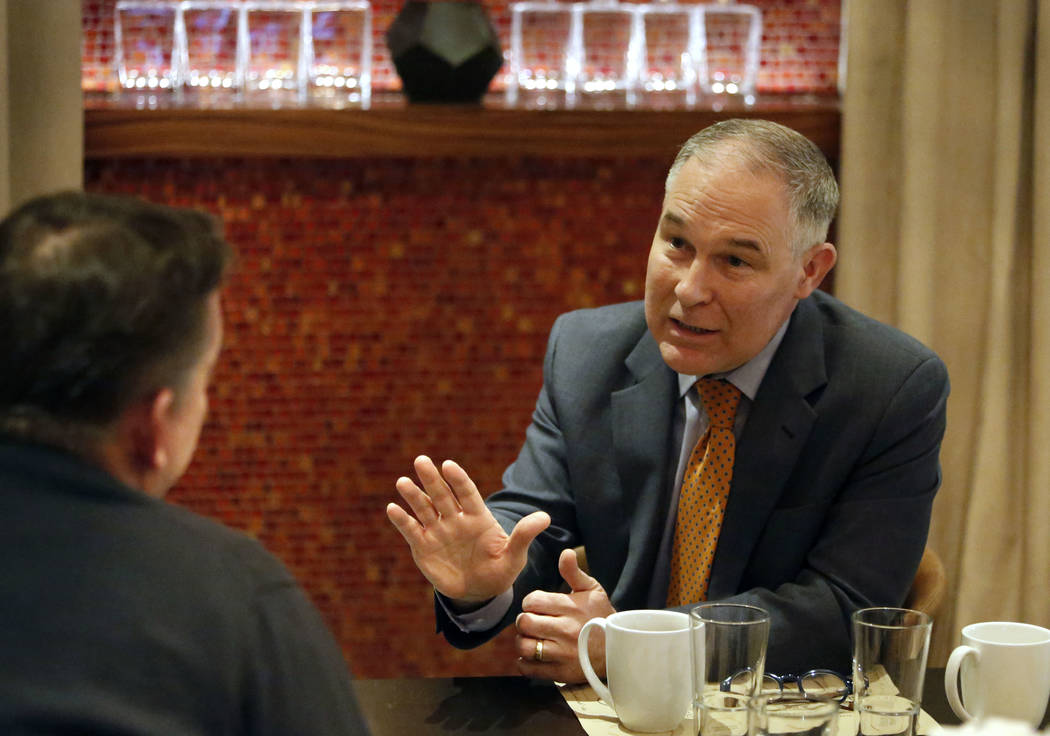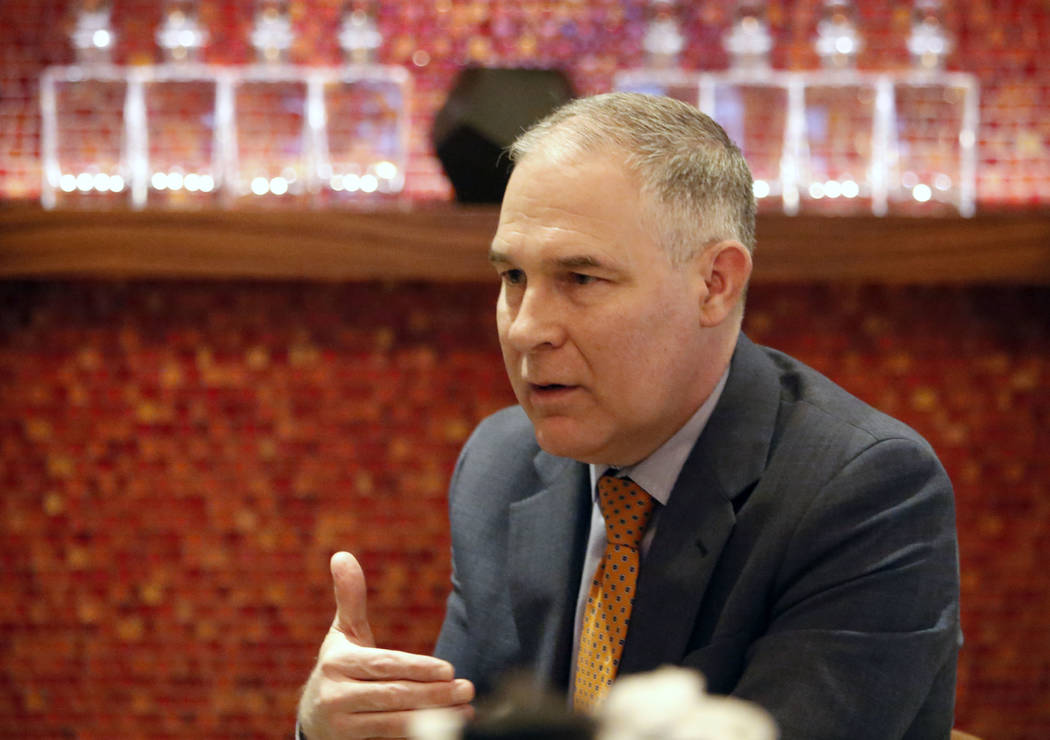 Environmental Protection Agency chief Scott Pruitt said the Trump administration is "righting the wrongs" of President Barack Obama by reversing a host of regulations designed to "weaponize" the agency and punish the fossil fuel industry.
At the end of a three-day swing through Nevada on Tuesday, Pruitt said the federal government shouldn't use its regulatory power to throttle certain sectors of the economy.
"That's the wrong way to regulate. It was not about making sure the environment was protected; it was about truly engaging in activity that was punitive," the EPA administrator said during an interview with the Review-Journal in Las Vegas. "We're righting the process, righting the wrongs if you will, of the past administration and how they approached these issues."
Pruitt highlighted some of those recent rollbacks on Monday, when he joined Gov. Brian Sandoval at two mining operations in Northern Nevada.
At the shuttered Anaconda Mine near Yerington, in Lyon County, Pruitt signed an agreement that will keep the heavily contaminated site off the EPA's Superfund National Priorities List while state regulators oversee a privately backed cleanup effort instead.
EPA officials decided in 2016 to add the abandoned copper mine to the priority list, but Pruitt said this new arrangement represents the fastest and most certain way to address threats to residents and groundwater in the area, all while avoiding a Superfund designation "that states don't want."
The Anaconda Mine opened during World War II and was abandoned in 2000, leaving behind uranium and other pollutants. Under the Nevada Division of Environmental Protection's plan, construction would begin next year on waste containment ponds slated for completion in 2024, Pruitt said.
"So you're talking about a very accelerated timeline," he said. "This really is an example of what the Superfund program should be: partnership, collaboration, community stakeholders' involvement with clear direction on how to get the sites remediated as quickly as possible."
Rule called duplicative
Earlier Monday, Pruitt and Sandoval toured a working gold and silver mine near Lovelock, in Pershing County.
Pruitt said the Rochester Mine, owned by Chicago-based Coeur Mining, is one of 221 operations nationwide that will benefit from the Trump administration's decision in December not to implement another Obama-era regulation requiring hard-rock mines to set aside money for environmental cleanups.
The so-called "financial assurance rule" duplicated bonding requirements already imposed by Nevada, placing an unnecessary financial burden on mining operations, Pruitt said.
"We came to Nevada to send that message that we're making common-sense decisions at the agency," he said. "As I said yesterday, common sense sometimes is not too common."
Pruitt has drawn criticism for being too cozy with oil and gas developers and for rejecting the overwhelming scientific consensus on human-caused climate change.
During his previous stint as Oklahoma attorney general, he collected more than $200,000 in campaign donations from contributors with ties to the fossil fuel industry and brought numerous lawsuits against the federal agency he now leads.
Since Pruitt's confirmation, the EPA has sought to reverse much of Obama's environmental policy, most recently the controversial Waters of the United States rule, which sought to extend existing protections for large bodies of water to the small rivers, creeks and wetlands that flow into them.
Environmentalists cheered the rule, while farmers, ranchers and land developers blasted it as a massive federal assault on private property rights.
Pruitt and the EPA are also playing a central role in President Donald Trump's push to revive the flagging coal industry, despite reduced demand.
Questioning climate change
"What we're doing is responding to an effort — it was a stated mission of the past administration — to declare a war on coal," Pruitt said. "That's not our job. Our job is not to pick winners and losers. … It's not to say we like certain fuels and we don't like others. That's not the role of the agency."
As for climate change, Pruitt played down its significance on Tuesday, contradicting the findings of many government scientists, including those in his own agency.
"The climate's changing; it's always changing. Our activity obviously impacts it to some degree," he said. "Measuring that with precision is very, very challenging."
"If this is an existential threat to mankind, which is what the past administration said, if this is more important than North Korea, which is what they said, I want to know about it," Pruitt said. "So let's lean into this issue, and let's actually bring people to the table so that we can have a true, meaningful discussion, a scientific discussion and not a political discussion."
Contact Henry Brean at hbrean@reviewjournal.com or 702-383-0350. Follow @RefriedBrean on Twitter.
Planes and automobiles
Environmental Protection Agency Administrator Scott Pruitt saw a lot of Nevada over the past three days, but no chartered flights were involved.
Pruitt's press secretary, Kelsi Daniell, said the administrator and his staff flew into Reno Sunday night, then from Reno to Las Vegas Monday night and back to Washington Tuesday, all on commercial carriers.
For their trip to two mines in Northern Nevada on Monday, they traveled by car, Daniell said.
Health and Human Services Secretary Tom Price resigned in September after it was revealed he had spent more than $1 million in taxpayer money on private and military jets.
Pruitt was briefly swept up in the same controversy, with the Washington Post reporting more than $58,000 in noncommercial and military flights by the EPA chief.
The EPA subsequently provided documents to the Post showing that all of Pruitt's trips were authorized by the agency's Office of General Counsel.
— Henry Brean