Eric Trump defends father's rhetoric in Las Vegas campaign stop
October 29, 2018 - 11:34 am
Updated October 29, 2018 - 6:51 pm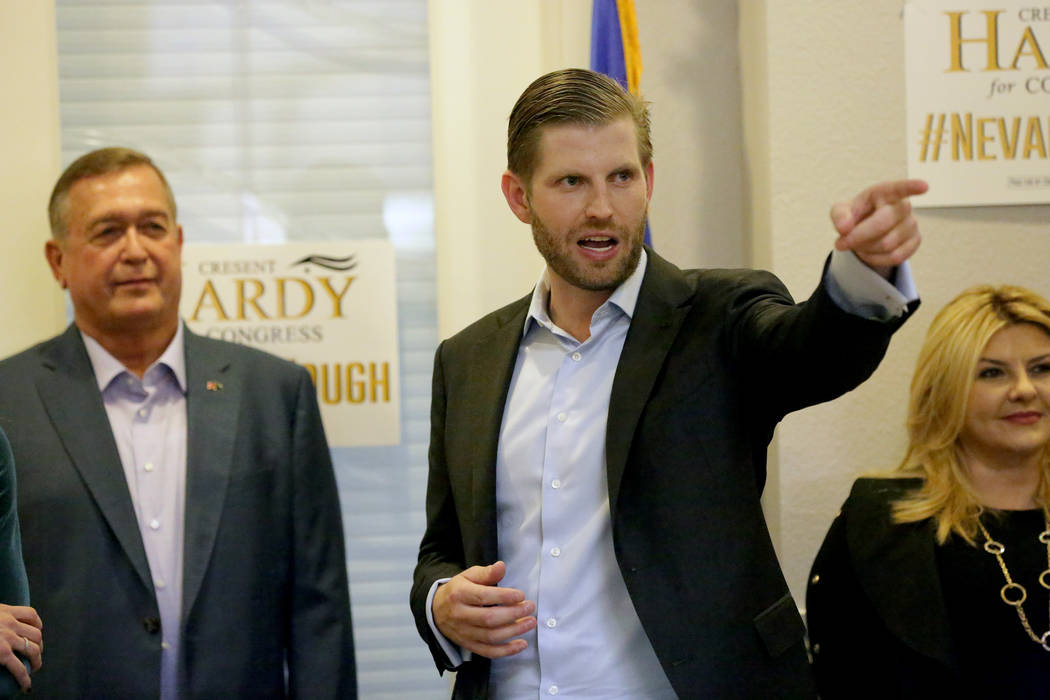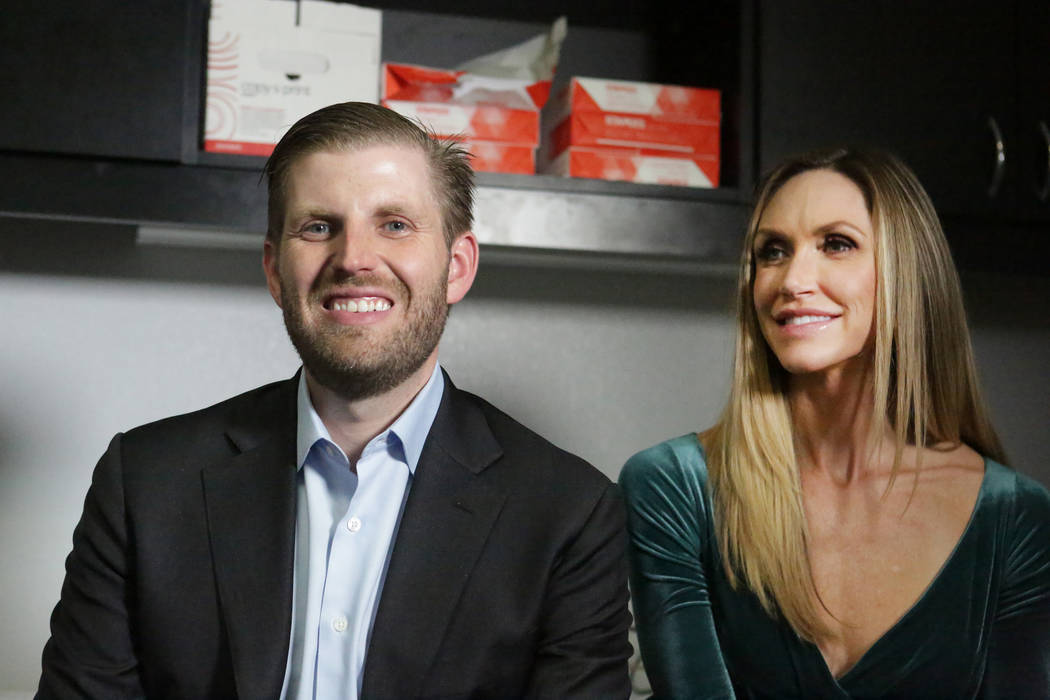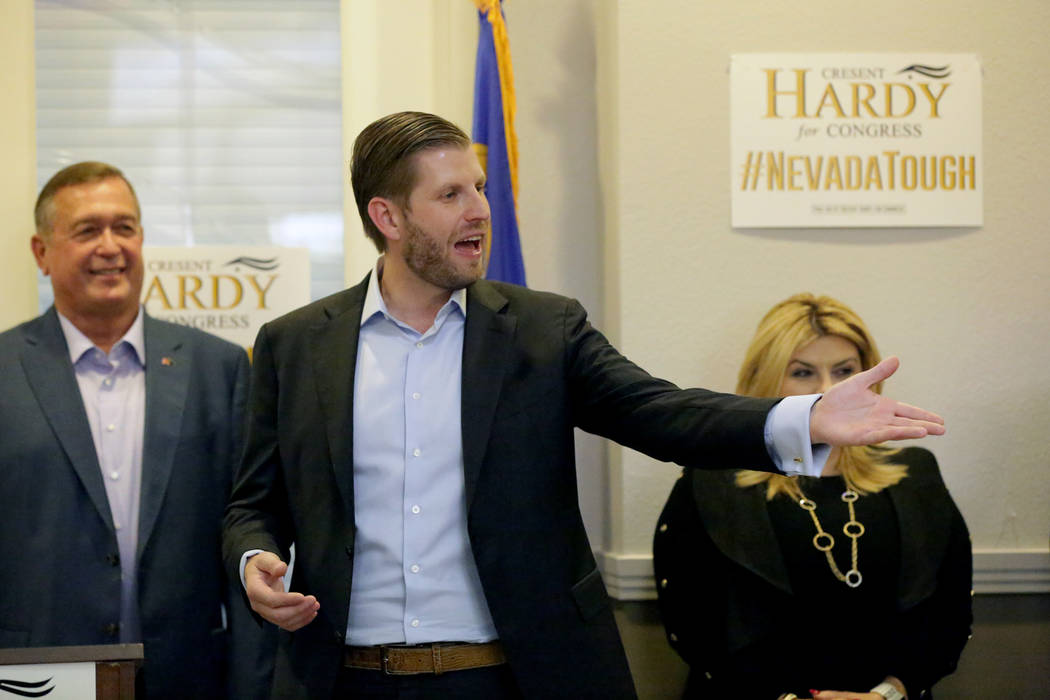 During a Las Vegas Valley campaign stop Monday, Eric Trump defended his father's sharp words and cautioned that a Democratic-controlled Congress would lead to "anarchy."
Trump stopped at the Nevada Republican Party's Summerlin office to stump for former Rep. Cresent Hardy, who is running for Congress against fellow former Rep. Steven Horsford. If Republicans lose their majorities in Congress, Trump warned, nothing will get done.
"America is winning again, and it would be a horrible thing for this country," Trump said in an interview with the Las Vegas Review-Journal. "They would do everything they possibly could to derail anything he wanted to do. They'll resist and they'll obstruct. Nancy Pelosi and Chuck Schumer control — it will be anarchy in this country."
Two of President Donald Trump's five children are campaigning for Nevada Republicans this week ahead of the Nov. 6 election. Eric Trump, Trump's middle son, and his wife, Lara, told voters Monday that the president needs people like Hardy in Washington.
Trump pointed to the strong economy and low unemployment rate as signs of his father's "winning policies."
"This country is doing awesome because we finally have someone with backbone in the Oval Office," Trump said.
Hardy, a construction business owner who initially denounced President Trump, said he "regrets" that decision and fully stands with the president.
"I was the judge and jury, and I shouldn't be," Hardy said after the rally. "I've had the pleasure of meeting with President Trump, and I've also seen his policies. His policies are my policies. I shouldn't have been the judge and jury, and I regret that."
Outside the rally, Nevada Democrats joined with Rep. Stacey Plaskett, D-Virgin Islands, to criticize Hardy for backing Trump's agenda.
"The highest duty of a member of Congress is to fight for the people they serve," Plaskett said. "Cresent Hardy has shown again and again that his priority is not helping working families, but rather serving the special interests who are funding his campaign, and doing the bidding of Donald Trump."
Eric Trump thrilled the crowd inside, including Sara Martin, who shouted that her 13-year-old daughter Olivia could marry Barron Trump, the president's youngest son. The girl blushed.
"It's a great family to marry into," Martin, a construction business owner, joked after the rally, adding that she supports Trump's economic policies.
In the wake of a shooting rampage at a Pittsburgh synagogue that left 11 dead, Trump defended his father's rhetoric.
"My father's a fighter," Trump said after the rally. "Hey, does that maybe sometimes get him in a little bit of trouble? Sure. Hey, he's not always perfectly PC. But I don't think right now America needs somebody that's perfectly PC. I think America needs a fighter."
President Trump's eldest son, Donald Trump Jr., will campaign on Friday for the Republican ticket, with stops planned in Carson City, Reno and Pahrump and Las Vegas.
The Trumps will campaign for U.S. Sen. Dean Heller, gubernatorial candidate Adam Laxalt, Hardy and Danny Tarkanian, who is running in the 3rd Congressional District.
Tickets are available for the Trump Jr. ralliesin Carson City (which will feature Heller and Laxalt), Pahrump (which will feature Laxalt and Hardy) and Reno. To attend the Las Vegas rally supporting Tarkanian, go to www.eventbrite.com/e/las-vegas-gotv-rally-with-don-trump-jr-and-danny-tarkanian-tickets-51934415234.
Contact Ramona Giwargis at rgiwargis@reviewjournal.com or 702-380-4538. Follow @RamonaGiwargis on Twitter.