Event gives voters a chance to grill Nevada candidates
October 15, 2018 - 9:29 pm
Updated October 15, 2018 - 11:41 pm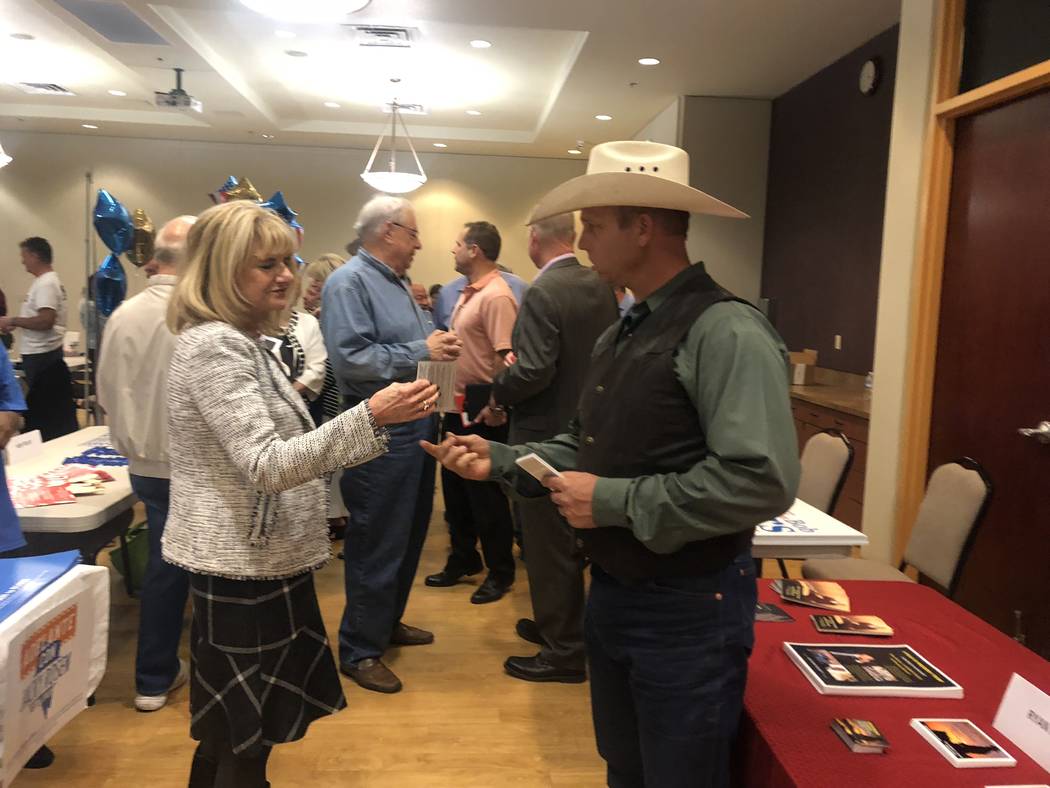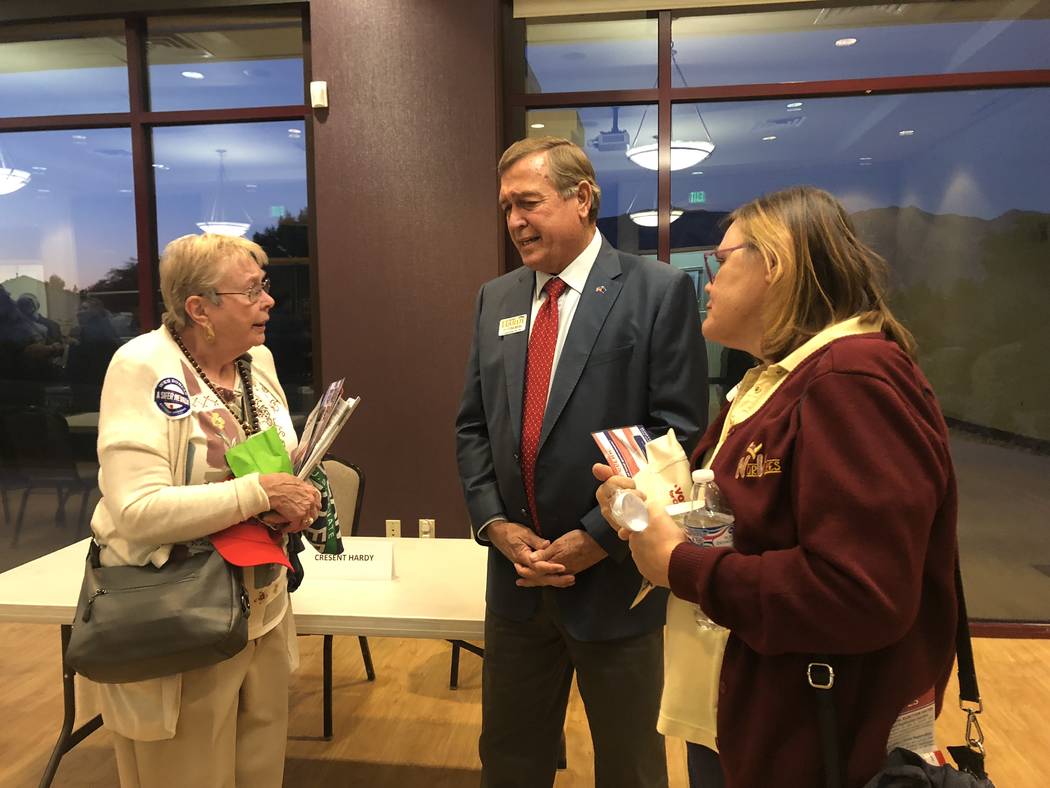 Retired government worker Renee Swanson had one pointed question for congressional candidate Cresent Hardy.
"Why should I vote for you?" the 63-year-old asked Hardy at a candidate meet-and-greet Monday hosted by the North Las Vegas Alliance of Homeowner Associations and Concerned Citizens.
Hardy, a Republican running in Nevada's 4th Congressional District, didn't miss a beat, telling her he believes in efficient government and less spending. But the bigger question on Swanson's mind was how lawmakers will stop cuts to Social Security.
Swanson retired from the city of North Las Vegas last year and worries about losing her benefits.
"Retirees have a voice, too," Swanson said after walking away from Hardy, adding that she's seen TV ads about him wanting to push the retirement age to 75. She's leaning toward voting for his opponent, Democrat Steven Horsford.
Hardy said Monday the retirement age might increase to 75 because people are living longer, but he isn't advocating for that. "We need to reform Social Security and Medicare to make sure it's there for the future," said Hardy, adding that increasing employee and employer contributions could be solutions.
A few tables away, Horsford didn't mince words about the differences between himself and Hardy. Both served in Congress for one term, and they're facing off in November to go back.
"He said his policies are Donald Trump's policies," Horsford said. "Donald Trump's budget makes cuts to Social Security and Medicare."
Horsford and Hardy were two of nearly 30 candidates who showed up at the meet-and-greet Monday. Others included Republican Secretary of State Barbara Cegavske, her Democratic challenger, Assemblyman Nelson Araujo, and gubernatorial candidates Independent Ryan Bundy and Libertarian Jared Lord.
Bundy, the eldest son of Bunkerville rancher Cliven Bundy who faced federal charges stemming from an armed standoff with federal agents in 2014, had a stream of voters stop by his table.
Bundy said he believes he can defeat the mainstream governor candidates, Democrat Steve Sisolak and Republican Adam Laxalt. Neither candidate attended the event Monday or set up an informational table.
Bundy said Sisolak is the bigger threat to his candidacy, but "thousands" of voters have pledged to support him.
"What sets me apart from both of them is that I understand the proper form of government," Bundy said. "I understand the limitations that it's supposed to have, and I'm willing to enforce those limitations. Neither of the other candidates will do that."
Lord said voters were receptive to his message about fiscal responsibility.
"There's no such thing as state money, it's only taxpayer money," he said. "So it's our responsibility to spend that money responsibly and take as little as possible."
Election Day is Nov. 6, with early voting starting this Saturday.
Contact Ramona Giwargis at rgiwargis@reviewjournal.com or 702-380-4538. Follow @RamonaGiwargis on Twitter.