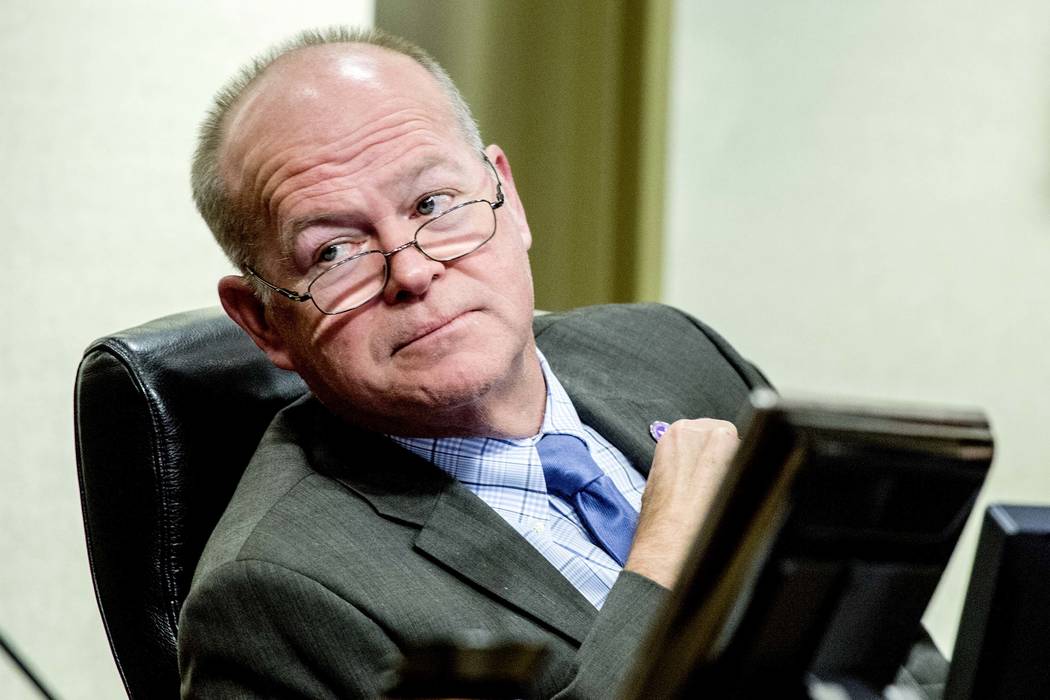 CARSON CITY — Former Las Vegas City Councilman Bob Beers took little time to decide on his political future.
Less than two months removed from losing his bid for re-election, Beers announced this week that he will run for state treasurer in 2018.
"I'm planning on it," Beers, a Republican, told the Review-Journal on Thursday. "There's a vacancy. The treasurer's not running again."
Nevada Treasurer Dan Schwartz, also a Republican, has expressed an interest in running for governor in 2018 instead of seeking a second term as treasurer. Attorney General Adam Laxalt also expected to enter the GOP race for governor.
In an interview with the Review-Journal, Schwartz confirmed he's not running for a second term and said he'll be announcing his plans for 2018 at a Nevada Republican Men's Club event on Sept. 5 in Las Vegas.
Schwartz said he does not plan to endorse a candidate during the primary.
"I'm not going to run for a second term and I'm delighted that Bob is running," he said.
Beers, a certified public accountant who has held office at both the state and municipal levels, said experience makes him a good candidate to replace Schwartz.
"I am well qualified for it given my CPA license, a few years in the Legislature and a few years on the City Council, so I've been around," Beers said.
Beers, 57, served in the Nevada Assembly from 1998 to 2004 and the state Senate from 2004 to 2008. He was the Ward 2 representative for the Las Vegas City Council from 2012 to 2017, but in June lost the seat to Steve Seroka. Beers also lost his state Senate seat in the 2008 election to Allison Copening, a Democrat.
The treasurer race isn't Beers' first run for a statewide office. In 2006, Beers was beaten in the GOP gubernatorial primary by Jim Gibbons, who also won the general election. Beers briefly threw his name into the fray for the 2016 U.S. Senate race, but he dropped out in 2015.
Contact Ben Botkin at bbotkin@reviewjournal.com or 775-461-0661. Follow @BenBotkin1 on Twitter.
2018 shaping up
Several candidates have announced their intentions to run for Nevada political office in 2018. Here's a look:
U.S. Senate
Jay Craddock (D)
* Dean Heller (R)
Jacky Rosen (D)
Jesse Sbaih (D)
Danny Tarkanian (R)
Congressional District 3
Scott Hammond (R)
Victoria Seaman (R)
Lynda Tache (R)
Congressional District 4
Stavros Anthony (R)
Jeff Miller (R)
Nevada governor
Jared Fisher (R)
Steve Sisolak (D)
Nevada treasurer
Bob Beers (R)
Nevada Senate
District 14 — Iran Hansen (R)
District 21— James Orenschall (D)
Nevada Assembly
District 32— Alexis Hansen (R)
District 36 — Dennis Hof (R)
* denotes incumbent