Fact checking Chris Giunchigliani's claims on opioid crisis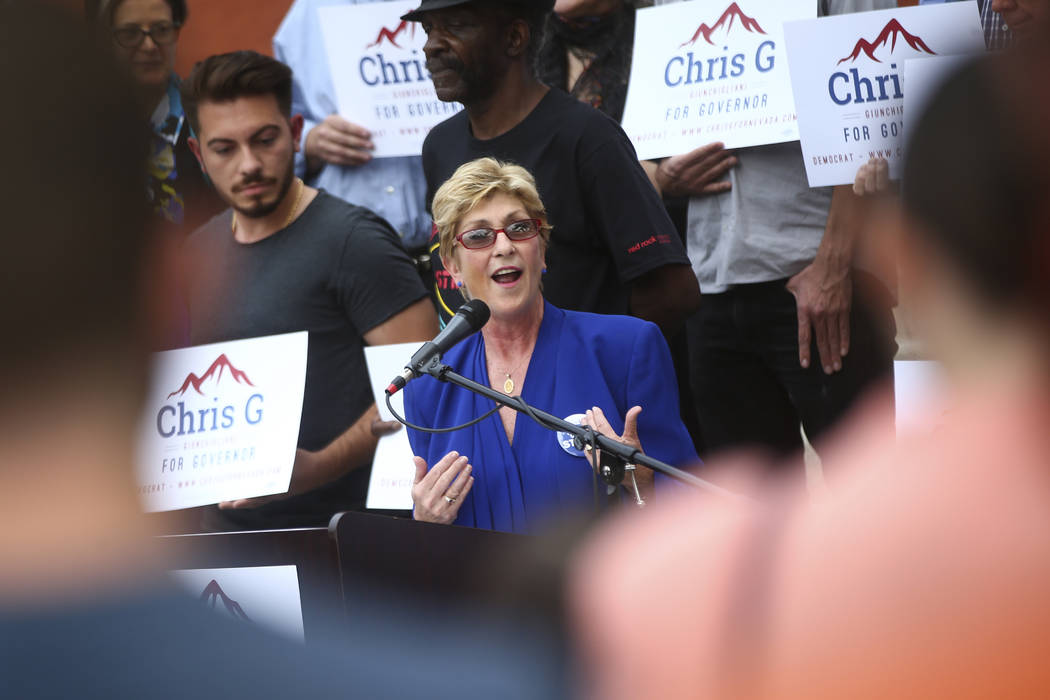 Nevada governor candidate Chris Giunchigliani appeared to dismiss the growing opioid epidemic at a campaign event this year.
While speaking at a Douglas County Democrats dinner on Feb. 17, Giunchigliani told the crowd that "there's an epidemic and it's not just opioids. Because with no disrespect, that's a white person's drug right now," according to a video excerpt of the event obtained by the Las Vegas Review-Journal.
"You have to deal with heroin, we have to deal with drugs, we have to deal with alcohol. We have to deal with gambling. And that's all across the state," Giunchigliani continued in the video.
Then, she added: "Methadone is still highly used in the rural counties. We have an obligation and a responsibility to make sure we're treating mental health because the addictions are a symptom of that. It's not the cause. And we have to do better. We have never really restored the funding that was cut back in the '80s. We have an obligation, and as governor, I want to work on that."
Are Giunchigliani's claims accurate?
Yes and no.
Nationally, opioids have predominantly hit white, rural communities disproportionately harder than African-American or Latino communities, according to the Centers for Disease Control and Prevention. Several studies suggest that was because doctors were less willing to prescribe painkillers to minorities because they viewed them as more susceptible to addiction.
But lately, that trend has shifted significantly.
The rates for overall drug overdoses for African-Americans had been steadily rising from 2010 to 2015, though at a slower rate than for whites.
In 2016, however, the death rates spiked by about 56 percent for African-Americans, jumping from 6.6 per 100,000 to 10.3 per 100,000, compared with a jump from 13.9 to 17.5 for whites.
And there's no difference in prescription opioid use between blacks and whites, according to the CDC.
Still, whites continue to bear the brunt of the opioid crisis in Nevada. Eighty-three percent of opioid-related deaths were among whites in 2016, state data show. That's equal to 20.9 per 100,000 Nevadans.
Among blacks, the rate was 12.3 per 100,000, or 8 percent of deaths, according to the data provided by the state Department of Health and Human Services.
Giunchigliani's campaign manager Eric Hyers tried to clarify the candidate's remarks from the dinner, saying that she meant the crisis has gotten widespread attention because it is perceived to affect white communities.
"This is in no way to diminish its impact on so many diverse families all over the country, but rather to engage with the way this epidemic is discussed and the policies and laws being enacted," Hyers said.
Methadone
As for Giunchigliani's claim that "methadone is still highly used in the rural counties," Hyers said the candidate "misspoke."
"She was referring to meth(amphetamine)," he said.
But methadone overdoses remain a problem in rural Nevada, according to state data.
In counties including Humboldt, Nye, Douglas and Washoe, the methadone death rates fall above the Nevada average. Carson City has the highest methadone-related death rate in the state.
Prescription rates follow the trend.
Still, methadone death rates have nearly halved since 2011, and prescriptions for the drug, which can be used to treat chronic pain, come in well below those for more popular medications like hydrocodone and oxycodone.
Methadone is more commonly used for the treatment of substance abuse, as many doctors aren't well-versed on the prescribing of it for pain management, said Stephanie Woodard, senior adviser on behavioral health for the Nevada Department of Health and Human Services.
"An individual that's appropriately dosed on methadone is not getting high," Woodard said.
"We're actually very fortunate that we have medications that are available."
Medication-assisted treatments, whether through methadone or an alternative, can dispel withdrawal symptoms and forgo cravings.
In these settings, methadone is highly regulated on both the state and federal levels — so much so, that only seven providers are certified in Nevada.
None of them are in rural areas.
Contact Colton Lochhead at clochhead@reviewjournal.com or 702-383-4638. Follow @ColtonLochhead on Twitter. Contact Jessie Bekker at jbekker@reviewjournal.com 702-380-4563. Follow @jessiebekks on Twitter.