Feds sued over Bundy's cattle, solar development near Las Vegas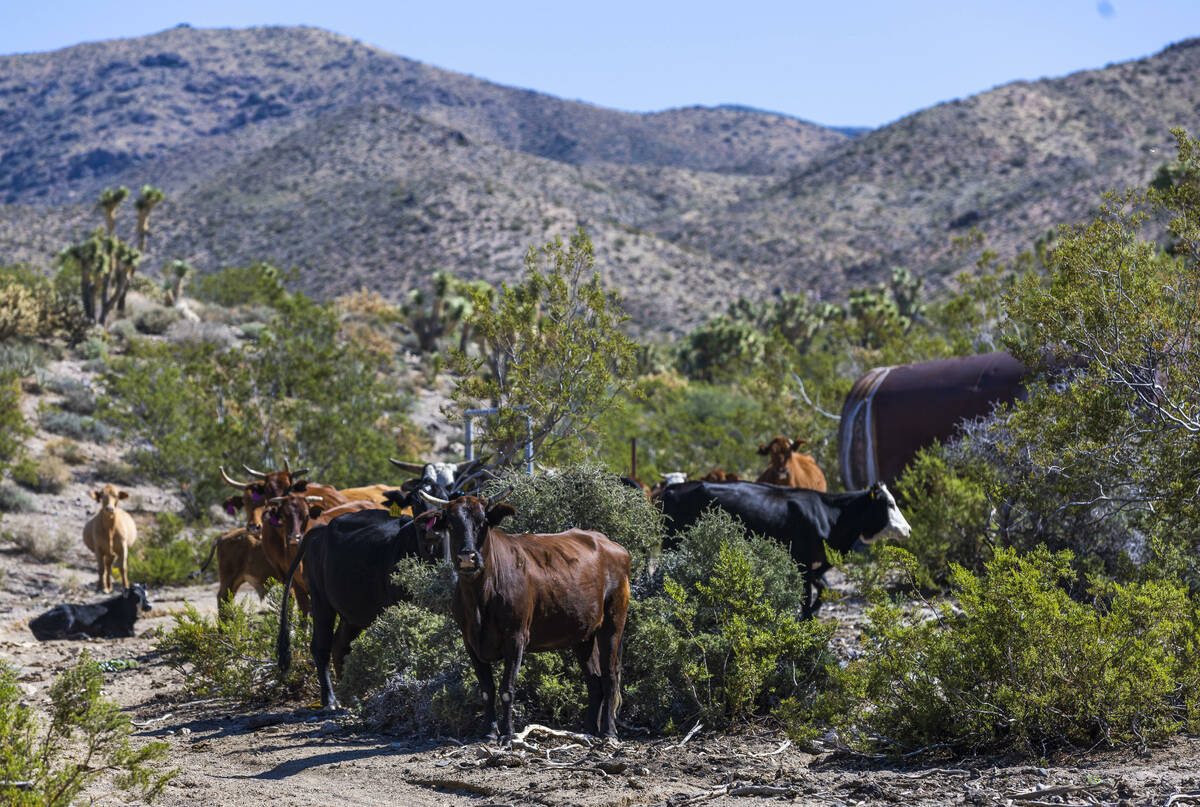 An environmental group on Thursday sued the federal government, claiming that multiple agencies have failed to protect a critical desert tortoise habitat in Southern Nevada from Cliven Bundy's cattle and large-scale solar developments.
The Western Watersheds Project filed the lawsuit in federal court in Washington D.C. against the U.S. Department of Interior, Bureau of Land Management and other federal agencies as well as Clark County, accusing them of failing to uphold a plan that allowed for significantly more development in the Las Vegas Valley in exchange for mandatory conservation measures in the area now home to Gold Butte National Monument.
Bundy's cattle have continued to graze in the areas near the monument for decades. When BLM officers attempted to round up Bundy's cattle in 2014, it sparked an armed standoff between federal agents and dozens of Bundy supporters who had traveled to his ranch from across the country. The agency eventually called off the roundup, and several attempts to prosecute Bundy and his sons failed.
The lawsuit claims that the federal agencies have failed to round up and remove the rancher's cattle that continue to graze in the monument area illegally, which has caused "irreversible damage to ecological values."
"Between the impacts of Cliven Bundy's thirty years of trespass livestock grazing in Gold Butte National Monument and the conversion of ungrazed desert habitats to solar farms, the desert tortoise and other species are getting cheated out of their side of the Habitat Conservation Plan bargain," Erik Molvar, executive director of Western Watersheds Project, said in a statement. "These species were supposed to be getting increased protection on public lands in Clark County in exchange for having their habitat on private lands permanently destroyed, but the federal agencies have failed to deliver."
The desert tortoise was listed as threatened under the Endangered Species Act in 1990, which led to Clark County developing the habitat conservation plan — a plan that stripped most ranchers of their grazing allotments countywide.
Bundy could not be reached for comment Thursday.
The group also alleges that recent approval by the Bureau of Land Management of at least four large solar developments in the lands northeast of Las Vegas should have triggered supplemental environmental reviews to consider the impacts on the Mojave desert tortoise habitat.
A BLM spokesperson said the agency had no comment on the lawsuit.
The Mojave desert tortoise populations have been in severe declines for decades, with the number of adult tortoises dropping by more than 50 percent from 2004 to 2014 in some areas, according to the U.S. Fish and Wildlife Service.
Contact Colton Lochhead at clochhead@reviewjournal.com.