Fiore reinstalled as chair of Nevada Assembly Taxation Committee
December 11, 2014 - 6:42 pm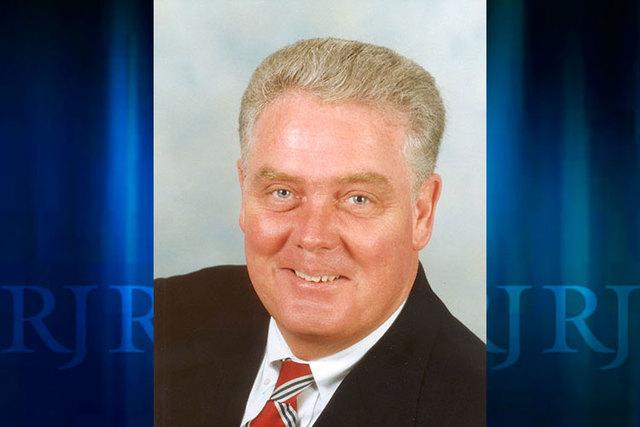 Republican Assembly leader John Hambrick abruptly changed course Thursday and reinstalled Assemblywoman Michele Fiore as chairwoman of the Taxation Committee amid continued turmoil in the GOP caucus.
"All leadership positions and committee chairmanships for the 2015 legislative session as previously announced will remain, with minor changes to fill vacancies left by those in leadership," Hambrick said in a statement.
Hambrick, from Las Vegas, did not explain why he put Fiore back in charge of the powerful taxation panel after removing the assemblywoman, who faces more than $1 million in tax liens against her and her health care businesses.
But a person familiar with the situation said Hambrick bowed after Fiore publicly accused him of waging a "war on women" by removing her and incoming Assemblywoman Victoria Seaman as the vice chairwoman of the committee.
Hambrick also was pressured by Assemblyman Ira Hansen, R-Sparks, whom Hambrick replaced as GOP caucus leader amid infighting since the Republicans won control of the Assembly in the Nov. 4 election.
"It appears a few men in our party are not happy that we have Republican women in key leadership roles in the Legislature, and may look to Democrats for help in unraveling more leadership roles," Fiore said in a statement before learning Hambrick had reinstated her. "Women make up only 35 percent of the Nevada Assembly, while they are 50 percent of our population in Nevada, it seems it is time for women to have a voice and take on leadership roles in Nevada government."
Fiore, of Las Vegas, is the first Republican woman to serve as Assembly majority leader. She was just re-elected to a second term. Seaman, a freshman from Las Vegas, is the first Republican Latina elected to the Nevada Legislature.
In a statement Thursday, Fiore said she's focused on the upcoming session and would address the media early next week about her tax problems. She seemed forgiving of Hambrick's actions.
"I am here in Carson City with my sleeves rolled up and diligently combing through a 6,000-page Nevada state budget," Fiore said. "My focus is on the job that I was elected to do. I am grateful for the support from my speaker John Hambrick along with many other Nevadans who support me as chairwoman of Taxation."
Seaman, who appears to have been removed because of her friendship with Fiore, said she was glad to be reinstated as well.
"My role on the Taxation Committee has been restored, and for that I am thankful," Seaman said. "I am still committed to making sure that my voice as a businesswoman in a leadership role in Nevada is heard and that it never be diminished simply because of my gender. I will lead with passion, facts and solid fiscal conservative solutions representing Nevadans."
TAX TROUBLES
The Internal Revenue Service has 45 pending liens totaling more than $1 million against Fiore and her companies for unpaid taxes dating back to 2003, according to records reviewed by the Review-Journal.
Most of the liens involve unpaid employee payroll taxes, which are supposed to be paid to the IRS every three months, by Always There Personal Care of Nevada and Always There 4 You, according to documents filed with the Clark County recorder's office. The outstanding liens against the two limited liability corporations owned by Fiore and her mother total more than $729,000. The IRS also has 11 pending liens against Fiore for more than $332,000.
It's hard to say exactly how much the IRS says Fiore failed to remit because the lien totals include interest and penalties and might not reflect payments made since they were filed.
Raphael Tulino, an IRS spokesman, said the agency can't discuss any individual case because of privacy considerations. All that is publicly known about the liens come from forms filed with counties.
"Furthermore, it would be inappropriate to comment on any hypothetical or suppositions regarding the Notice of Federal Tax Lien or the unpaid amounts reflected in the lien," Tulino wrote in an email.
Depending on the facts and the outcome of any investigation, Fiore could face criminal charges, according to general IRS documents Tulino provided.
The 11 liens filed against Fiore under IRS code 6672 appear to be the most serious, referring to possible "willful failure" to submit payroll taxes as required.
"Courts have held that willfulness is present if a taxpayer knew of the nonpayment or recklessly disregarded whether the payments were being made," according to the Journal of Accountancy. "This can be established by showing that the responsible person failed to assess and remedy the payroll tax deficiencies immediately upon learning of their existence, directed the corporation to pay other creditors (thereby preferring other creditors over the IRS), or neglected his or her duty to use all current and future unencumbered funds available to the corporation to pay those back taxes."
Willfully failing to pay employee payroll taxes can lead to criminal charges, a felony punishable by up to a $10,000 fine or five years in prison, or both.
CAUCUS SPLIT
Fiore's tax issues became public during her unsuccessful congressional race in 2010. Though the number of liens and total amount continued to mount, they were not an issue in her two Assembly races. In recent days pundit Jon Ralston had criticized the GOP for putting a member with tax problems in charge of the Taxation Committee.
Fiore's removal was related to her tax problems and their potential to embarrass other lawmakers, not her tough stand against raising taxes as a leader of legislative conservatives, according to the person familiar with the situation.
Fiore had helped install Hambrick as GOP caucus leader and then as Assembly speaker when Hansen stepped down from the post amid criticism of his past writings that appeared sexist and racist.
Hansen had replaced Pat Hickey, R-Reno, who was considered too moderate by the incoming conservatives.
The GOP has a 25-17 seat edge over Democrats in the Assembly following a GOP wave in the November election. About half of the GOP's lower house seats are now now held by conservatives.
Although Hambrick appears to have settled the Fiore matter for now, it's unclear whether the caucus turmoil is over.
There's been talk of moderate Republicans teaming up with Democrats to elect another Assembly speaker when the Legislature convenes Feb. 2.
Hambrick didn't return calls seeking comment.
Review-Journal database editor Brian Haynes contributed to this report. Contact Laura Myers at lmyers@reviewjournal.com or 702-387-2919. Find her on Twitter: @lmyerslvrj.