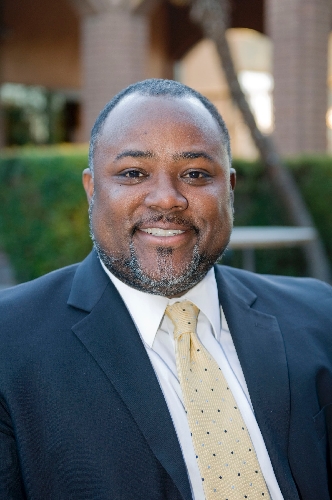 Editor's note: With more new legislators than ever before, Nevada will have some of its freshest political faces coping with the state's greatest problems. In an occasional series, the Review-Journal introduces the freshmen legislators about to take office in Carson City.
Nevada's state budget problems won't be easy to solve.
But they are nothing compared with what freshman Assemblyman Jason Frierson already has stared down, including a handgun stuck in his face.
Frierson, newly elected Democratic representative for Assembly District 8, was a high school freshman in Compton, Calif., when another student shoved the gun in his face.
Until then, Frierson had managed to avoid trouble by following his older brother's example of putting school and sports ahead of running with the tough kids.
"It had happened an awful lot to other kids. It hadn't happened to me," Frierson said of being threatened with a gun at school. "But when it did, I had decided I needed to get out of that environment."
He agreed to spend a year at a boarding school in Claremont, Calif., before returning home to finish high school at the Catholic Pius X High School in Downey, Calif.
Frierson is glad he got out of Compton.
"I distinctly remember the seven kids I was with when that happened, and all but one of them are dead," he said.
An accomplished student at Pius and standout running back for the football team, Frierson received scholarship offers from three Ivy League schools and the University of Nevada, Reno.
He chose Reno because it was closer to home, and joined the Wolf Pack football team. A knee injury limited his performance on the field, but he was part of Nevada's 1990 Division I-AA national championship runner-up squad.
He became close to renowned Nevada coach Chris Ault.
"I always say we had the best relationship on the field," Frierson said. "He was really a stickler for the intellectual aspects of the game and not making mental mistakes. And I didn't make very many mental mistakes."
Off the field, the UNR student body president met politicians who would become mentors: former state Attorney General Frankie Sue Del Papa and former governor and U.S. Sen. Richard Bryan.
After earning a degree at UNLV's Boyd Law School, Frierson worked as a prosecutor and public defender. He also got to know former Assembly Speaker Barbara Buckley, D-Las Vegas, the previous representative of District 8.
Before running for the Assembly, Frierson gained legislative experience as a lobbyist for Clark County and the public defender's office.
Now he is eager to take on Nevada's challenges as a legislator. His goals are to help improve the state's education system and put into practice lessons he learned growing up in California and from mentors in Nevada.
"I am proud of where I come from. It has shaped who I am. It gives me perspective," Frierson said. "My ties to the people who were involved with me throughout my life keep me true to myself."
Contact reporter Benjamin Spillman at bspillman@reviewjournal.com or 702-477-3861.
Jason Frierson
• Age: 40
• Party: Democratic
• Office: Assemblyman
• District: Clark, No. 8, Las Vegas
• Constituent contact: jason.frierson@gmail.com 280-2981
• Occupation: Clark County public defender
• Education: Pius X High School, Compton, Calif., 1988; University of Nevada, Reno, 1996; Boyd Law School, 2001
• Family: Single
• Notable: Member of 1990 University of Nevada football team that was runner-up for the Division I-AA national championship.
• Quotable: "It is a tough time. There are tough decisions. But at some point we have to turn things around, and I'm looking forward to being a part of it."