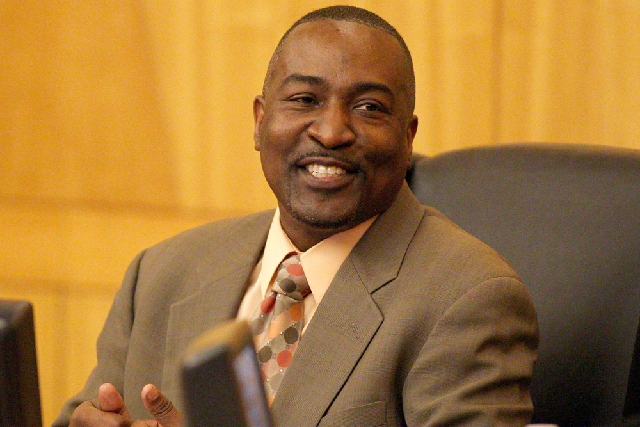 CARSON CITY — Soon-to-be Assemblyman Tyrone Thompson's first public comments upon his arrival Thursday in the Legislature were that he wants to hear from his Assembly District 17 constituents, who have gone without representation for most of the 2013 session.
"I want to open the office and make sure that they can call me," Thompson said. "I want to get input from residents."
Thompson, 45, was selected Tuesday by the Clark County Commission to replace ousted Assemblyman Steven Brooks, D-North Las Vegas. He arrived Thursday in Carson City and sat on the Assembly floor next to Assembly Majority Leader William Horne, D-Las Vegas.
Horne said Thompson will go through an abbreviated "freshman orientation" over the next few days and be sworn into office Wednesday. That follows a Tuesday deadline for bills to pass out of their house of origin or be considered dead.
Hundreds of bills will be approved in the next few days, and Horne said it is not fair to force Thompson to vote on bills he does not fully understand.
Horne said he will serve as Thompson's mentor, adding that the incoming assemblyman will have a chance to talk with other legislators and receive briefings on how the Legislature operates.
"I am really looking forward to it," said Thompson about taking his seat Wednesday, the 80th day of the 120-day session.
Deadlines for individual legislators to introduce bills long have passed, so Thompson will not have any bills of his own.
Brooks' personal problems, arrests and removal dominated the Assembly over a period of about two months. He was in Carson City for only a couple of days when the Legislature convened Feb. 4.
None of his bills was introduced in the Assembly. And he voted on only one bill, Senate Bill 1, which covered the expected $15 million costs of the Legislature, including legislative pay.
"I want them to know Assembly District 17 is open and we want to hear from you," Thompson said about his efforts to communicate with his constituents. "I want to hear their concerns. They have been following the bills like I was; I am ready."
He said he is particularly interested in education, in moves to expand class-size reduction programs and English-learning classes.
He also said he favors the expansion of Medicaid so that "more people can get health care and it will bring many new jobs."
As an assemblyman, he will be a member of the Judiciary, National Resources, Health and Human Services and Legislative Operations committees.
Horne advised media members to give Thompson breathing room. He noted that Thompson, in part because he is replacing Brooks, already is being hounded like no other freshman.
Because legislators are paid $146.29 per day salaries for only the first 60 days of the session, Thompson will receive only the $152 a pay per diem allowance all legislators receive for housing, meals and other expenses while they are in Carson City.
HOW TO CONTACT ASSEMBLYMAN THOMPSON
Email: Thompson@asm.state.nv.us
Office number in Carson City: 775-684-8569