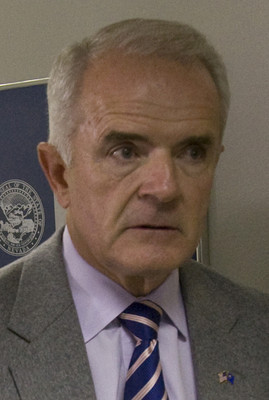 CARSON CITY — Gov. Jim Gibbons said he will not recommend cutting or delaying 4 percent cost-of-living pay raises for teachers and state workers when he announces his plan today on how to slash $250 million to balance the state budget.
He said Wednesday that the COLA issue can be taken up by lawmakers if they choose to do so in a special session set to start Friday and that he would accept a reduction or delay if they approved it.
Cutting the cost-of-living raises, which are scheduled to take effect Tuesday, would save $130 million.
The likelihood of a cost-of-living raise delay or reduction seems remote. Many lawmakers remain opposed to the idea in part because of potential legal ramifications if raises already promised to teachers in contract talks are taken away.
But Senate Majority Leader Bill Raggio, R-Reno, said the COLAs remain on the table for discussion, with all other options except tax increases.
"Delay of salary increases is certainly of consideration if the alternative is people losing jobs or cutting into essential services," he said. "In tough times, the private sector does not give salary increases. The public sector is no different."
Gibbons said he will recommend closing the Nevada State Prison in the capital city as part of his budget-balancing plan.
Officials probably would need up to six months to close the prison, which Gibbons said is old and inefficient. Shutting it down would save about $10 million in the coming fiscal year and about $19 million a year thereafter.
"It is actually an inefficient, expensive structure that is aging," he said.
The governor did not release any other elements of his plan Wednesday.
Lawmakers of both parties and both houses continued their discussions Wednesday, both on how big the budget deficit is and how to balance the fiscal year 2008-09 budget, which starts Tuesday.
State Budget Director Andrew Clinger said that the deficit is now estimated at $254 million.
But Raggio said legislative fiscal staff, using the projections adopted Friday by the Economic Forum, indicated the shortfall appears to be about $274 million.
Assembly Ways and Means Chairman Morse Arberry, D-Las Vegas, said there is no agreed-upon number for the deficit yet.
Legislative analysts last week projected a shortfall of less than a $100 million , while the Economic Forum came up with a $250 million figure, he said.
The truth might lie somewhere between, Arberry said.
Gibbons also said the Legislature should tackle the entire estimated shortfall and not delay some cuts in the hopes that the economy will improve, as some lawmakers have suggested.
"I'm very concerned if we don't do it right, we will be back here with another special session," he said. "And I don't want to see another special session."
Some legislators have said that cuts of $100 million or so could be implemented quickly in a three-day special session, leaving further budget decisions to a later date.
The Legislature is scheduled to meet in February for its regular session and could consider further cuts at that time.
Raggio opposes that notion and has said there is no indication the economy and the state's tax revenues are likely to recover anytime soon. The budget should be balanced at the special session, he said.
He said some progress has been made in discussions with Democrats on where to cut, but no final decisions have been made.
"I'm not going to give you a laundry list of what the components will be because I don't know," he said.
"The speaker (Assembly Speaker Barbara Buckley) and I are committed insofar as possible to having a mutually acceptable plan when we convene on Friday," Raggio said. "Obviously, if we have that, we can have a short session. The goal is still the same, to balance the budget … without raising taxes."
At a meeting of the Interim Finance Committee's subcommittee reviewing state building projects Wednesday, Raggio offered another reason for decisive action on a balanced budget: The state's bond rating could suffer if lawmakers do not act quickly.
"What will affect our bond rating is if we are not able to deal with this budget shortfall in short order during the special session," he said.
Contact Capital Bureau writer Sean Whaley at swhaley@reviewjournal.com or 775-687-3900.
BUDGET ADDRESS Gov. Jim Gibbons will address Nevadans on live television and radio at 6:30 p.m. today, on the eve of the special session of the Legislature he has called to help address the state's budget shortfall. The address, given from his office in Carson City, will be available to all broadcast outlets in the state.