Gov. Sandoval appoints Washoe County judge to fill vacant Supreme Court seat
November 10, 2016 - 11:03 pm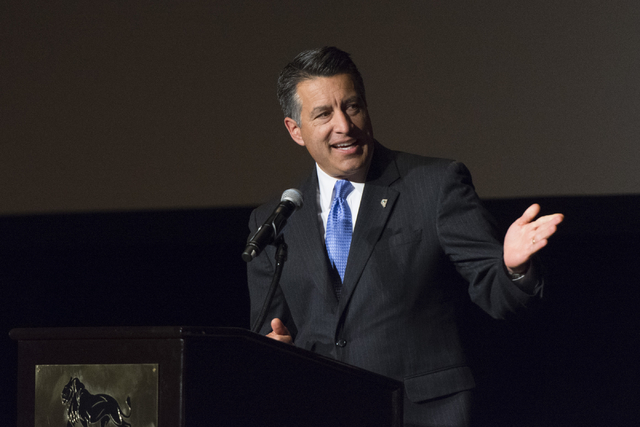 CARSON CITY — Gov. Brian Sandoval on Thursday announced he has appointed Washoe County District Judge Lidia Stiglich to the Nevada Supreme Court starting Jan. 2.
Stiglich will replace Justice Nancy Saitta, who resigned from the court in August, and will serve for the remainder of her six-year term, which ends in 2018. The selection was made following interviews with three finalists recommended by the Nevada Commission on Judicial Selection.
"Judge Lidia Stiglich has performed admirably in the Second Judicial District Court," Sandoval said in a statement. "Since taking office, she has excelled in her performance as an officer of the court and has committed herself to improving the quality of judicial services."
Sandoval said Stiglich is highly regarded by her colleagues on the bench and advocates in the courtroom, as demonstrated by her 96.6 percent retention rating from the Washoe County Bar Association Judicial Survey. That was the highest retention rating and performance score among her peers on the Second Judicial District.
Stiglich co-founded the Youth Offender Drug Court, which seeks to help young adults with drug problems through therapeutic intervention. In addition to her professional and community commitments, she is on the faculty of the National Judicial College and is an instructor at the University of Nevada, Reno.
"I'm grateful to the governor for his confidence, but even more importantly, his trust," Stiglich said. "I know, as a former federal judge, Gov. Sandoval is very diligent and thoughtful in making these judicial appointments. I am truly honored that he's asked me to join the Nevada Supreme Court."
Stiglich said all of her deliberations and judgments "will be guided by the knowledge that my decisions will impact the lives of Nevadans, in real and meaningful ways. That is why I have chosen public service and will always cherish the public's trust."
Stiglich was appointed to the Second Judicial District Court in November 2012 and was retained by voters in 2014. As the presiding judge in Department Eight, Stiglich hears civil and criminal trials.
Stiglich graduated from the University of California, Berkeley, with a bachelor's of science in business administration, emphasis in finance. She received her juris doctorate from the University of California, Hastings College of Law.
The other district court judges sent to Sandoval for consideration for the appointment were Elissa Cadish and Mark Ralph Denton, both from Clark County.
Contact Sean Whaley at swhaley@reviewjournal.com or 775-461-3820. Follow @seanw801 on Twitter.