Gov. Sisolak issues stay-at-home order, activates state National Guard
Updated April 2, 2020 - 7:54 am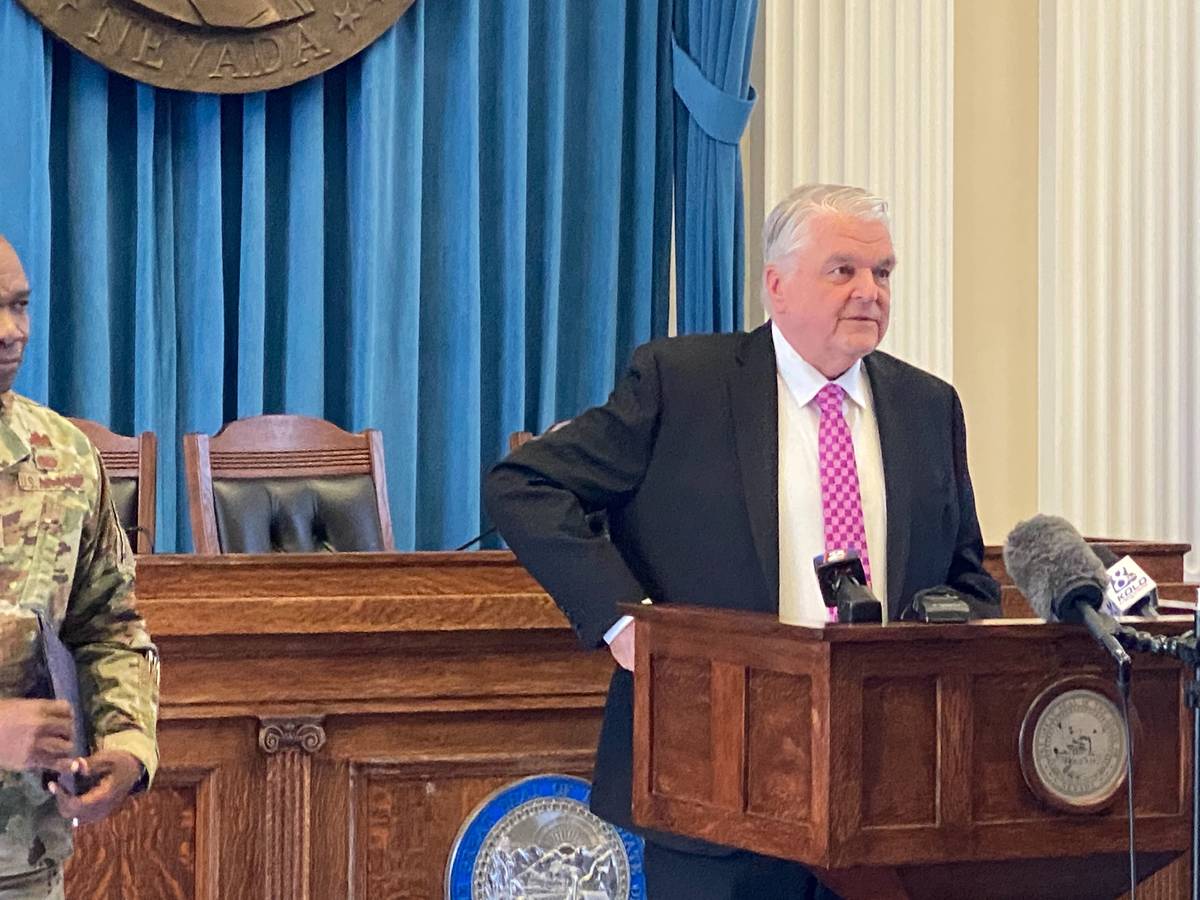 CARSON CITY — Gov. Steve Sisolak issued a statewide stay-at-home order for Nevada's 3 million residents Wednesday, joining 37 other states and several of America's biggest cities in enacting a coronavirus quarantine that now extends to more than three-quarters of the U.S. population.
The governor late in the day also activated the Nevada National Guard, a move that enables the state to seek federal assistance to support the guard's activities. Those activities include logistics around supply delivery and distribution.
The stay-at-home directive came as confirmed coronavirus cases in Nevada closed in on 1,300 with 32 deaths, with the rate of growth following the exponential path health experts have warned about. The order will be in effect until at least April 30. It also extends the previously mandated closure of schools, casinos and nonessential businesses by two weeks, to at least April 30.
Building on previous directives
Sisolak's 10th directive under the state of emergency he declared March 12 flatly states that "all Nevadans are ordered to stay in their residences" but provides limited exceptions for essential activities. Gatherings outside the home are also prohibited, subject to the same exceptions.
The new directive "strengthens the imperative that Nevadans must not leave their homes for nonessential activities in order to prevent the spread of COVID-19," Sisolak said in a statement. "This directive builds on previous directives around school closures, social distancing, closure of nonessential businesses, and bans on public gatherings of 10 or more people by requiring you stay at home unless leaving is absolutely necessary."
Later, at a press conference in the state Capitol where he announced the National Guard activation and other measures, the governor added: "Some people just wanted us to say it's a stay-at-home order, and that's what we're doing now, so that's got us to today."
Nevada National Guard Maj. Gen. Ondra Berry, who spoke at the briefing, said the activation order "has just aligned us with what is already around the country." He added that no first responders, medical personnel or anyone else with "a critical job right now will be taken away" from those jobs.
"Probably the biggest thing that will be important is the logistics standpoint," Berry said. "There are so many people who are providing supplies, (personal protective equipment), giving us support, and so we will help with that."
He added that guard members "also have the ability to work alongside some of the critical care workers if needed."
The governor also announced a directive aimed at rapidly expanding the state's health care workforce by waiving certain requirements to allow "certain doctors, nurses, EMTs and even medical students to go to work right now," along with health care professionals from out of state and abroad. It also permits those who have retired "to come back into practice without leaping over hurdles."
Stay-at-home exceptions
Exceptions to the stay-at-home order are carried over from the governor's earlier directives and permit trips to buy groceries, visit doctors or engage in outdoor recreation, provided that people keep 6 feet away from others and "do not congregate in groups beyond their household members." The order also does not prevent people from leaving their homes to pick up food from restaurants on a curbside pickup or drive-thru basis or to work for businesses exempt from mandatory closure. It also exempts homeless people.
Sisolak's latest directive follows orders that closed schools, then casinos and finally all nonessential business in the state to keep people at a distance from one another and stem the spread of infection. It comes a day after the governor issued an urgent request that travelers visiting or returning to Nevada quarantine themselves for up to 14 days.
Nevada reported its first COVID-19 case on March 5. As of Wednesday afternoon, the state's reported case total was 1,279, nearly triple the number from a week ago. The Southern Nevada Health District reported eight additional deaths from the virus on Tuesday alone, the highest single-day number yet reported.
The latest mandate adds weight to the governor's earlier calls for people to stay at home wherever possible.
Sisolak said as recently as last Thursday that a stay-at-home order was still on the table for Nevada. During a news conference last week, he expressed frustration that some people in the state were not taking social distancing and self-isolation seriously.
Asked if violations of the order risked sanctions, including possible arrest, Sisolak said such penalties enacted in other states have proved "difficult to enforce" and that he did not "feel the time is appropriate" for such enforcement.
"We're asking our citizens to cooperate," he said. "You've seen it before. I've had to ask, and then I've had to direct. You know, I am asking people to stay home for Nevada. Our law enforcement officers are busy dealing with everything that we've put in place."
Governor frustrated
Asked later about dire projections for the disease's impact on the state and its residents, the governor said he was focused exclusively "on suppressing the curve and doing everything we can to practice social distancing to get people to understand what's going on.
"It's frustrating," he added, "when I drive around town, whether it's up here or in Southern Nevada, and I see 10 kids at a basketball court."
In addition to Nevada, 37 other states have issued stay-at-home orders affecting at least 270 million Americans. Other counties and cities have local orders in place. Only five states — North Dakota, South Dakota, Nebraska, Iowa and Arkansas — have no standing order from the state or any local governments urging residents to stay home.
Since the first U.S. case was reported in Washington on Jan. 20, followed by the first U.S. death there on Feb. 29, the U.S. case total has surpassed that of any other country. As of Wednesday morning, the U.S. had more than 190,000 reported cases, nearly 40 percent of them in New York. The virus has caused more than 4,000 deaths nationwide.
As he closed the 35-minute briefing, Sisolak again made an impassioned plea for people to stay home, invoking the sacrifice that everyday Nevadans — grocery clerks, delivery drivers, doctors, nurses and emergency responders — were making to help others.
"These first responders, these truck drivers that are delivering this stuff to the stores, grocery store clerks, they never thought they'd be putting themselves in the line of danger when they got a job as a grocery store stocker," he said. "They are stepping up to help our state, and I am asking every single Nevadan … to step up for Nevada."
Contact Colton Lochhead at clochhead@reviewjournal.com. Follow @ColtonLochhead on Twitter. Contact Bill Dentzer at bdentzer@reviewjournal.com. Follow @DentzerNews on Twitter.
Nevada Stay at Home order, … by Las Vegas Review-Journal on Scribd