Heller, Rosen declared winners, setting up Senate showdown
Updated June 12, 2018 - 8:21 pm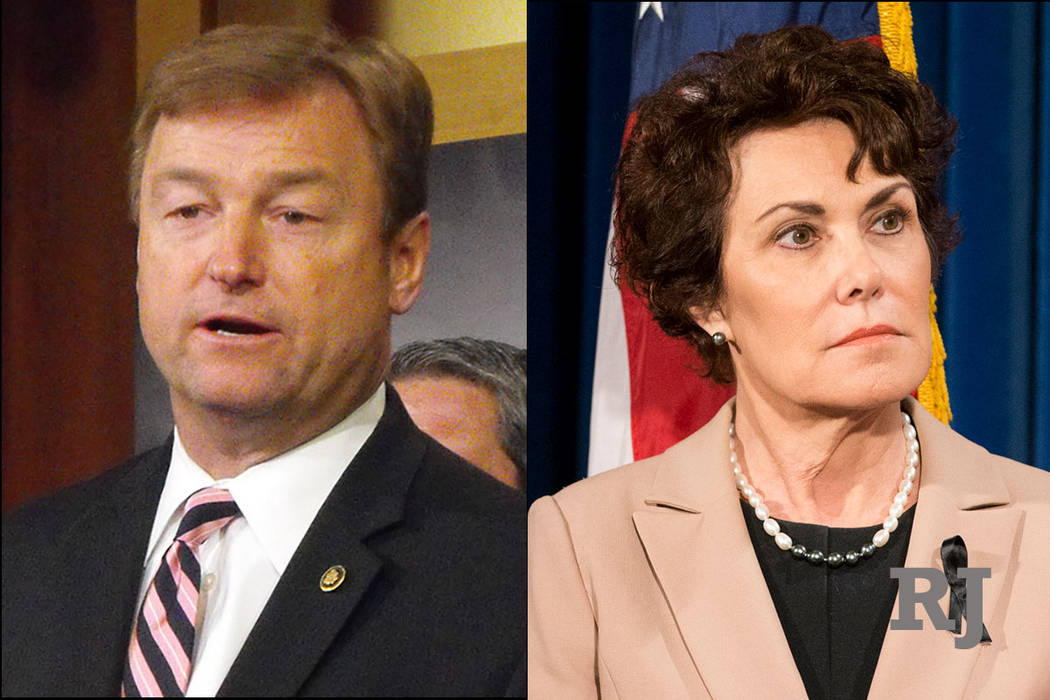 WASHINGTON — Republican Sen. Dean Heller and Democratic Rep. Jacky Rosen easily won their Nevada primaries Tuesday, setting up what is expected to be one of the most closely watched Senate races in the nation.
Heller and Rosen have ignored their party's challengers for weeks. With their primary victories in hand, the two candidates are now focused on the November election.
Party leaders predict a close race, with the most vulnerable Senate Republican being challenged by a Democratic freshman congresswoman.
"It gets serious Wednesday," Heller said.
"We've got to get our message out that we get things done here in the Senate," Heller said, adding; "She has not passed a single piece of legislation."
Rosen said she is proud of her congressional accomplishments. She said Heller is guilty of "the biggest broken promise in the state of Nevada" when he voted to repeal portions of the Affordable Care Act.
"Nevada is a purple state, so we have to work hard to earn people's trust," she said. "I am going to keep my head down and work hard until November."
The Associated Press declared Heller and Rosen the winners of their respecitive primaries shortly before 8 p.m. Tuesday.
Heller defeated Sherry Brooks, Sarah Gazala, Vic Harrell and Tom Heck.
Rosen defeated Danny Burleigh, David Drew Knight, Bobby Mahendra, Allen Rheinhart and Jesse Sbaih.
Rosen, a former synagogue president, was elected to the House in 2016, winning in a competitive congressional district against a Republican opponent with more name recognition.
Heller served as state treasurer and was elected to the House in 2007. Gov. Brian Sandoval appointed Heller to the Senate when John Ensign stepped down in 2011. Heller was elected in 2012.
Heller avoided a costly primary race this year when President Donald Trump nudged Las Vegas lawyer Danny Tarkanian out of the race and urged him to run for Rosen's congressional seat.
"It was helpful," Heller said of Trump's aid. "But we were going to win the primary anyway."
Even before the primary, Heller and Rosen launched attacks on each other.
Messaging for both candidates follow national party scripts crafted on issue polling.
Heller is championing his vote for the Republican tax-cut package. He said the result is that "Nevada's economy is on fire right now. She wants to take that away."
Rosen said she wants to "revisit" the tax plan and "extend tax cuts for the middle class."
She wants to protect health care for families who face increased insurance premiums. Rosen said Heller "sold Nevada out" and changed his vote on repealing the ACA after Trump pressured him to do so, voting for a package that weakened Obamacare provisions on coverage for those with pre-existing conditions.
Heller said charges that he flip-flopped are "a media-driven narrative" that voters see through.
Meanwhile, the nonpartisan Cook Political Report has rated the race a "toss up."
Democrats have targeted the seat in their bid to cut into the Republican's razor-thin 51-49 majority in the Senate. Republicans have vowed to hold it at all costs.
Heller has raised more money than Rosen, but she has outperformed Heller in the past two quarters. Nonetheless, outside spending is expected to eclipse candidate spending in the race.
In the 2016 Senate matchup between Catherine Cortez Masto and Joe Heck, the candidates spent a combined $30 million, while outside groups spent $88 million, according to the Center for Responsive Politics, a non-partisan watchdog group.
Political pundits expect outside group spending in the Heller-Rosen matchup to easily surpass that of 2016.
Contact Gary Martin at gmartin@reviewjournal.com or 202-662-7390. Follow @garymartindc on Twitter.