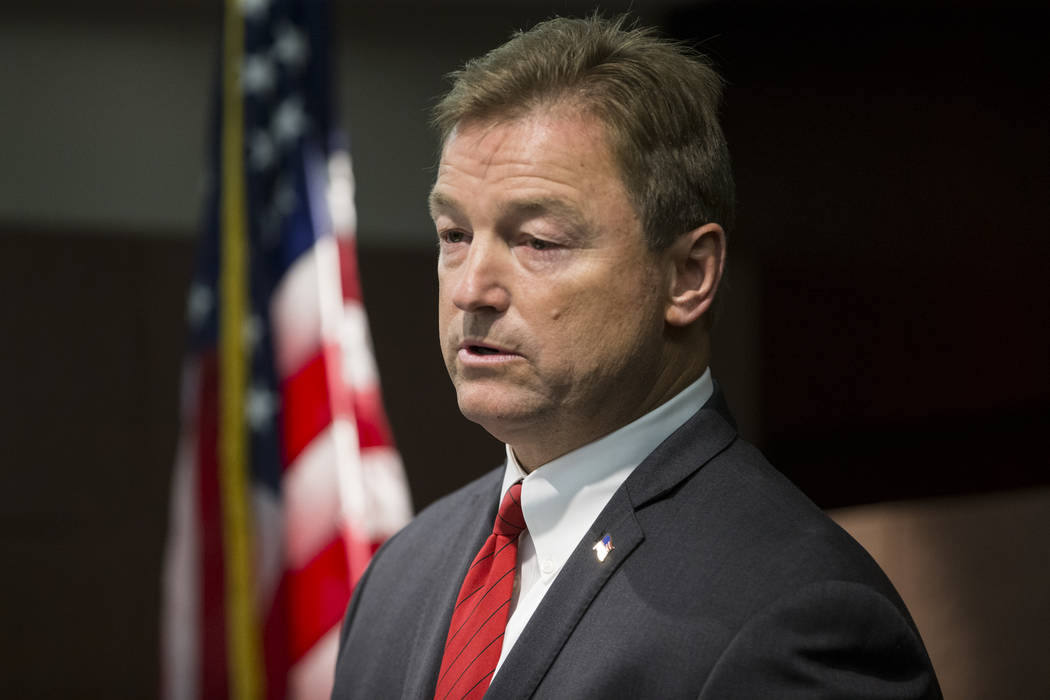 At a Wednesday morning breakfast hosted by the state's oldest Latino political organization, a local clean energy advocate asked U.S. Sen. Dean Heller, R-Nev., when he'd finally host a town hall sans entrance fee.
Heller ignored the question and left the building.
The senator, who has largely been absent from the public eye in Las Vegas in recent months, appeared at the Hispanics in Politics' twice-monthly breakfast meeting at Dona Maria Tamales Restaurant on Las Vegas Boulevard South. At the event, open to members or people willing to pay $15 for a plate of tamales, he addressed an array of topics, including the fate of the proposed Yucca Mountain nuclear waste repository, Medicaid's future in Nevada, immigration issues and tax reform.
"I don't think our country has ever been more polarized," Heller told the 30 or so Latino voters and observers at the outset. "More anger than I've ever seen in my political career."
Heller mentioned his support for the new Interstate 11, bragged about his dissent against the Republican-backed health reform bills and stated he would continue to uphold deportation protection for young undocumented immigrants who enrolled in the Deferred Action for Childhood Arrivals program.
But Heller, who faces challenges for his seat next year in both the GOP primary and the general election, said that undocumented immigrants who repeatedly commit crimes or have committed a felony deserve to be at the top of the deportation list. He also endorsed President Donald Trump's push for tougher border security.
"No one wants to see families broken apart," he said. "But open borders and sanctuary cities and a disregard for our nation's laws will create chaos and drives down wages."
He also expressed support for tax reform.
"What that means for you is you'll get more money and keep more money in your hard-earned paycheck. Because I think it's you, not Washington, D.C., that knows the best how to spend your money," Heller said.
Critics in the crowd briefly interrupted Heller to decry what they called his lack of support for public health insurance in Nevada and for immigrants living in the state, then escorted themselves out.
Heller went out the restaurant's back door around 9 a.m., as soon as the question-and-answer session ended. He then flew to Reno, where he greeted Trump at his appearance at the American Legion convention.
The visit followed a controversial campaign rally on Tuesday in Phoenix , where Trump hinted he might pardon Joe Arpaio, the former Maricopa County, Arizona, sheriff who was convicted last month of criminal contempt.
"I'm not from Arizona, I see this from a distance and I read it, so on, so forth," Heller said in Las Vegas of Trump's stance. "But I just want to make the point that the president was going to come to Phoenix yesterday and pardon him, and chose not to do so. And I certainly hope that's the position that he has in the future."
Contact Jessie Bekker at jbekker@reviewjournal.com or 702-380-4563. Follow @jessiebekks on Twitter.
Heller's peril
Nevada's Sen. Dean Heller is widely considered to be one of the most vulnerable Republicans in the Senate in next year's midterm election.
He is being opposed in the GOP primary by Danny Tarkanian, who has run five times for public office without winning, and in the general election by Democratic Rep. Jacky Rosen, who is less than a year into her first term in Congress.