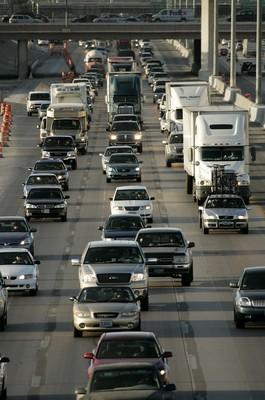 CARSON CITY — Transportation and business leaders pleaded Tuesday for the state Senate Taxation Committee to approve a bill that would levy enough taxes to construct $3.8 billion in major highway improvement projects during the next eight years.
Jacob Snow, general manager of the Regional Transportation Commission serving Clark County, testified that without improvements on Interstates 15 and 80, Nevada's entire economy will be gridlocked.
I-15, the busiest major roadway in Nevada, carries most of the vehicles traveling from California to Las Vegas casinos, the state's biggest industry. I-80 serves the same function for Reno.
Nevada Taxpayers Association President Carole Vilardo said if the Legislature does not act on the highway needs, then congestion only will become greater by the time it next meets in 2009.
Las Vegas and New York City are tied as the 10th most congested U.S. cities, according to Las Vegas economic analyst Jeremy Aguero, a consultant for proponents.
He estimated that congestion costs the average Southern Nevada motorist $269 a year.
Hearing proponents' request, Taxation Committee Chairman Mike McGinness, R-Fallon, said he will seek Senate Majority Leader Bill Raggio's permission to declare Senate Bill 324 exempt legislation.
Without the exemption, the bill will die automatically unless the committee approves it before Friday.
The bill calls for a series of tax increases and modifications designed to raise about $280 million a year. With the money, the Nevada Department of Transportation would sell bonds during a 20-year period and embark on the $3.8 billion highway construction program.
But if the state changes a law limiting bond payoffs to 20 years, Snow said, then the tax increase could be reduced. He said a tax increase of about $170 million a year would be sufficient to pay off a 30-year bond.
Throughout the hearing, Sen. Bob Coffin, D-Las Vegas, questioned why the state does not implement "weight-distance" taxes, instead of relying on gasoline taxes to fund highway construction.
Weight-distance taxes are mileage-based road charges that increase with vehicle weight. Large trucks, in particular, would pay higher fees.
Supporters consider the tax a more equitable way to fund road construction than fuel taxes because the charges more accurately reflect the roadway damage caused by individual vehicles.
Big trucks cause more damage to highways than passenger cars and pickups. Cars and pickups could be made subject to the tax as well.
Assembly Speaker Barbara Buckley, D-Las Vegas, is expected to call for higher taxes on trucks during a news conference today when she announces the Democrat plan to deal with the highway construction shortfall.
Brent Boynton, Gov. Jim Gibbons' communication director, said the administration will have to review weight-distance taxes if they are part of the Democratic plan to fund highway improvements.
"If it (the Democratic plan) involves new or increased taxes, I don't think the governor will support it," Boynton said.
Nevada Motor Transport Association lobbyist Paul Enos told Coffin that trucks already pay 40 percent of the fuel taxes and fees that fund the Department of Transportation.
Coffin told him the Legislature could impose weight-distance taxes "without your support."
"I can understand trucking's opposition to weight-distance," Coffin added.
Oregon has begun a pilot program imposing weight-distance taxes, according to Jeff Fontaine, former state transportation director.
"I think in general across the country that distance taxing will be the wave of the future, but we are not there yet," Fontaine said at the hearing. "There are no easy answers to this problem."
Gibbons, however, is on record opposing any tax increases during the 2007 Legislature.
He has particularly spoken out against gasoline tax increases.
SB324 would impose 6 cents per gallon gasoline tax increases during the next two years.
Under the bill, annual car registration fees would increase about 20 percent when depreciation allowances are changed. Driver's license fees would be increased. And sales taxes raised from motor vehicle sales and repairs would be placed in the highway construction fund. Those taxes now go to the state general fund.
"A number of these provisions don't smack of being politically palatable," Vilardo said. "But you could make them so."
Sen. Mark Amodei, R-Carson City, suggested business and transportation leaders reach a compromise on taxes they will support to fund highway construction and return to the committee in coming weeks.
"There is at least a beginning today," he said. "This shouldn't happen by Friday, but expeditiously."
Stan Goodin, a lobbyist for the Nevada Highway Users Coalition, calculated the actual cost of funding the $3.8 billion in highway construction would be a quarter a day or $91 a year for each Nevada resident.
"Please take action in 2007," Goodin said. "Do not delay this critical problem."
2007 Nevada Legislature