House committee approves bill to restart Yucca Mountain project
Updated June 28, 2017 - 7:30 pm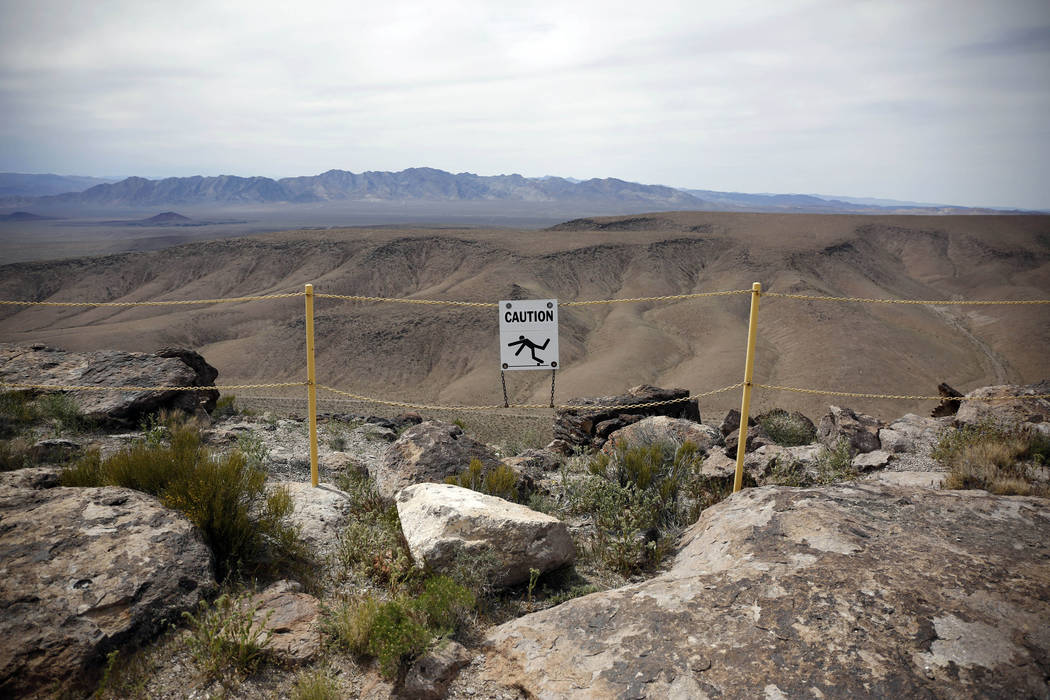 WASHINGTON — A bill to restart the stalled Yucca Mountain project was approved by a full House committee on Wednesday after members tried to appease Nevada by striking a provision dealing with state water rights.
But the bill also increased the statutory cap on the amount of nuclear waste that could be stored at Yucca Mountain from 70,000 tons to 110,000 tons, allowing the Department of Energy more storage in Nevada until a second permanent storage repository is built.
The House Energy and Commerce Committee voted 49-4 to advance the bill to the full House for consideration, which could happen as early as next month.
The support for the legislation came after the committee approved bipartisan amendments offered by Rep. John Shimkus, R-Ill., that authorized more federal funds for interim storage of nuclear waste and stripped language that usurped Nevada's water rights — an issue that resonated with lawmakers in Western states.
But Shimkus, the chairman of the House Energy subcommittee on environment, said the changes do not remove the federal obligation to permanently store waste and get an answer from an independent safety regulator on "whether Yucca Mountain meets all the requirements to serve as a permanent repository."
Rep. Dina Titus, D-Nev., said that while some lawmakers were trying to paint the changes "as better for Nevada, the fact remains that this legislation is an attempt to dump even more waste into our state.
"They claim that the new bill addresses many of the concerns I raised during the hearing on the legislation earlier this year. In reality, it is worse than existing law."
Rep. Jacky Rosen, D-Nev., said "nothing about today's bill or so-called compromise amendments appease our concerns."
Rep. Mark Amodei, R-Nev., said the bill's advance was not surprising.
"The fact that the vote out of committee was 49-4, and not a party-line vote, leads me to suspect this is a sign of things to come in the House," he said. "We will continue to direct our efforts at providing the best possible protection for Nevadans."
No Nevada lawmakers sit on the energy committee.
Even Democrats on the panel cited the need to move a stockpile of nuclear waste out of more than 100 communities to safer interim and permanent storage sites.
"This was a delicate and difficult negotiation, but I believe we have arrived at a very good compromise," said Rep. Frank Pallone Jr., D-N.J., the ranking Democrat on the energy committee.
A Shimkus amendment authorizes $150 million over three years for licensing of a pilot interim storage facility and gives the energy secretary the ability to contract with a private company to store nuclear wastes.
Shimkus was also co-author of a bipartisan amendment that stripped out language that would have given the the Energy Department authority to override Nevada's authority on water rights. Nevada has denied the federal government a water permit for Yucca Mountain.
The water rights issue resonated with lawmakers in other Western states, as well as with conservatives who saw the original legislation as federal overreach.
The committee also included an amendment by Rep. Debbie Dingell, D-Mich., that said the United States and Canada should not allow permanent storage of spent nuclear fuel near the Great Lakes.
Rep. Dina Titus, D-Nev., called that a great irony in the bill. "If it is not safe for them, how can it be safe for Nevada?"
The Senate is expected to file bipartisan legislation that would differ from the House bill. Republicans and Democrats in the Senate say their legislation will move more aggressively on interim storage. That bill is expected to create a federal agency to identify places to accept nuclear waste.
President Donald Trump's budget blueprint for fiscal year 2018 includes $110 million to restart the licensing process to build Yucca Mountain, and $10 million for interim storage.
Yucca Mountain, located nearly 90 miles northwest of Las Vegas, was designated by Congress in 1987 as the site for permanent nuclear waste disposal.
Since then, the DOE has spent $15 billion to develop and study the site.
The DOE filed its license application on Yucca Mountain with the Nuclear Regulatory Commission in 2008. The DOE tried to withdraw the application in 2010 and President Barack Obama defunded the program in 2012.
Efforts by the Trump administration and the House to restart the licensing application for Yucca Mountain have ignited a firestorm of opposition by most Nevada public officials, except in Nye County where Yucca Mountain is located.
"Nye County and eight other rural counties in Nevada have long supported moving the licensing process forward so the science on Yucca Mountain can be heard," said Dan Schinhofen, the Nye County Commission chairman.
He applauded the House energy panel for moving the bill forward and noted that no changes in legislation take resources away from developing Yucca Mountain as a permanent repository.
But reaction to the House action from other Nevada elected officials was critical.
Sen. Dean Heller, R-Nev., said he will stand with the state of Nevada and fight "this reckless proposal every step of the way."
And Sen. Catherine Cortez Masto, D-Nev., a former state attorney general, said the House bill "ignores the detrimental impacts to Nevada's communities and economy if Yucca Mountain moves forward."
Contact Gary Martin at 202-662-7390 or gmartin@reviewjournal.com. Follow @garymartindc on Twitter.