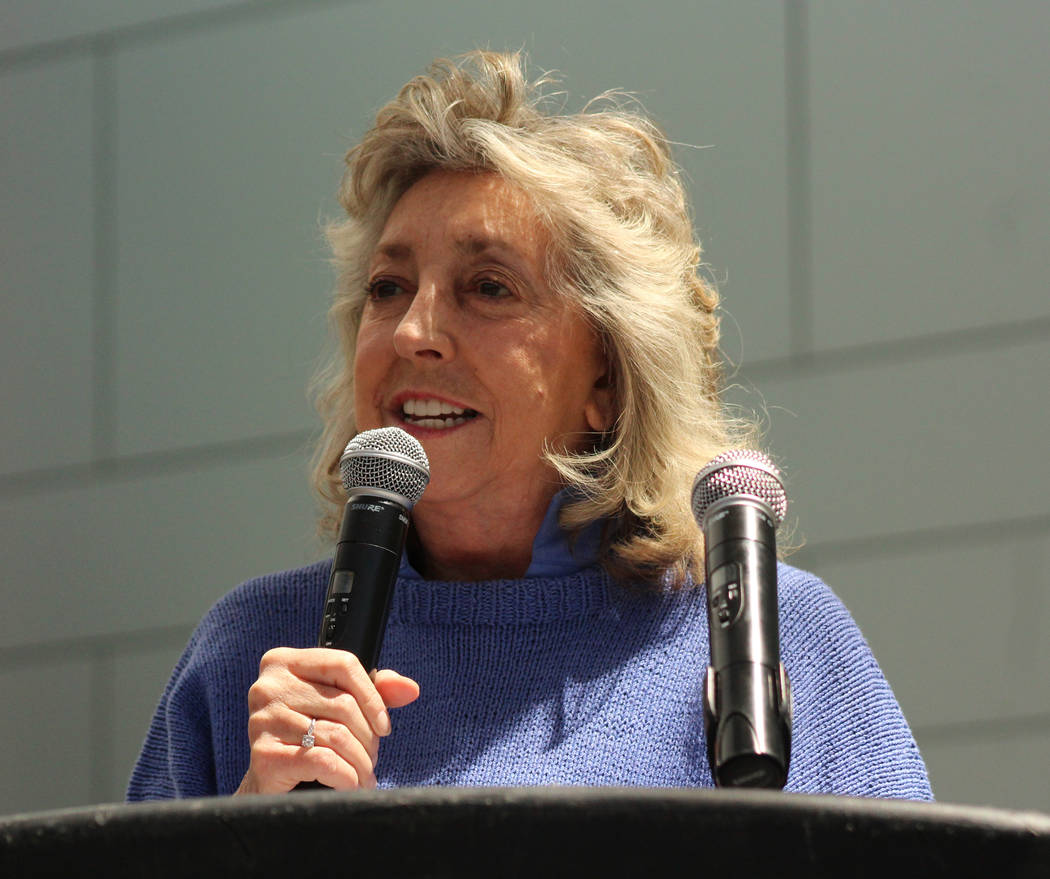 WASHINGTON — Republicans and Democrats both claimed victory on a bipartisan $1.1 trillion comprehensive spending bill that includes items of specific interest to Nevada and Las Vegas.
The House voted 309-118 to pass the bill that avoids a disruptive shutdown and provides government funding through Sept. 30, the end of the current fiscal year.
House Speaker Paul Ryan, R-Wis., said the legislation was a compromise, neither side got everything it wanted.
But he declared it is the "beginning of a new era" that completes the unfinished business of the past administration and moves forward under President Donald Trump.
Democrats said the compromise bill underscored their clout and, as Rep. Dina Titus, D-Nev., said, it delivered the "Trump administration a glimpse of reality."
Senate leaders predicted passage of the legislation this week.
Senate Majority Leader Mitch McConnell, R-Ky., praised the negotiations by Republicans and Democrats to write the legislation that prevents a shutdown when a current short-term spending bill ends Friday.
He said the American people win.
"They like it when we reach bipartisan agreement," McConnell said.
Trump to sign bill
The White House issued a statement saying Trump would sign the bill, even though it does not include his request for money for a border wall.
Trump claimed victory, but only after he threatened a September shutdown of the government if Democrats blocked his spending priorities in the 2018 budget.
"The president did not play a positive role," said Senate Minority Leader Chuck Schumer, D-N.Y.
Lawmakers did include a boost for the U.S. military, including a pay hike and money to buy F-35 fighter jets that are used in programs at Nellis Air Force Base.
Rep. Jacky Rosen, D-Nev., a member of the House Armed Services Committee, said the increased defense spending in the bill "ensures military readiness."
Nevada also was closely watching provisions in the legislation on federal enforcement measures.
Attorney General Jeff Sessions has vowed a federal crackdown on local marijuana laws, but the bill bars the Justice Department from interfering with medical marijuana programs in states.
Titus said the Justice Department prohibition is an extension of policy "I have long supported," but it is a temporary fix.
"Congress must now pass permanent legislation to respect states' rights," she said, and allow the Veterans Administration to consider marijuana when looking at treatment options for veterans.
More for border enforcement
Although the border wall funding was scrapped, the legislation calls for $1.5 billion for border and immigration enforcement, something championed by Republicans.
Members of the Congressional Hispanic Caucus, including Rep. Ruben Kihuen, D-Nev., were disappointed the bill contains more funds for detention beds and for increasing the number of Immigration and Customs Enforcement agents.
Still, caucus members said, the legislation limits the impact of Trump administration proposals that they said threaten to break apart the immigrant community.
The bill includes no funds to immediately revive licensing for the Yucca Mountain nuclear waste repository, which is located in Kihuen's congressional district. But Trump has proposed $120 million in fiscal year 2018 to restart development of the Nye County site.
Nevada congressional delegation members touted the absence of Yucca Mountain funding, but the president and the House Energy and Commerce Committee have signaled their intent to pursue development.
The bill also restores the Pell Grant program for college students and includes funds for sage grouse habitat and public lands protection.
Contact Gary Martin at gmartin@reviewjournal.com or 202-662-7390. Follow @garymartindc on Twitter.
Items of interest in the spending bill:
—$8.2 billion for 74 F-35 aircraft and a 2.1 percent increase in military pay.
—$407 million in emergency funds for Western states to fight wildfires.
—$331 million for the Transportation Security Administration to speed screening at airports.
—$81 million for the National Park Service for projects and to address maintenance backlog, including at Death Valley National Park and Great Basin National Park.
—$15 million for the Bureau of Land Management, including $9 million for sage grouse and federal land preservation.
Source: House Appropriations Committee