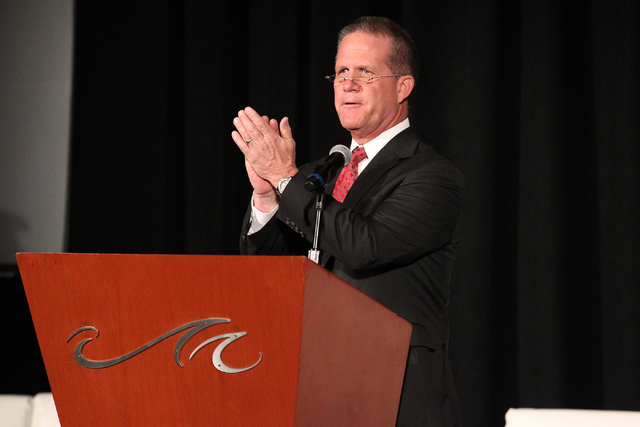 CARSON CITY — Nevada Lt. Gov. Mark Hutchison announced Monday he won't run for governor in 2018.
Hutchison, an attorney and Las Vegas Republican, made the announcement on his Facebook page.
"As the year came to a close and a new year and new election cycle approached, I spent considerable time over the Christmas season seriously contemplating a campaign for governor, which friends and those I trust had encouraged me to do," he wrote.
"I've decided not to seek the office of governor at this time. I'm blessed with a large and growing family, which is deserving of more of my time and attention as well as a large and growing law firm that I'm not in a position to leave just yet to serve as governor."
Hutchison said he looks forward to continuing to serve as lieutenant governor and helping to elect candidates "who will strengthen Nevada and provide more opportunities for my fellow Nevadans."
Hutchison, 53, was elected to the state Senate in 2012 to represent District 6. Two years later he ran for lieutenant governor, defeating Democrat Lucy Flores by a wide margin.
He is the second high-profile Republican in recent weeks to bow out of contention for the chance to replace Gov. Brian Sandoval, a popular, two-term GOP governor who is prohibited from seeking re-election next year.
Just before New Year's, U.S. Sen. Dean Heller ended speculation on a gubernatorial bid by saying he would seek re-election to the Senate.
Hutchison told the Review-Journal on Monday that he hasn't decided whether he will seek re-election in 2018 as lieutenant governor. Hutchison reported raising $413,000 in campaign contributions last year, according to reports filed with the secretary of state.
"I'll probably make a decision about re-election at the end of the session," he said.
The lieutenant governor is president of the state Senate and presides over floor sessions during legislative sessions, but doesn't vote on legislation unless there is a tie.
The 2017 Legislature convenes Feb. 6 in Carson City.
Hutchison said he did not discuss his plans with others who might enter the Republican race for governor.
"There are a variety of people who are taking a look at this," he said.
Attorney General Adam Laxalt is rumored to be considering it, and Rep. Mark Amodei has suggested he'd like to come back to Nevada from Washington, D.C.
Laxalt was elected attorney general in 2014. Last year he raised $365,000, campaign finance reports show.
Contact Sandra Chereb at schereb@reviewjournal.com or 775-461-3821. Follow @SandraChereb on Twitter.