In affordable housing push, feds to sell land to Nevada governments
Updated August 3, 2023 - 5:52 pm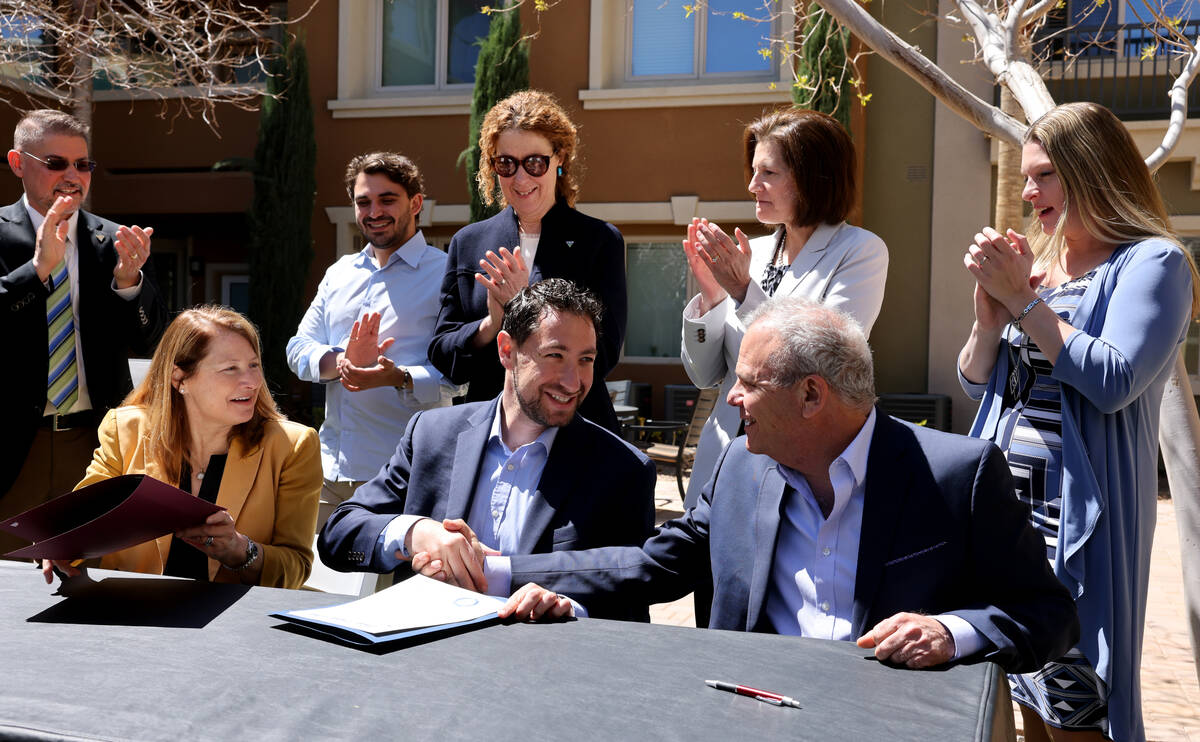 Under a new agreement, Southern Nevada governments will be able to buy public federal land for as low as $100 an acre for affordable housing projects, federal officials announced Thursday.
"This is far below the rate for comparable land sales, which at one point reached a high of more than $2 million per acre," the U.S. Department of Housing and Urban Development said.
The new memorandum of understanding streamlines the process like one used in the April conveyance of a five-acre plot of land to Clark County for the construction of an affordable apartments for seniors.
The 195-unit complex at Eastern Avenue and Pebble Road, for which the county invested nearly $12 million from its "Welcome Home" affordable housing fund, is expected to open in 2025.
Sen. Catherine Cortez Masto was instrumental in changing the federal guidelines to smooth out and expedite the process of the land sales.
"Nevada is facing an affordable housing crisis and we need to be doing more to ensure we can build more homes for working families," the senator said in a Thursday statement. "For too long developing affordable housing on public lands in Nevada has been bogged down by an inefficient process, and I pushed for these vital improvements that will make it easier to build more homes for Nevada's working families."
The federal government plan, which involves the Bureau of Land Management and HUD, is made possible through the Southern Nevada Public Land Management Act that dates back to 1998.
The act allows the federal government to sell land at fair market value to Nevada and local governments for public projects "within a specific boundary around Las Vegas."
Clark County estimates a shortage of more than 85,000 affordable homes for low-income residents.
"Clark County has long advocated for more land to alleviate affordable housing challenges and recently worked with the BLM to negotiate the process reflected in the MOU," a county spokesperson wrote in a statement. "While this took some time to be formalized, we are happy this is moving forward now to benefit our community in the long-term."
The Nevada congressional delegation touted the new initiative.
"Affordable housing is a critical and growing issue in Southern Nevada," U.S. Rep. Dina Titus, D-Nev., said in a statement. "I've advocated for years for increased investment in affordable housing, and today's announcement is a welcome step in that direction."
She was echoed by U.S. Rep. Steven Horsford, D-Nev.
"Today's agreement is a huge step toward ensuring that every Nevadan can afford a home," he said in a statement. "With the availability of federal land for just $100 an acre for affordable housing projects, we are making strides toward a more equitable housing future and an economy that works for everyone. I applaud this interagency collaboration that will expand housing access and lower costs for Nevadans, and make the American dream attainable for even more of our residents."
Contact Ricardo Torres-Cortez at rtorres@reviewjournal.com. Follow @rickytwrites on Twitter.