Independent candidate files for recount of sample of Nevada presidential ballots
November 29, 2016 - 6:03 pm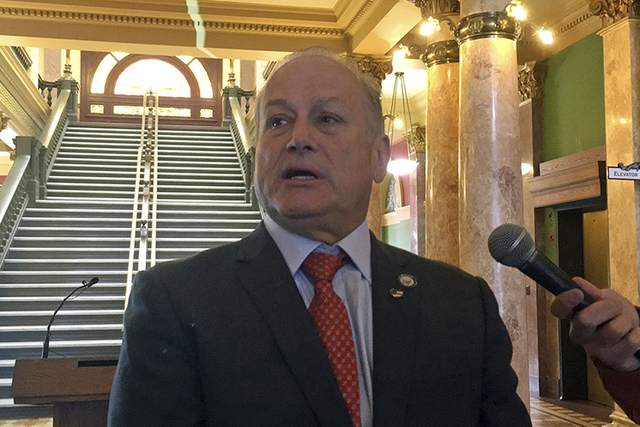 CARSON CITY — Roque "Rocky" De La Fuente, an independent candidate for president who garnered less than 1 percent of the vote in Nevada, filed late Tuesday for a recount of a sample of the state's presidential ballots.
De La Fuente identified 93 precincts to be recounted and paid $14,154.98 to the secretary of state's office ahead of the 5 p.m. deadline to cover the cost.
In the November election, De La Fuente came in dead last in the presidential contest on the Nevada ballot, even trailing "None of these candidates." He received just 2,552 votes, or 0.23 percent. Democratic contender Hillary Clinton won Nevada with 47.9 percent of the vote, beating Republican President-elect Donald Trump by a little more than 2 percent.
In a statement Tuesday, De La Fuente said he ran in the Democratic presidential primary, then ran in the general election in various states as an independent and as the nominee of both the Reform Party and the American Delta Party in "an effort to champion election reform."
Under state law, the secretary of state's office has five days to complete a recount of the precincts requested — two each in Carson City, Douglas, Mineral and Nye counties and the rest in Clark County, the state's population hub and home to about 2 million people.
If the recount shows a discrepancy equal to or greater than 1 percent for either De La Fuente or Clinton, a full recount of all ballots in the state will be ordered, said Wayne Thorley, elections deputy for the secretary of state's office.
"If it shows yes there was a discrepancy, we'll recount the entire state," Thorley said.
De La Fuente also filed a petition last week requesting a recount in Wisconsin but later withdrew it after Jill Stein, the Green Party presidential candidate, filed a petition there and telegraphed plans to file also in Michigan and Pennsylvania. On Tuesday, his campaign said it would instead ask for recounts in Nevada and Florida.
Stein fell short of signatures needed to qualify for Nevada's Nov. 8 ballot after the verifiation proces by the secretary of state's office. A federal judge upheld the secretary of state's determination. Because she was not on the ballot, Stein was ineligible to request a recount here.
Republicans have denounced the recounts, with President-elect Donald Trump labeling the effort a "scam" and his senior adviser Kellyanne Conway calling Stein and Democrat Hillary Clinton, whose campaign on Saturday threw its support behind Stein's moves, "a bunch of crybabies and sore losers."
In the statement, De La Fuente indicated he was concerned about the integrity of the vote and was not pursuing the recount for partisan reasons.
"I am not a big fan of President-elect Trump, but I also ran against Hillary in the Democratic primary," De La Fuente said. "In my opinion, a recount should be done to validate the election or expose the need for substantive election reform. It shouldn't favor one candidate over another."
Clinton won Nevada, while Trump won Florida, Michigan, Pennsylvania and Wisconsin.
The Nevada Green Party supports De La Fuente's recount effort here, state co-Chairwoman Kim Borghese said.
"He has that right and it basically just ensures that there's no corruption or fraud going on in the system," Borghese said. "It's the fair and right thing to do to make sure there is election integrity."
De La Fuente, who could not be reached by the Las Vegas Review-Journal late Tuesday, said in the statement that he doesn't expect to change election results.
"It's not about flipping a state and changing the results," he said. "It's about making sure that every vote counts as it's cast."
De La Fuente, a businessman whose website lists auto dealerships, banking and real estate among his enterprises, added that he targeted Nevada because he had standing to seek a recount here, whereas Stein did not.
"Jill wasn't ballot-qualified in Nevada, whereas I was," he said. "So, she can carry the burden in Wisconsin and the other states in which she as an interest, and I'll add two more to the mix."
Colton Lochhead of the Review-Journal contributed to this report. Contact Sandra Chereb at schereb@reviewjournal.com or 775-461-3821. Follow @SandraChereb on Twitter.