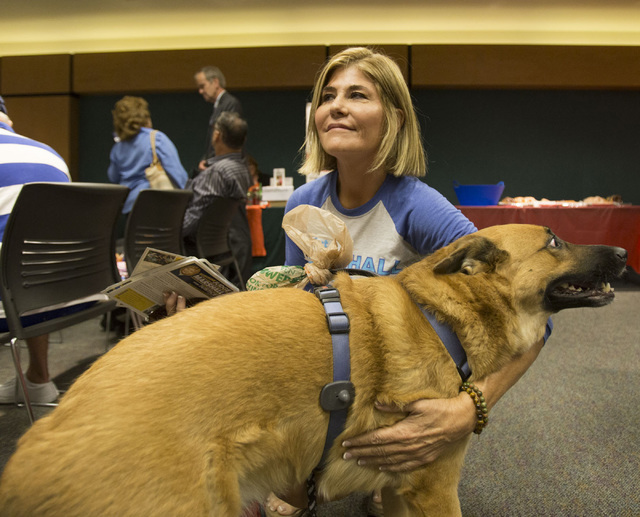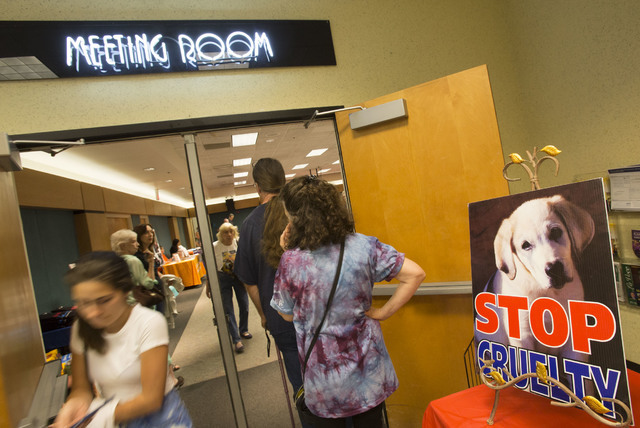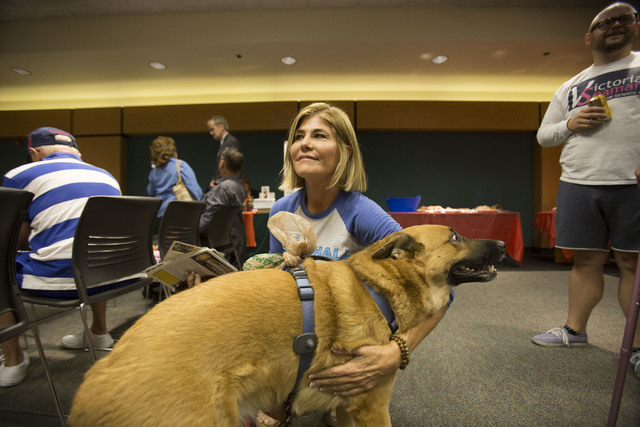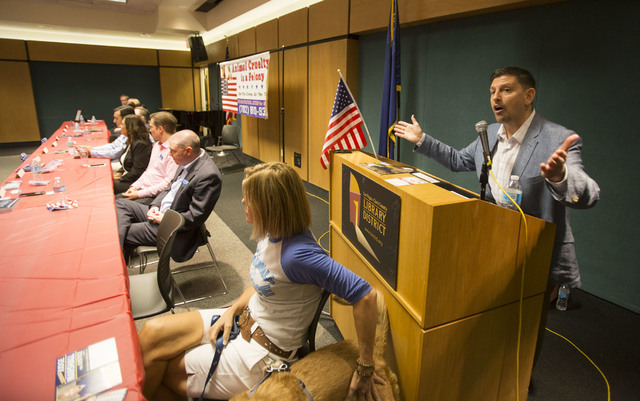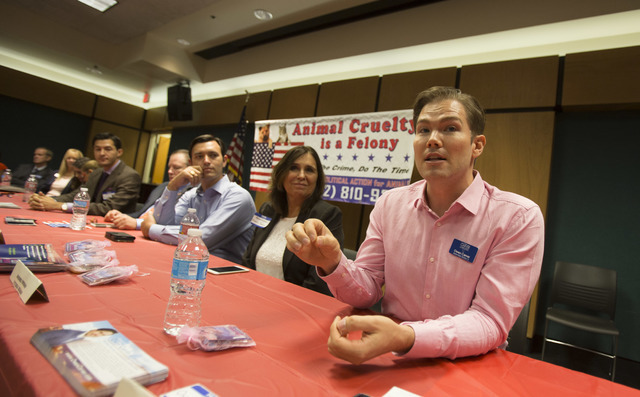 Nevada Republicans and Democrats often argue like cats and dogs, but when it comes to the welfare of animals, some find common ground.
"Whether you're a Democrat or Republican, you don't want to see animals being victimized," said Michael Follen, a Las Vegas resident who has four rescued animals. "It's an issue of humanity, not a political issue."
Twelve of the candidates endorsed by the Nevada Political Action for Animals Committee spoke to local residents Sunday about their support of animal issues during a meet-and-greet organized by the committee.
Stacia Newman, NPAA president, said the candidates have to leave their party hats at the door.
"This is all about animal cruelty, torture, animal welfare issues, and you see Democrats and Republicans, working side by side for a common cause," Newman said.
Assemblyman John Moore, R-Nev., said that during his first legislative session, he forged a working relationship with state Sen. Mark Manendo, D-Nev., and was a co-sponsor of Senate Bill 261 — an act that requires certain research facilities to offer dogs and cats to an animal shelter or rescue organization for adoption before euthanization.
Moore said he wants to take that a step further by bringing forth a bill that would ban all types of animal testing.
"I think it's time that we start leading the way in the country as far as banning all animal testing," he said. "Test on me if you want to. I have a voice. The animals don't."
Newman said another bill on the committee's radar for the 2017 legislative session would allow anyone to break open a car window to rescue an animal in the extreme heat or cold without facing liability.
"If a kid gets left in a car, you can break open a window and save them, but you can't do that for animals," Manendo said.
According to the Nevada Revised Statutes, only a peace officer has the ability to use reasonable and necessary force in this situation, and it only applies to cats and dogs.
Rachel Roberts Levi, the founder of One Family Animal Sanctuary — an organization that specializes in farm animals that have been abused or neglected — asked the candidates and other attendees to think of animal rights issues "across the board" and not just in relation to cats and dogs.
Vegan- and vegetarian-friendly snacks were available for those in attendance, and one candidate, Democrat Owen Carver, who is running for a seat in Assembly District 2, spoke about his journey to become a vegetarian and challenged those in the room to make the same choice.
"Now, today, with all the plethora of meat-substitute options, there's really no excuse to not be vegetarian," Carver said. "I would encourage you all to literally never buy meat to keep in your home. Because when you're buying it, you're going to a grocery store, where there's always a meat-alternative option."
Contact Natalie Bruzda at nbruzda@reviewjournal.com or 702-477-3897. Follow @NatalieBruzda on Twitter.