Lake Mead keeps shrinking as states struggle to find Colorado River cuts
Updated March 6, 2023 - 8:49 am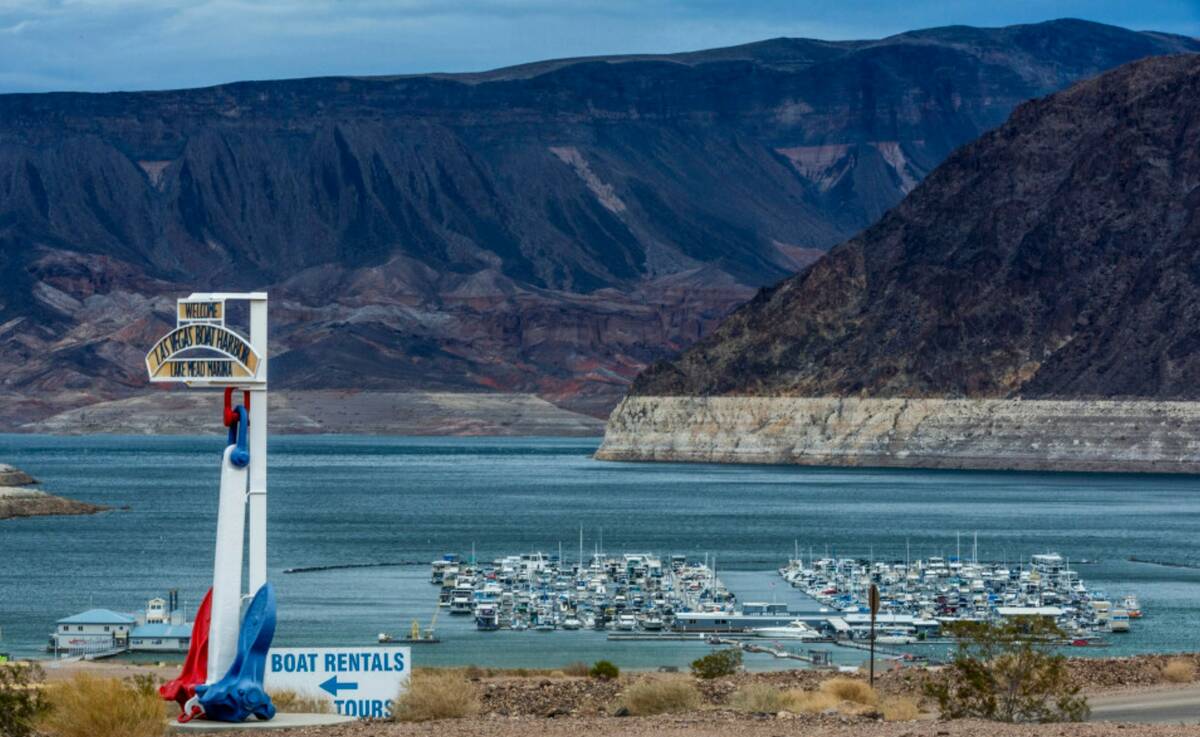 Getting states to agree to use less water is hard. Doing so in a matter of months is near impossible.
The last time the Colorado River Basin agreed to a set of reductions to address drought conditions and dropping levels at Lake Mead was in 2019. Those reductions took five years to iron out and amounted to a fraction of what the federal government now says needs to be cut in order to keep the system from crashing.
Now, states are looking to cut far more water than the 2019 agreement yielded, and on a much shorter negotiation timeline.
After the seven states that rely on the Colorado River to provide water to roughly 40 million Americans missed two deadlines from the federal government to work out a consensus plan, there are two proposals from the basin states on the table that offer different paths for how to meet the target.
The two proposals arrive at a similar number of potential new cuts to water use across the basin, but draw a clear line in the sand between California's desire to protect its senior water rights, much of which are tied up in the agriculture sector, and the desire of the other six states to have California, Nevada and Arizona share the cuts more equitably.
Rhett Larson, a water law professor from Arizona State University, said that the dueling proposals show the other states are willing to collaborate with Arizona as a way to stand toe-to-toe with California, the largest water user on the river at 4.4 million acre-feet of water annually and arguably the most politically and economically powerful of the basin states, as well.
But there is a reason California felt confident enough to stand on its own proposal.
"It depends on your interpretation, but I think a strict, narrow interpretation [of the law] certainly does favor California," Larson said.
Lost water
The proposal from the six states accounts for roughly 1.5 million acre-feet of water that is lost to evaporation and system leaks based on where those losses most likely occur. Accounting for that lost water would effectively operate as cuts in water allocations to the three lower basin states, and more than half would come from California's share of the river. It also includes additional cuts of up to 450,000 acre-feet between the three states based on percentages that increase as Lake Mead's level falls.
California's proposal does not account for those losses, but arrives at a similar amount of new cuts across the river of roughly 2 million acre-feet. It gets there by taking a smaller amount of possible cuts for itself as compared to the other proposal —17 percent versus 32 percent — and putting a heavier burden on Arizona, cutting that state's water allocation by nearly 80 percent when Lake Mead falls below 1,005 feet in elevation, according to data from the Central Arizona Project, which operates a 330-mile canal that brings water to the Phoenix area from the Colorado River.
Such cuts would leave only Arizona's highest priority users with Colorado River water, according to Tom Buschatzke, director of the Arizona Department of Water Resources. That would mean cities such as Scottsdale, which relies on the Colorado for 90-95 percent of its water, and Phoenix, which gets about half of its water from the river, being essentially cut off from the river and forced to find water elsewhere.
"Obviously that's not a tenable outcome in anyway shape or form," Buschatzke said.
Affect on Nevada
In Nevada, the differences between the two proposals are smaller, in large part because of Nevada's tiny 300,000 acre-foot allocation, just 1.8 percent of the river. But a smaller base allocation means even small changes would be felt in significant ways.
Under the six states' proposal, Nevada's share of the river's waters could fall as low as 233,000 acre-feet if the reservoir drops below 1,020 feet in elevation. That's still more water than 223,000 acre-feet of Colorado River water the region consumed last year.
But under California's proposal, Nevada's cut of water could fall as low as 192,000 acre-feet should Lake Mead fall below 1,005 feet.
Nevada has managed to reduce its Colorado River water consumption substantially in the last three years due to aggressive conservation measures. But cutting another 35,000 acre-feet may be too much even for Southern Nevada's aggressive conservation to cover, according to John Entsminger, general manager of the Southern Nevada Water Authority and Nevada's lead negotiator on the Colorado River.
"I don't think we could get there in a year or two," Entsminger said. "To get that level in that time period may not be attainable."
Talks ongoing
Since those two proposals were unveiled and submitted to the Bureau of Reclamation a month ago, the seven states have continued to talk in hopes of getting closer to a full seven-state agreement. The bureau is reviewing the proposals alongside its own potential alternatives for proposed cuts, and the agency is expected to release a draft analysis of the proposals in early April, while a final draft will likely come in late summer before the bureau makes its water allocation determinations in August.
"Focusing on the positive, the two proposals really aren't that far apart. That's good, and that's one of the reasons we continue to talk," Entsminger said.
Buschatzke, from Arizona, said the states are working to "close the gap" on how to divvy up the cuts between Arizona and California. Those conversations have been difficult, but said there is a recognition that it will take a collective effort between the states to save the Colorado River and not just cutting water from the junior rights holders.
"There's a willingness to find a solution and keep us out of a courtroom," Buschatzke said.
But how the states get there remains to be seen.
Larson, the water law professor from Arizona State, said litigation can provide a structured way for the states to communicate and a process that would make delays and holdouts expensive. But that could backfire, he added.
"If litigation does not serve as a catalyst, it can serve as a drag on the process. It's a bit of a gamble," Larson said.
Finding agreement between the states, native tribes and Mexico, and enacting legislation and treaties between those groups would be the best way forward, Larson said. But as the 2019 agreement showed, finding agreement takes time. And time is not something the basin has at its disposal, even with recent snows providing some temporary respite for the system's decline.
"There is no easy path out of this," Larson said. "The only way out of this is through sacrifice, and through mutual respect."
Contact Colton Lochhead at clochhead@reviewjournal.com. Follow @ColtonLochhead on Twitter