Las Vegas businessman Kyle James Stephens, ex-assemblywoman Stephanie Smith appointed to Assembly
September 30, 2016 - 4:38 pm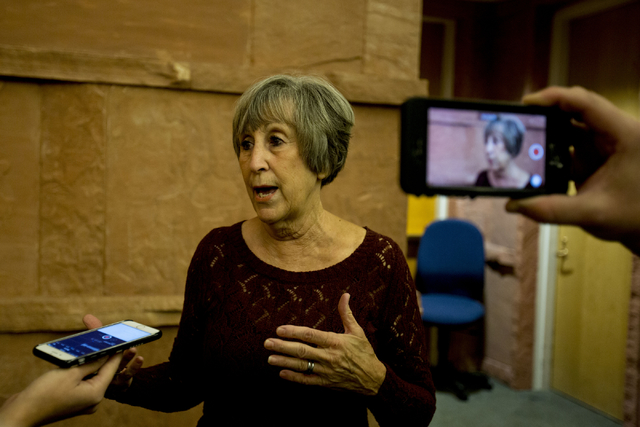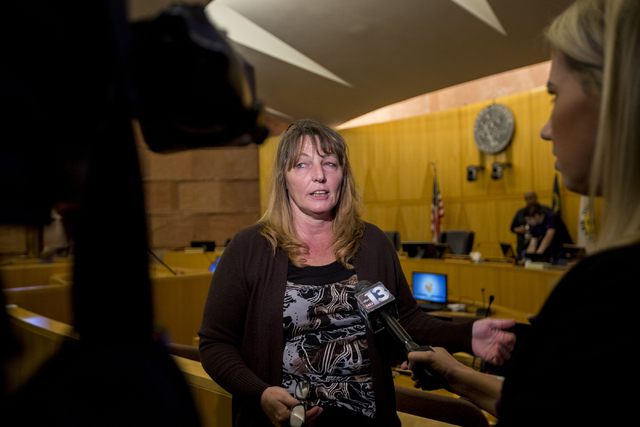 It took Clark County commissioners just 10 minutes Friday to appoint two temporary Assembly members for a special session of the Nevada Legislature.
There were no votes in opposition.
Stephanie Smith, a Democrat and former assemblywoman, will represent Assembly District 1.
Kyle James Stephens, a Republican recommended by his party's Assembly leadership, will represent Assembly District 5.
On Tuesday, Washoe County commissioners appointed three people to temporarily fill vacancies in the Legislature.
Gov. Brian Sandoval has said he will call a special session no earlier than Oct. 7 and no later than Oct. 13, pending conversations with legislative leaders. Lawmakers are expected to consider hotel room tax increases to fund a stadium and a Las Vegas Convention Center expansion, as well as a sales tax increase to fund the hiring of more police officers in Clark County.
All three proposals were recommended by the Southern Nevada Tourism Infrastructure Committee.
The commission followed suggestions from Commissioners Marilyn Kirkpatrick and Susan Brager for the appointments because their districts include the Assembly districts at issue.
Commissioners did not discuss the applicants Friday. Kirkpatrick and Brager said they had interviewed nearly all of the applicants prior to making their recommendations.
Kirkpatrick offered Smith, 59, because of her experience serving on the Assembly and North Las Vegas City Council.
"Stephanie has been there before, she understands the process, and it's going to be tenuous at times," Kirkpatrick said of the coming special legislative session. "She understands what that pressure is like and she will ask the hard questions like I would."
Brager suggested Stephens because she "wasn't looking for a 'yes person.'"
She said she did not ask how Stephens would vote on issues at the special session but rather if he would do his due diligence before making a decision.
"I'm hoping that this person would stand up for what is right on the three issues that are coming forward," she said.
"He felt that we had to look futuristically to make sure that we're protecting the citizens… six eight years from now, what happens to the public?"
Stephens, 60, is an account representative at Brady Industries, a hospitality supply company in Las Vegas. He has been involved in the Republican Party and its Nevada campaigns and has served on the Las Vegas Parks and Recreation Advisory Commission.
Stephens said he was looking forward to learning more about the stadium and other proposals as more research on the projects became available to lawmakers. He also has been speaking with residents of his Assembly district to gauge their opinions on the proposals.
"It would be my opinion presently that more information is needed and will be forthcoming," he said. "My focus is on what benefits working men and women of Nevada and young people."
Kirkpatrick, a Democrat, represented Assembly District 1 in the Legislature for years. She resigned in August 2015 when she was appointed to the County Commission.
Assembly District 5 was vacated by Erv Nelson in February. He lost a bid for a state Senate seat in the June Republican primary.
The Legislature will consider public financing for a 65,000-seat domed NFL stadium in the county. The project, estimated to cost $1.9 billion, would require an increase in the county hotel room tax to finance $750 million in stadium construction costs over 33 years. The deal would require the family of Las Vegas Sands Corp. Chairman Sheldon Adelson, Majestic Realty and the NFL's Oakland Raiders to pay the remainder of the construction costs and any cost overruns.
If lawmakers approve the room tax increase, the Raiders have promised to seek relocation to Las Vegas at January's NFL owners meetings.
Lawmakers also will consider funding $1.4 billion in improvements to the Las Vegas Convention Center through a separate room tax increase, as well as a bill that would allow Clark County commissioners to further increase the sales tax to fund the hiring of more police officers.
Commissioner Chris Giunchigliani, who opposes the public financing of the stadium, said because neither Assembly appointee was running for office, they would not be truly accountable to the public. Still, she hoped they would keep the county's residents at the forefront of their minds.
"I just resent and am frustrated and disappointed that the rationale that's going on for the five appointments statewide is so that they can call a special session and try to get the votes," she said. "This is politics at its worst in my opinion."
In Washoe County Jesse Haw, a Reno developer and Republican, was appointed to the Senate District 15 seat. Julia Ratti, a Democrat and Sparks city councilwoman, was appointed in Senate District 13. Dominic Brunetti, a Republican commercial real estate agent, was appointed to Assembly District 25.
Raising taxes for the stadium and convention center would both require a two-thirds majority vote in both the Senate and Assembly.
The Review-Journal is owned by the family of Sheldon Adelson, chairman and CEO of Las Vegas Sands Corp.
Contact Michael Scott Davidson at sdavidson@reviewjournal.com or 702-477-3861. Follow @davidsonlvrj on Twitter.