Las Vegas home for mentally ill continued to operate despite shutdown
February 1, 2018 - 6:18 pm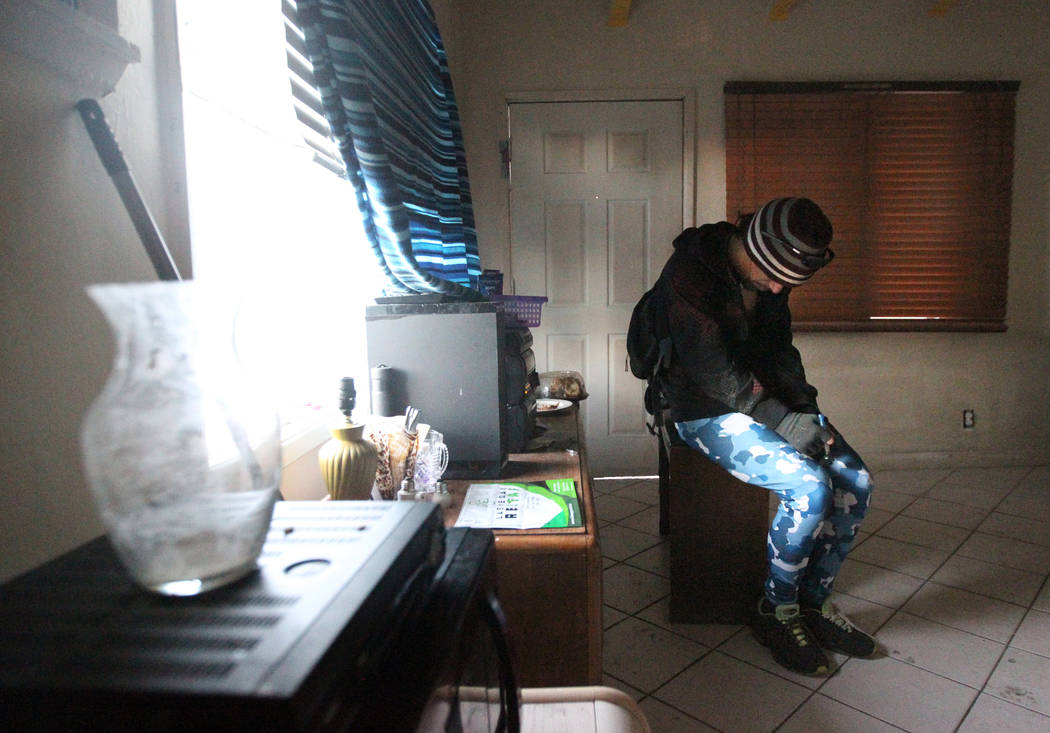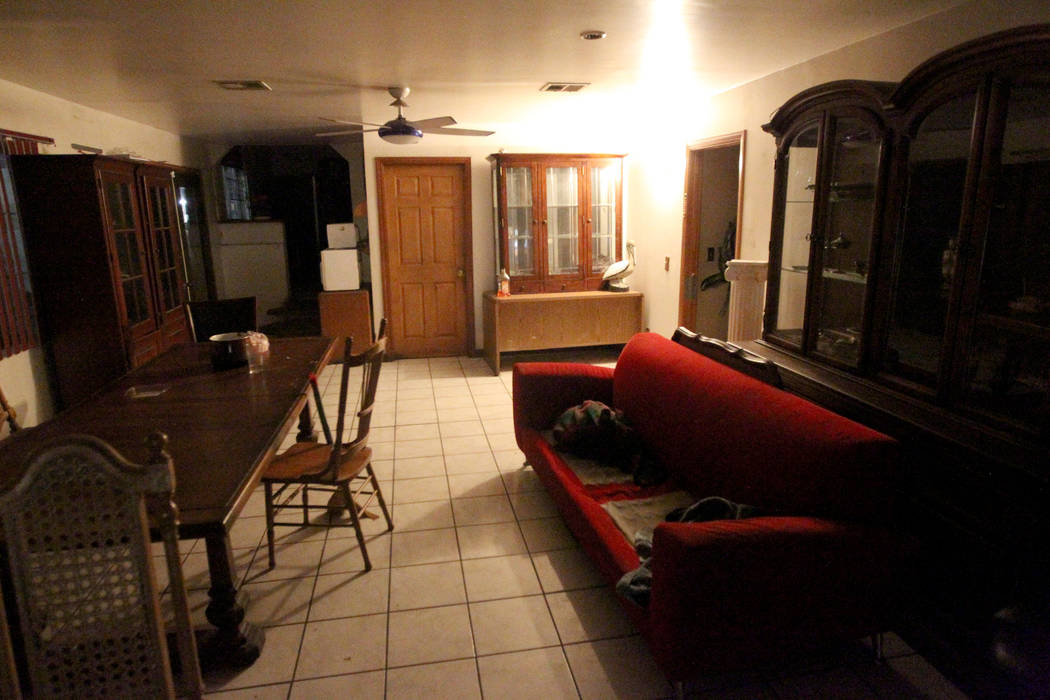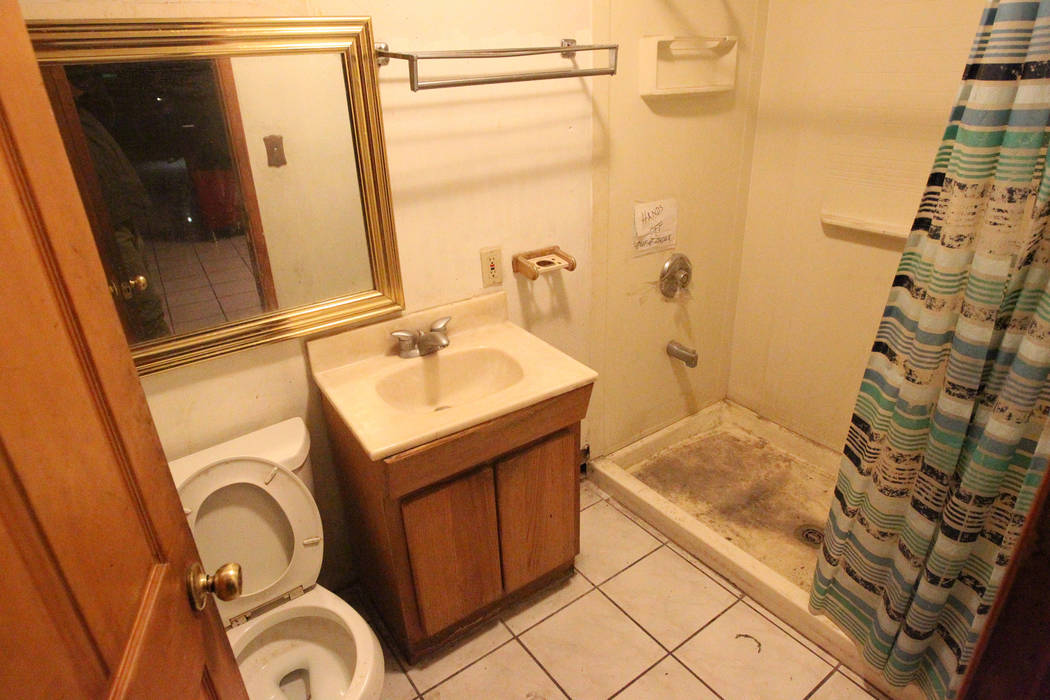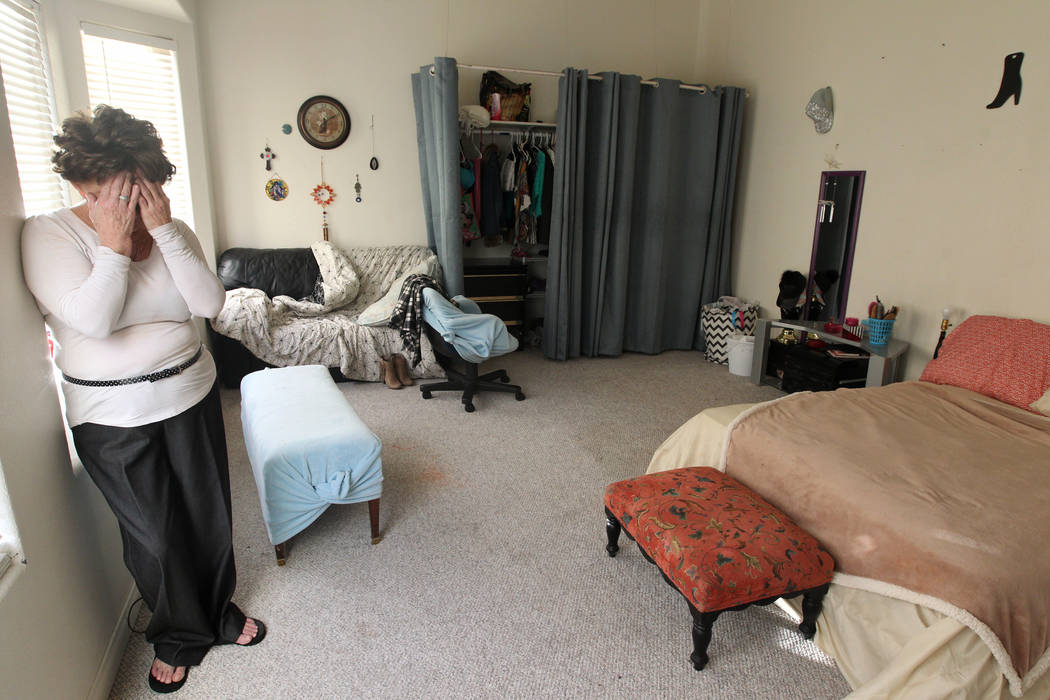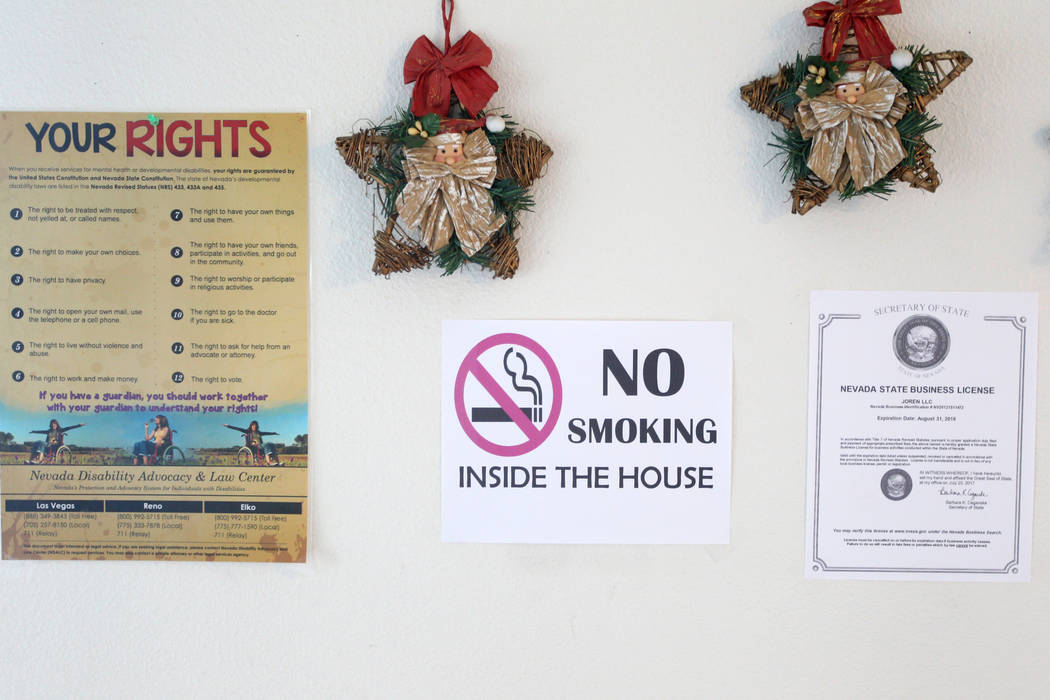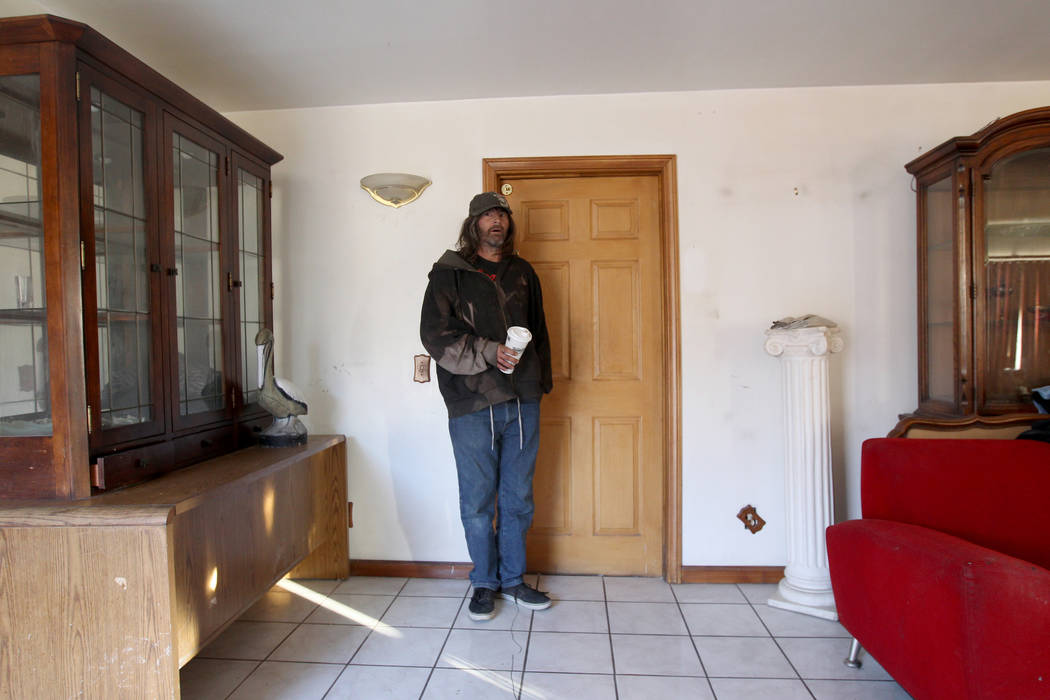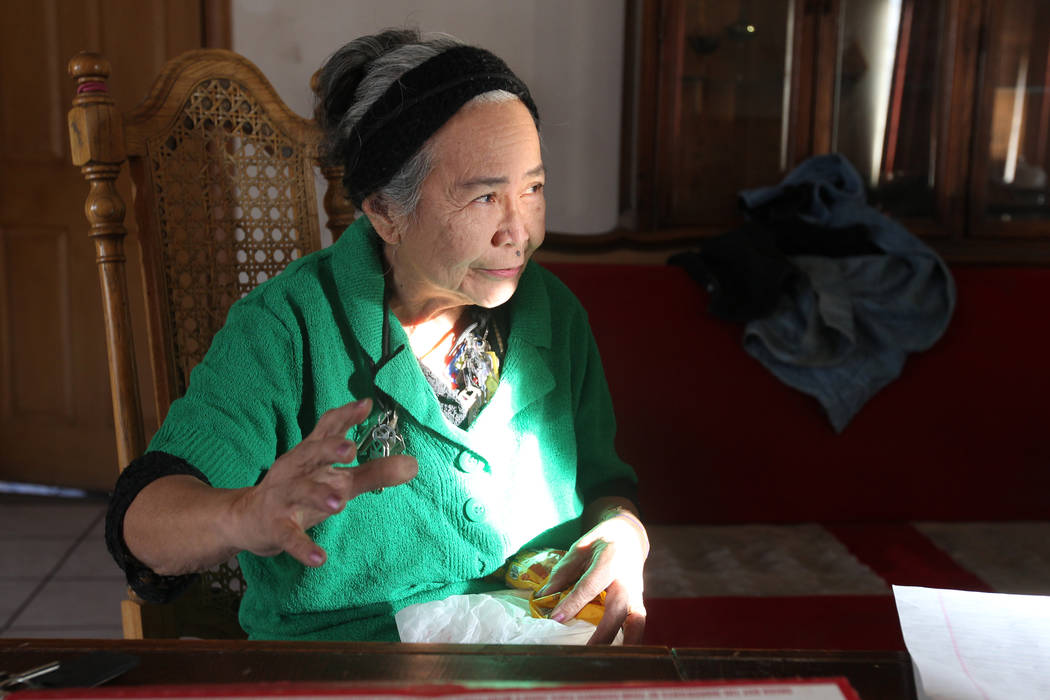 A year after Nevada health officials closed a taxpayer-funded home where mentally ill people lived in filthy conditions, a mental health clinic continued placing people there — until reporting by the Las Vegas Review-Journal prompted state regulators to shut it down again this week.
Jason Fleshman, a 28-year-old who hears voices and cries uncontrollably, sits in a dark room all day, smoking marijuana and listening to the radio. A pile of broken glass sits in a corner. The windows are covered with thick blankets. A dirty mattress is the only place to sit.
Fleshman paces the room.
"It's all black. I want to hold on to something," Fleshman says, tugging at his beanie and wiping away tears. "I just want to be loved. I'm trying to look for the light again. I'm living in a situation I'm trying to get out of. I'm tired of being alone. I'm looking for a family."
State officials declined to provide addresses for homes of mentally ill residents. The Review-Journal found and visited six of the homes in Las Vegas. Some refused to open the door. Others threatened to call the police, and some looked empty.
The house at 724 N. Ninth Street is not far from the glittering lights of downtown Las Vegas. But all Fleshman sees is darkness.
The home is owned by Emperatriz "Emper" Ebiya and for years was part of a state program that pays people to house mentally ill clients in their homes. But in December 2016 state officials discovered "deplorable conditions" at her home and shut it down.
The squalid conditions at such homes are a widespread problem in Nevada, which has 142 community-based homes for people with mental illness. A recent audit uncovered conditions similar to those found in Ebiya's home — human feces, broken glass, expired food, filthy mattresses, mildew and rodents — at 37 homes statewide.
But former state officials, who spoke on condition of anonymity, said Ebiya's home was one of the worst and should have remained closed. But it became home again to some of Nevada's most vulnerable residents.
At least seven men with mental disabilities were placed there by Mojave Mental Health, a subsidiary of the UNLV School of Medicine.
Ebiya, 69, says the state moved her mentally ill clients to other homes in 2016 — but left those linked to the UNLV program. And despite the squalid conditions, the school's mental health center kept putting new clients there as recently as last month.
Prompted by Review-Journal reporting, state regulators visited the home again this week and discovered Ebiya was administering medicine to the clients. For a second time, they issued a "cease operation without a license" order.
A caseworker from UNLV, Kelly Stone, visited his clients last Friday. He declined comment.
Nevada's top health administrator on Wednesday said it's "alarming" that the university's clinic — which receives state funding — would put patients in an unsafe environment.
"I think it's terrible that a provider of mental health services would knowingly place clients in a facility that was ordered to cease operations because they didn't meet standards," said Richard Whitley, director of the Nevada Health and Human Services Department.
'Better' than being homeless?
Paul Joncich, a spokesman for the UNLV School of Medicine, said the clients do not need "hospitalization or extra assistance." Caseworkers simply told the men about Ebiya's place, and they decided to rent a room. But the men interviewed by the Review-Journal had trouble eating, speaking, taking medication, controlling their finances or brushing their hair.
"We're basically working with them so they don't become homeless," Joncich said. "You have to ask yourself: would it better for this person to be homeless, living under a bridge or standing in line for a shelter bed? These are people who are struggling with mental issues, and there aren't enough facilities that will accept them."
UNLV's Mojave Mental Health receives state money to house people with mental illness and to provide "community-based services." According to finance records, the state paid Mojave $915,677 last year, $989,796 in 2016 and $920,691 in 2015 to provide such services to mentally ill residents.
Ebiya says her clients pay her using Social Security, disability or Medicaid. She charges $500 to $600 for rent, not including food.
Not far from Fleshman's room four men live in another rundown home owned by Ebiya. Though Ebiya is paid to feed some clients, the refrigerator is empty — besides a plastic bag of Cheerios — and stained by spills. A shower stall is nearly black with dirt and bears a sign that reads: "Hands Off. Out of Order." The fire alarms are broken, their wires hanging.
"The worker said I'm paying for the place and for the food," said Andy Impereti, 48, who says Mojave placed him there a month ago. Impereti's family is gone, and he's been hearing voices for the last 26 years. "I just lay in the bed all day. I'm getting stir crazy."
Zsolt Beke, another Mojave client, has lived in the home for several years, and his room is in shambles. His mattress leans against the wall. The fire alarm is dismantled, and closet mirrors are shattered. Down the hall is a room overflowing with moldy food, dirty wrappers, cigarettes, open medicine bottles and razors. A man who would only say his name is Gary lives there.
Health officials said it's not the caseworkers' jobs to clean the homes. That responsibility lies with the clients and the homeowner.
Though Ebiya appears to live on-site, the men say they see her only when she delivers breakfast at about 8 a.m every day. Last Friday, breakfast was leftover Papa John's pizza, frosted cookies, a Starbucks turkey sandwich and Nestle chocolate chips.
Ebiya, who says she's been working with mentally ill residents since 1989, said caseworkers continued to call her, despite the state removing people from the home in 2016.
"The caseworkers are still trying to place them," she said. "Since I've been in this business for a long time, the caseworkers trust me and they say, 'Emper, do you have a room? Can you accommodate my clients?'"
And, Ebiya said, a dirty home beats living on the streets.
"For the people who are mentally ill, do you think they can keep their room clean every day? They can't do that because they are mentally ill. They need help," she said. "I have compassion. I have feelings. I feel sorry for them. My heart is not just for the money. My heart is to help these people, and that's what I'm doing."
Inspections
State case workers are supposed to check every home during monthly visits. An investigation, launched by Whitley after the audit was released, found the monthly checks weren't happening. And when workers did fill out a checklist, the report said, they under-reported the conditions and failed to follow up on violations.
According to records obtained by the Review-Journal, an outpatient supervisor, Deanne Peters, visited Ebiya's home Sept. 26. 2016, to check on a client who had lived there for 10 years.
Peters said the home "passed inspection" and "living space is okay," according to the documents. Whitley said this week that caseworkers will no longer conduct the monthly checks. Regulators will handle that now.
Whitley says he found out about the awful conditions in the Southern Nevada homes when the audit was released last month. But he acknowledged that the state's failure to protect its mentally ill residents starts at the top.
"If I have failed, then I should tender my resignation," Whitley said. "The governor has put a lot of resources into mental health. If I've missed something, then I do expect to be held accountable. I'm the head of the organization, and l ultimately take responsibility."
Based on the new order from the state, Mojave caseworkers have 10 days to remove clients from Ebiya's N. Ninth Street home. Officials say that won't be easy. "It's going to be a struggle," Joncich said. "There are not many options."
Two of Ebiya's former clients, Rita Cutler and Linda Saavedra, ended up at similar community-based homes in Las Vegas. Cutler's new place, on St. Louis Avenue, is clean and spacious, but her caregiver doesn't speak much English. Neither does the house manager at Saavedra's new home on Linn Lane.
Saavedra, who lived in Ebiya's N. Ninth Street home for six years, said she was locked inside the house and she "felt like a prisoner." In her new home, she smokes cigarettes and buys cookies and soda to pass the time.
On the other side of town, Cutler shares the feelings of loneliness. She watches TV all day, and a weekly visit to the Dollar Tree is her only outside contact.
"I'm lonesome," said Cutler, 65, who said Ebiya's home was filled with roaches and rats. "My caregiver never comes out of her bedroom during the day. She avoids me, and I never see her."
Contact Ramona Giwargis at rgiwargis@reviewjournal.com or 702-380-4538. Follow @RamonaGiwargis on Twitter.
How to complain
To report unacceptable conditions at community-based homes, email HCQCComplaint@health.nv.gov or call (775) 684-1030 in Northern Nevada and (702) 486-6515 in Southern Nevada.
Related
Nevada health official forced to resign in wake of audit
Audit finds 'filthy conditions' in Nevada homes for mentally ill