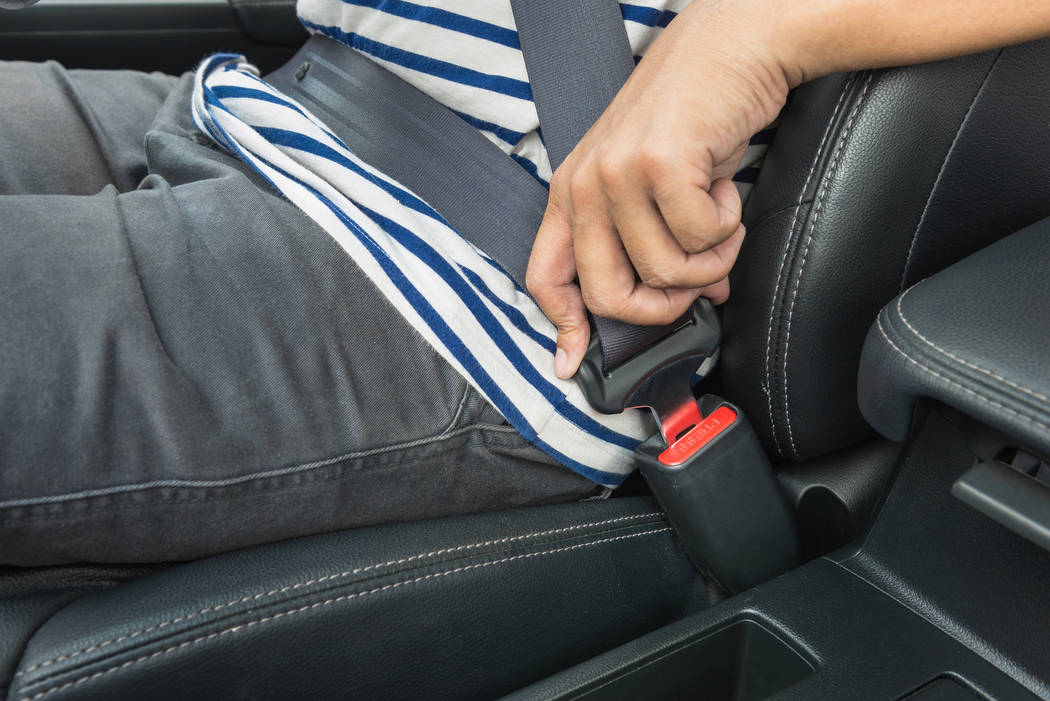 CARSON CITY — Doctors and traffic safety researchers urged Nevada lawmakers Thursday to pass a bill making seat belt violations a primary offense, but opponents countered the change would lead to profiling and infringe on personal choice.
Senate Bill 288 sponsored by Sen. David Parks, D-Las Vegas, would allow officers to pull over vehicles if someone is not wearing a seat belt. The violation carries a $25 fine.
Under existing law, officers need another reason to pull someone over before issuing a seat belt ticket. It is a primary offense in 34 states.
Parks told the Senate Transportation Committee that 21,022 passengers were killed nationwide in vehicle crashes in 2014. About 49 percent were unrestrained. In Nevada, of the 291 traffic deaths that year, 65, or 22 percent, were not wearing a seat belt.
Nevada's secondary seat belt law has been in effect since 1989.
Should police be able to pull you over for not wearing a seat belt? SB288 makes that violation a primary offense→https://t.co/sJZSMMLf9N

— Las Vegas RJ (@reviewjournal) March 23, 2017
Erin Breen, with the Transportation Research Center at UNLV, said use of seat belts in Nevada has been fallen below 90 percent in recent years.
"Nevada's rate of unbelted fatalities is rising while everyone else's is going down," Breen said.
Breen said statistics show compliance increased in states when violations were made a primary offense.
Dr. Douglas Fraser, a trauma physician at University Medical Center, said crash victims treated at Nevada trauma centers incur an average of $77 million annually in hospital charges, with $25 million of that for patients who were unrestrained.
"To know other drivers are out there without a safety belt just blows my mind," Fraser said.
Data from the Center for Traffic Safety Research at University of Nevada School of Medicine showed only 76 percent of Nevadans admitted to a trauma center were wearing a seat belt at the time of the crash.
Of the uninsured, only 59 percent were restrained.
Janine Hansen, of Nevada Families of Freedom, said her brother was not wearing a seat belt in 2002 when he died in a crash on Interstate 80.
"He made a conscious decision because he didn't want the government telling him what to do."
PROFILING CONCERNS
Defense lawyers said changing the law would give law enforcement an excuse to profile drivers to stop them.
John Piro, with the Clark County public defender's office, said other states with primary seat belt laws have protections against racial profiling that Nevada lacks.
"We believe that this is a solution looking for a problem," Piro said. "Most people already believe it is against the law to not wear your seat belt."
Hansen raised similar objections.
"I'm concerned about having another reason for police to stop people," she said. "I think we're becoming more and more of a police state, and that worries me."
No action was taken on the bill, and Parks said he would work with critics to try to address profiling issues.
Contact Sandra Chereb at schereb@reviewjournal.com or 775-461-3821. Follow @SandraChereb on Twitter.