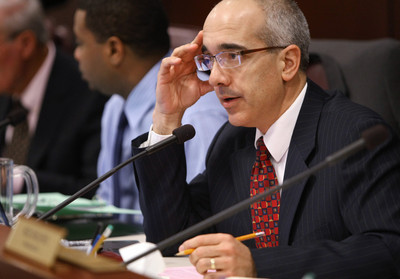 CARSON CITY — Members of a Senate-Assembly budget panel said Thursday they want to find funding to keep state museums operating as close to current levels as possible, rejecting Gov. Jim Gibbons' proposed cuts that would close some museums or cut hours.
Under the governor's plan, spending on cultural programs would be cut nearly 36 percent, to $19.1 million over two years, and staffing would be cut by up to 40 percent.
The just-renovated East Ely Railroad Depot Museum and Comstock History Center in Virginia City would be closed, the staff of the Nevada Historical Society would be cut, and other museums would be open only four days per week.
"Our recommendation was to basically leave them open with a little bit of cuts, but keep them operating as much as possible," said Assemblyman Mo Denis, D-Las Vegas, the budget subcommittee co-chairman.
A $7.7 million state computer program Gibbons recommended was rejected by the subcommittee, and Denis said that could provide some additional museum funding.
If the museums remain open, Denis said, revenue generated from admission costs also should help.
Sen. Warren Hardy, R-Las Vegas, also suggested museums review their policies on use of volunteers to have adequate staffing at facilities.
Senate Majority Leader Steven Horsford, D-Las Vegas, said a discussion of funding for the new Nevada State Museum at the Las Vegas Springs Preserve would have to wait until the 2011 legislative session.
Denis said that would mean the earliest the museum could open would be 2013.
"I think it's sad and unfortunate, but to open something new when we are closing everything that exists, I just can't support," Horsford said.
Gibbons' budget didn't include $6 million for exhibit construction, something required for the facility to open in early 2011.
Horsford and other members said they would try to find funding for exhibit construction but not the full amount, and money would be made available for building maintenance.
Sen. Joyce Woodhouse, D-Henderson, said museums should continue to solicit private donations to fund exhibit construction costs.
The state Library and Archives faces a 35 percent budget reduction under Gibbons' plan, which would jeopardize its ability to get federal grants. Subcommittee members said they would try to fund the budget at minimal levels that would allow libraries to get the federal funds.
If budget cuts are approved, library hours would be reduced from eight to four per day, staff would reduced by half, and state archives could be accessed only by appointment.