Lawmakers back strike on Syria, want to hear Trump's strategy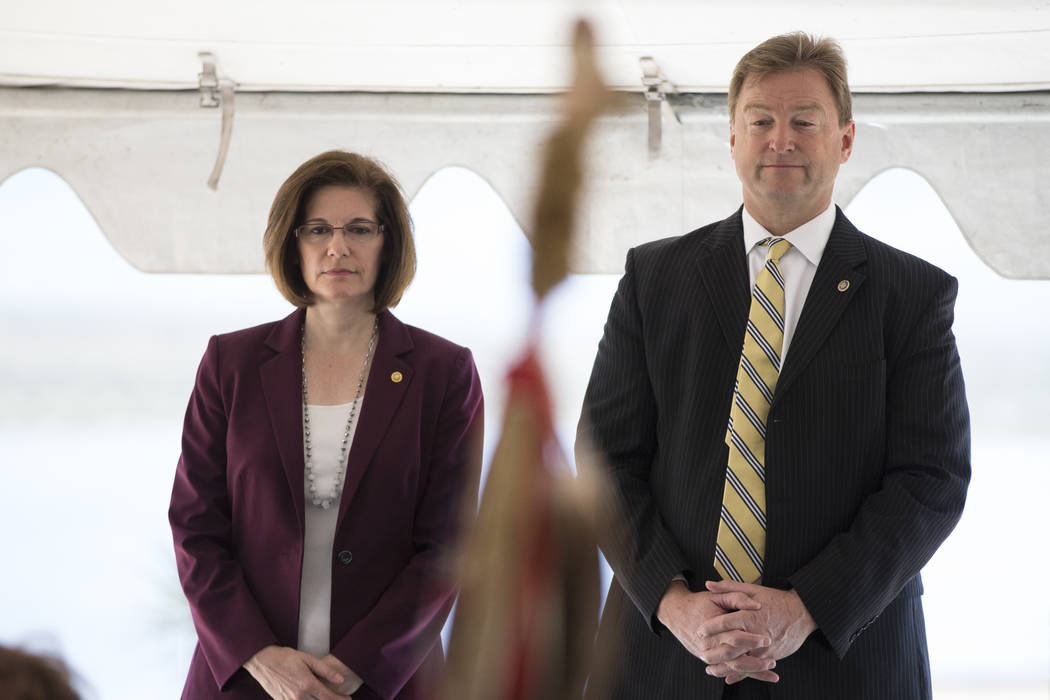 WASHINGTON — Congressional lawmakers were united Friday in support for the U.S. military strikes on a Syrian air base, with Republicans and Democrats applauding the action and denouncing Syria President Bashar al-Assad for using chemical weapons on civilian populations.
"This action was taken to deter the Assad regime from using chemical weapons again. I support both the action and the objective," said Senate Majority Leader Mitch McConnell, R-Ky.
But Democrats and some Republicans questioned the legal authority of President Donald Trump to expand military intervention in Syria and urged the administration to seek congressional authorization for further military action.
Sen. Catherine Cortez Masto, D-Nev., said Assad's use of chemical weapons for a second time against civilians, "including women and children is unacceptable."
"While I support the administration's proportional response to this atrocity, any further military action against the Syrian regime should be debated and approved by Congress," Cortez Masto said.
Following an event at the Las Vegas Veterans Affairs Medical Center, Rep. Dina Titus, D-Nev., a member of the House Foreign Affairs Committee, told the Review-Journal the strike was proportional and appropriate.
Titus, though, said, "I just hope there is a plan … and that that plan includes coming to Congress."
She said members of Congress were notified by the Trump administration about the strike beforehand. Titus said that moving forward, she wants administration officials to brief the committee on what comes next.
Trump said earlier this week during a Rose Garden news conference with the Jordanian president that his stance on the Assad regime had changed following the chemical attack.
News footage showed children in agony, and rescue workers dousing victims with water after the attack carried out by Syrian aircraft.
Trump, as a citizen, had previously warned the Obama administration not to take military action in Syria following a chemical attack in 2013. Trump as a candidate called for creating a safe area for Syrian citizens caught in the conflict, and opposed refugees coming to the United States.
In the Rose Garden this week, the president said his thinking about Syria had changed, prompting some members of Congress to question his strategy Thursday night.
"President Trump's previous statements leave me with serious concerns about the United States' long-term strategy in Syria," said Rep. Ruben Kihuen, D-Nev.
Kihuen said the president needed to come before Congress and "lay out his vision" for stabilizing the Middle East.
While agreeing with the strike on Syrian military targets, Rep. Jacky Rosen, D-Nev., said it was necessary for Congress to pass a new Authorization for Use of Military Force for any further action.
"As representatives, it is our duty to oversee the safety and security of our men and women in uniform, and our citizens," said Rosen, a member of the House Armed Service Committee.
But McConnell, in a news conference, said Trump acted within his authority and sent a clear message to the Assad regime: "Don't use chemical weapons."
McConnell, who was notified before the U.S. strike, said he would be interested in looking at congressional approval for further military action "if the president feels he needs it."
Sen. Dean Heller, R-Nev., echoed those sentiments.
"The administration sent a clear message of America's intolerance for the murder of innocent civilians," Heller said, adding that he would rely on military experts to provide more information on future developments.
House Minority Leader Nancy Pelosi, D-Calif., has urged House Speaker Paul Ryan, R-Wis., to call Congress back into session from its two-week recess if further military action is planned.
McConnell said the strike was a message and not part of an ongoing military action in Syria. He said he had no plans to call the Senate back in the next two weeks.
Brooke Wanser reported from Las Vegas.
Contact Gary Martin at gmartin@reviewjournal.com or 202-662-7390. Follow @garymartindc on Twitter.
CLINTON SEES A CONFLICT
Former Democratic presidential candidate Hillary Clinton said President Donald Trump's reasoning for ordering airstrikes against Syria conflicts with his attempt to ban Syrian refugees from entering the United States.
Speaking Friday in Houston, the former secretary of state said she hopes the Trump administration will follow Thursday's strike on a Syrian air base with a "broader strategy."
Clinton added that the U.S. could not "in one breath speak of protecting Syrian babies and in the next, close America's doors to them."
A federal judge has stayed Trump's executive order to suspend admissions of immigrants from six Muslim-majority countries, including Syria, and halt the U.S. refugee program.
The Associated Press