Lawmakers discuss possible rules for the road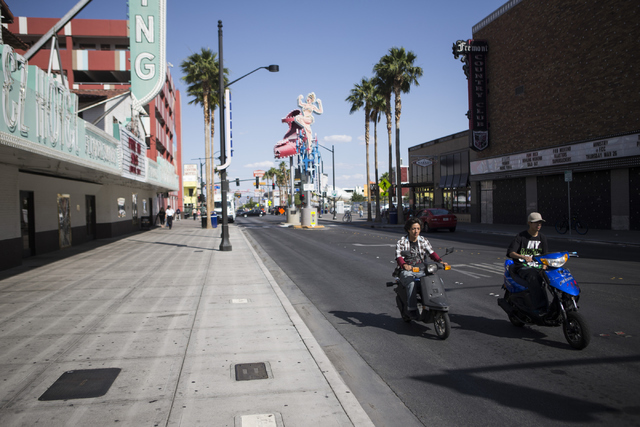 Making room for bicyclists, the potential impact of recreational marijuana and cellphone use while driving are among hot-button transportation topics that could be discussed when the Legislature meets in February, several Nevada lawmakers said Tuesday.
The aim, they said, is to create laws that will bring the 326 fatalities reported last year on Nevada's roads down to zero.
"The thing that still amazes me is the number of people who are still on their cellphones," state Sen. Patricia Farley, R-Las Vegas, said during a discussion about proposed road rules at the Nevada Department of Transportation's Safety Summit, which continues Wednesday at South Point.
To curb that, lawmakers may consider whether to increase fines for all drivers who hold their phone during calls and texts. For now, scofflaws pay $50 for a first offense, $100 for a second offense and $250 for a third offense, according to the Department of Motor Vehicles.
Another potential bill may ban drivers younger than 18 from using a Bluetooth or other hands-free device while driving.
"God forbid you don't respond within two seconds of someone texting you," Farley said. "I would like to see an automatic shutoff (device) in cars for kids under 18. There is technology in the marketplace for that, and I would like to see our Legislature support that."
Marijuana was legalized for medical purposes in 2000, but voters will decide in November whether to legalize it for recreational use. If the measure passes, the panel agreed that state lawmakers will need to figure out how to deal with a likely increase in the number of people who will drive while high on pot.
"What is going to be the fiscal impact on the entire system?" state Sen. Mark Manendo, D-Las Vegas said. "If it does pass, how do we deal with it on that end, with the courts, the jails, the prisons and formal probation? It's a litany, and I have a feeling it's going to be extremely costly."
Bicycle safety could also come into play during the next legislative session, as lawmakers weigh whether to require riders to wear helmets, or simply allocate funding that will allow cities to provide designated lanes aimed at sharing the streets with vehicles.
Options discussed included narrower lanes for vehicles aimed at reducing speed and marked lanes for bicycles, similar to the green stripes found in downtown Las Vegas.
"We need people on their bicycles, we need to go out an exercise and be active as a nation, so I think that focusing on some other ways to make bicycling safer would be a better approach than bicycle helmets," Assemblywoman Heidi Swank, D-Las Vegas, said, adding that she occasionally bikes to work.
Erin Breen, head of the Vulnerable Road Users Project at the University of Nevada, Las Vegas said additional transit bills that could come into play, including:
— A "primary" seat belt law that would allow law enforcement officer to cite motorists solely for not wearing a seat belt. For now, Nevada is among 15 states that have a "secondary" seat belt law, where officers can issue a ticket for not wearing a seatbelt only when there is another citable traffic offense.
— Change the child safety seat laws. For now, children younger than 6 or weighing less than 60 pounds are required to use a safety seat in the car. Breen said lawmakers could consider a measure that would require kids to use safety seats if they are shorter than 4-foot-9 and weigh less than 80 pounds, regardless of age.
Contact Art Marroquin at amarroquin@reviewjournal.com or 702-383-0336. Find @AMarroquin_LV on Twitter.