Lawmakers, Sandoval make headway in budget talks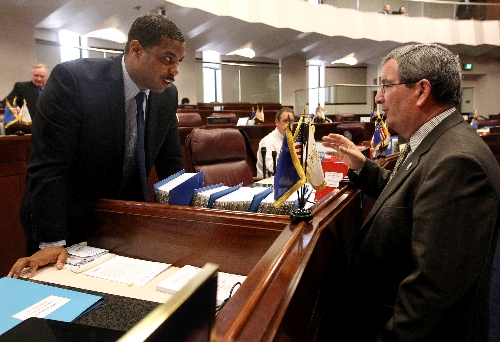 CARSON CITY — Lawmakers and Gov. Brian Sandoval moved toward an agreement that could fund state government for the next two years but weren't quite ready to close the deal late Monday.
They spent much of the Memorial Day holiday working in the Capitol and Legislative Building to put together an agreement that could pass muster with both Democrats and Republicans, who have been bickering for months about the budget.
The two sides started the day about $300 million apart, with Republican Sandoval looking to keep general fund spending around $6.5 billion to save taxpayers money and Democratic lawmakers seeking around $6.8 billion to minimize cuts to education and social services.
Sources on both sides said there was progress during the day. One source said Sandoval and legislative leaders are working to make sure whatever they produce includes a tax cut for small businesses.
The principal leaders working the deal, however, had very little to say.
At one point late in the afternoon, Senate Majority Leader Steven Horsford and Assembly Speaker John Oceguera, D-Las Vegas, and Senate Minority Leader Mike McGinness, R-Fallon, and Assembly Minority Leader Pete Goicoechea, R-Eureka, avoided speaking to journalists by slipping out a side door from Sandoval's office.
Sandoval also refused to comment, sending out a spokeswoman who didn't offer any updates.
The budget negotiations are the result of a state Supreme Court decision Thursday that blasted a hole in Sandoval's proposed budget.
The court ruled against a 2010 decision by the Legislature to take $62 million from the Clean Water Coalition in Clark County.
Before the ruling, Sandoval had refused to even discuss tax increase proposals with Democrats.
The decision, however, put about $657 million in Sandoval's budget at risk, forcing the governor to reconsider his earlier decision to refuse to extend the scheduled expiration, or sunset, of existing taxes worth about $679 million.
"We were with the governor's reasonable budget from the beginning," McGinness said. "Obviously the Supreme Court threw us a curveball."
Disagreement remains over whether Democrats will meet government spending reforms demanded by Republicans in exchange for delaying the sunset date.
Also, Sandoval is seeking changes in public education, including an end to the practice of "last in, first out" layoffs for teachers.
The layoff reform was included in an amendment to Assembly Bill 229 made on the Senate floor after 11 p.m.
Another education reform bill, Assembly Bill 225, was hastily amended also.
"These two bills form what is probably the base of all the reforms we are talking about," said Sen. Mo Denis, D-Las Vegas.
Sen. Mike Schneider, D-Las Vegas, criticized the last-minute moves.
"I realize it is tied to the budget, but it is a joke," Schneider said. "This is just another attempt at tearing education up."
Another sticking point is the issue of construction defect liability.
Republicans, particularly in the Assembly, want a portion of state law struck that guarantees fees for attorneys even if the contractor isn't at fault.
Democrats say the law has nothing to do with the budget, but Republicans aren't backing off.
"Hell yeah, I'm fighting for that tooth and nail," said Assemblyman Ira Hansen, R-Sparks.
Contact reporter Benjamin Spillman at bspillman@reviewjournal.com or 702-477-3861.