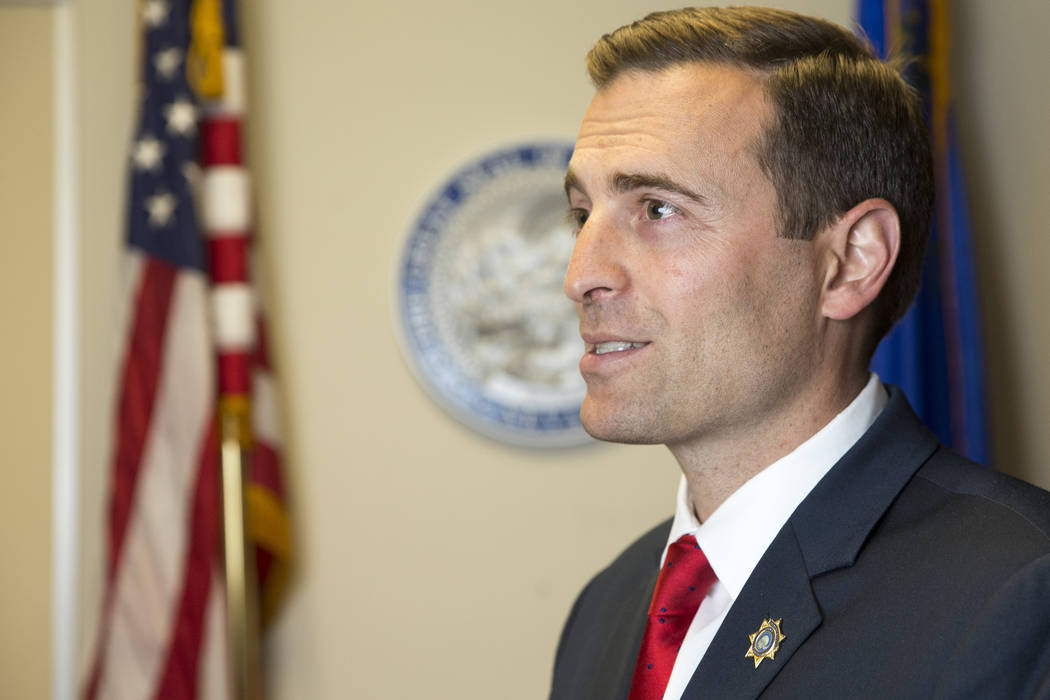 An attorney representing a woman who accused Democratic nominee for governor Steve Sisolak of improper behavior with her daughter sent a letter to his opponent, Republican Adam Laxalt, urging him to stop using the allegations as a campaign tactic.
The letter, first reported by the Nevada Current and obtained by the Review-Journal comes from Las Vegas attorney Dominic Gentile, an attorney representing Sisolak's ex-girlfriend, former Henderson City Councilwoman Kathleen Vermillion.
In the letter, Gentile said claims about Sisolak, a Clark County commissioner, having inappropriate behavior with Vermillion's daughter were "untrue" by his client's own admission.
But on a website created by the Laxalt campaign, Sisolak is accused of trying to "discredit a teenage girl who accused him of improper behavior" in an attempt to highlight Sisolak's personal attorney, Laura Fitzsimmons, and a contract she received from the Clark County Commission.
In the letter sent July 11, Gentile says that Vermillion made up the allegations during her yearslong struggle with drug and alcohol abuse.
"Simply stated, any accusations that Kathleen made as to Commissioner Sisolak behaving inappropriately toward her daughter were untrue and begotten by the demonic impact that her addiction had upon her ability to perceive reality at that time," the letter states.
The letter threatens a potential lawsuit if the campaign continues to use the claims without telling the entire story, including the recanted allegations.
"I also advised her that by coming forward as to the falsity of the accusations she made, any use of them by you or on your behalf, without also simultaneously revealing their untruth, could be actionable by her if it caused severe emotional distress resulting in mental or physical damage to her, such as relapse into addiction."
In 2012, Vermillion accused Sisolak, whom she dated for five years, of having an inappropriate relationship with her 15-year-old daughter.
Vermillion then sued Sisolak, accusing him of leaking medical information, which Sisolak said was an attempt to extort him for nearly $4 million. The girl's father, Vermillion's ex-husband, said in the days after the explosive accusations that his daughter had confessed to him that she was coaxed into making up the allegations.
Las Vegas police and the District Attorney's office investigated Sisolak's extortion claim. Though no charges were filed, the Clark County District Attorney's office wrote in a letter to Sisolak, which was obtained by the Review-Journal, "it was clear that false allegations were made against you for the purpose of obtaining money from you and, second, it was also clear that the daughter of Ms. Vermillion stated she had been coerced into making false insinuations against you, which could be characterized as unfair and untrue."
Gentile's letter also attempts to appeal to Laxalt's own troubles with substance abuse in hopes of keeping the debunked allegations out of further campaign attacks, and to help keep Vermillion on the path to recovery.
Laxalt made those struggles a large part of his first speech announcing his campaign last fall, including an anecdote about an alcohol-fueled fight as a college freshman that landed him in the hospital.
"You have been open and candid about your history of substance abuse and addiction and your thus far successful efforts at recovery. Therefore, you are aware of how easily a setback can occur and what a struggle it can be to stay sober," the letter said.
Laxalt spokesman Parker Briden said Friday that the campaign had no comment on the letter, but added that it does not intend to alter its rhetoric or campaign message in regard to the false allegations.
"There's nothing about the veracity of the claims," Briden wrote. "We're highlighting Laura Fitzsimmons' role in that."
Briden told a reporter that "we think you should tell the full story."
Contact Capital Bureau reporter Colton Lochhead at clochhead@reviewjournal.com or 775-461-3820. Follow @ColtonLochhead on Twitter.
Vermillion to Laxalt Correspondence (1) by Las Vegas Review-Journal on Scribd