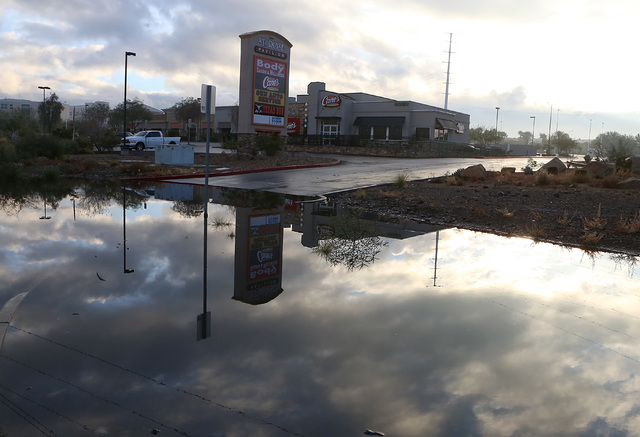 CARSON CITY — Nevada residents could legally set up barrels to collect rainwater off their rooftops under a bill considered Tuesday by an Assembly committee.
Assembly Bill 138 sponsored by Assemblywoman Maggie Carlton, D-Las Vegas, is similar to a bill pending in the Senate, and is one of several bills this session dealing with water.
Nevada law is not specific on collection of rainwater, and questions have arisen as to whether it's legal. Water that falls from the sky is considered critical to the recharging of groundwater, for which water rights are allocated.
"When I was growing up back in the Midwest, everybody had rain barrels," Carlton told members of the Assembly Committee on Natural Resources, Agriculture and Mining. "That was what you used for the garden, for the animals."
The bill as written only authorizes collection from single-family homes. According to testimony, an inch of rainwater could collect 600 gallons of water from the roof of a 1,000 square-foot home.
Supporters of the bill said the limitation to single-family homes was an attempt to guard against opening the door to large-scale water collection that could negatively affect groundwater recharge.
Jason King, state water engineer, said he is not opposed to extending the authorization to multi-family units, but cautioned, "Where do you stop?"
The bill also formally recognizes the use of water collection systems known as guzzlers used in the outback to provide water for thirsty animals. Nevada has 1,725 wildlife guzzlers around the state. Of those, 1,292 are for small animals and birds; another 433 are for big animals such as deer, elk, antelope and bighorn sheep.
Tony Wasley, director of the Nevada Department of Wildlife, said all the guzzlers combined have the capacity to hold 8.6 acre feet of water, or roughly the amount of water to supply 17 homes for a year.
WATER RIGHTS BILL
The committee also heard Assembly Bill 209, which would allow the state engineer to extend the timeframe before forfeiting water rights to holds in basins where withdrawals consistently exceed perennial yield or that have been designated as critical management areas.
Under Nevada law, the holder of a water right must prove they are putting their water to beneficial use or risk losing it after five years.
Assemblyman James Oscarson, R-Pahrump, said the requirement has led to waste when conservation should be encouraged.
"We have to ask ourselves, what are we doing?" he said. "This bill addresses that problem by removing the provision of having to show beneficial use in times of drought or in distressed basins."
Instead, users to could apply for an extension of time without fear of losing their water right.
About 20 percent of Nevada's 256 groundwater basins are over-appropriated.
State Sen. Pete Goicoechea, R-Eureka, said the bill would give the state engineer another tool to try to bring distressed basins into balance.
The committee took no action on either bill Tuesday.
Contact Sandra Chereb at schereb@reviewjournal.com or 775-461-3821. Follow @SandraChereb on Twitter.