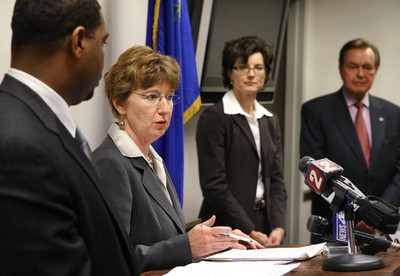 CARSON CITY — A new legislative analysis released Thursday shows the state Legislature would have to increase taxes by $2.2 billion to fund services at roughly current levels.
But Assembly Speaker Barbara Buckley, D-Las Vegas, said during a rancorous news conference Thursday that she doubts there is support in the Legislature for $1 billion in tax increases, let alone the higher figure.
She refused to say specifically what taxes might be raised, or how much of a tax increase legislators would support.
Her comments came after a Las Vegas businessman said he believes the Nevada business community would support a $1 billion tax increase. John Ritter, chief executive officer of Focus Property Group, said he thought business would support such an increase because they realize they have to help the state solve its budget problems.
"There will have to be new revenue," Ritter added. "I am not seeing in the business community as much as in the past the 'don't tax me' philosophy." Ritter is one of 13 business leaders named by legislators to a group charged with proposing solutions to the state's budget problems.
A $1 billion tax increase would more than cover the 6 percent salary cuts, loss of step and longevity pay, and health care benefit reductions outlined for state employees and teachers in Gov. Jim Gibbons' proposed two-year budget of $6.17 billion.
But it also would be higher than the record $833 million increase approved in 2003.
Legislative fiscal analysts now estimate they will have $5.8 billion in revenue to spend over the next two years. Revenue would have to be increased by 37 percent, or by $2.16 billion, to reach the $7.96 billion legislative analysts said would be needed to maintain services at the levels contemplated when they passed the current $6.8 billion budget in 2007. At nearly $8 billion, the higher spending level would represent an increase of 17 percent over the budget approved two years ago, or 26 percent more than actual spending of about $6.3 billion.
Since the last budgeting process two years ago, population growth has leveled off, as have enrollments in public schools and populations in prisons. However, analysts are projecting a substantial increase in enrollment in the Medicaid program, a free health care program for the poor, elderly, disabled and blind.
Both Democrat and Republican leaders at the news conference refused to be pinned down on a specific dollar figure for increasing taxes to maintain what they referred to as "essential state services."
Reporters insisted that the public has a right to know what tax increases might be passed, but legislators would not budge from their stance that it was premature to talk about taxes.
"We need to complete work on the budget before we know what the essential number is," said Senate Majority Leader Steven Horsford, D-Las Vegas.
In earlier news conferences, legislators said figures would be available this week on how much they have agreed that the state must spend over the next two years. From that figure, the amount of tax increases would be shown.
They also had promised to release information showing how much they have agreed to add to Gibbons' proposed budget. That information also was not made available.
Daniel Burns, Gibbons' communication director, said the lack of information released in news conference shows legislators finally might be starting to realize the governor's balanced budget wasn't so bad.
"They are putting hundreds of millions back into the governor's budget, and their budget will bankrupt the state," he said. "We are supposed to be working on stimulating the economy now, and new taxes would kill it."
Senate Minority Leader Bill Raggio, R-Reno, said they won't have a tentative budget or tax increase figures until after a May 1 meeting of the Economic Forum.
The forum by law determines how much in tax revenues will be available for state government to spend during the July 1, 2009 to June 30, 2011 budget period.
Raggio added they also must learn from the federal government whether a potential $600 million in economic stimulus funds can be used to plug perceived holes in the state's general fund budget.
"Everybody's definition of essential services is a little different," Raggio said. "But no one will support a budget with fat or frills or which is bloated."
Contact Capital Bureau Chief Ed Vogel at evogel@reviewjournal.com or 775-687-3900.