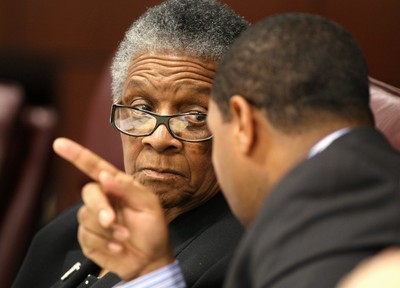 CARSON CITY — Critics of a plan to fluoridate Reno-area water got so worked up Wednesday that state Senate Majority Leader Steven Horsford had to bang his gavel to wrap up public comment on the measure.
"This is the last person who will speak on this bill," Horsford, D-Las Vegas, co-chairman of the Senate Finance Committee, told the opponents of Senate Bill 311 who tried to speak over him and line up after a final witness was called.
Water bills in Washoe County, encompassing Reno, would increase 50 to 75 cents a month for most homes and businesses if SB311, proposed by Sen. Bernice Mathews, D-Reno, is approved, county representatives told committee members.
John Erwin, resource planning and development chief for the Truckee Meadows Water Authority, said an upfront expense of $1.4 million also would be required to outfit two main water treatment facilities.
SB311 supporters say fluoridating water improves dental health and is a preventative measure that reduces future dental costs for consumers.
Bill opponents say fluoridation is unnecessary and will cost residents money to fix dental problems the substance may cause.
Proponents included Jeanette Belz of the Nevada Dental Association, who said $13 million in dental health costs were saved by fluoridating water in the Las Vegas area, at a cost of 19 cents per person.
Belz said Washoe County residents could see savings and similar cost benefits if the plan was implemented, adding that many grants are available to help offset water supply fluoridation costs.
The bill's opponents included Janine Hansen of the conservative Nevada Families Eagle Forum, who said dentists have higher incomes in areas where fluoride is mandated in water supplies. She said fluoride can cause diseases that are expensive to treat, such as dental fluorosis which results from over-exposure to the substance.