Longtime Nevada Assemblyman John Carpenter of Elko dies at 86
November 21, 2016 - 2:33 pm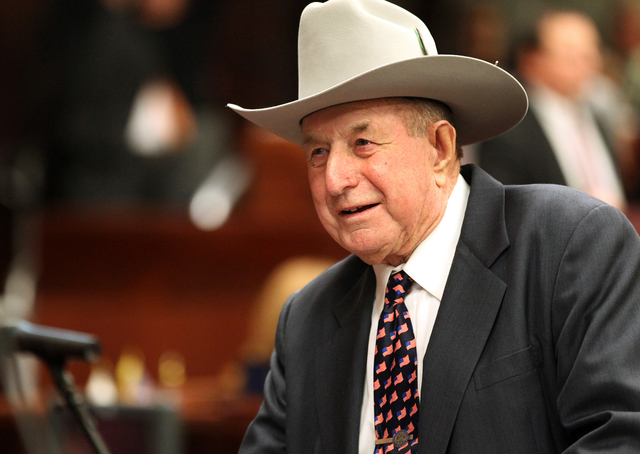 CARSON CITY — Longtime state lawmaker John Carpenter, of Elko, died Saturday at home. He was 86.
Carpenter, a Republican, was respected by lawmakers of both parties. He served in local and state government for more than 50 years, including 12 terms representing District 33 in the Nevada Legislature. He left the Assembly in 2010.
He also served 14 years on the Elko County Commission.
Carpenter was known for his sense of humor and love of Nevada. He helped create the Assembly's informal "Cowboy Hall of Fame," in 1999, an honor many of his colleagues jockeyed to receive.
Every session, lawmakers would don cowboy hats as Carpenter, the master of ceremonies, would read the hall's honor roll and describe the qualities that went into making a great cowboy, or cowgirl, for that matter.
Carpenter was born Oct. 13, 1930, in Fallon. He graduated from White Pine High School in Ely and later married Roseann Slater. He purchased a ranch and moved his family to Elko in 1957, where they raised seven children.
Democratic U.S. Senator-elect Catherine Cortez Masto called Carpenter "the definition of a public servant, someone who dedicated his entire life to serving Elko and helping his community grow and thrive. From Great Basin College and the Elko Convention Center to the creation of the payment in lieu of taxes law, John is leaving behind a tangible legacy, and Elko is a better place because of his single-minded devotion spanning so many decades."
Republican state Attorney General Adam Laxalt said Carpenter "consistently gave his all to the people of Nevada. I know the residents of Elko will forever be touched by all of the wonderful contributions he made to the community, and I extend my deepest condolences to his family and loved ones in this difficult time."
Others expressing their condolences include U.S. Sen. Dean Heller, R-Nev., and Assemblyman Elliot Anderson, D-Las Vegas, via Twitter.
Carpenter was first elected to the Nevada Assembly in 1986.
He was honored by the Assembly for his service in 2009. Then-Speaker Barbara Buckley, D-Las Vegas, described Carpenter as someone who "always votes his conscience and is never swayed by politics, partisanship and the popularity of an issue. He figures out what he thinks is right and that's how he votes."
His successor, Assemblyman John Ellison of Elko, posted on his Facebook page about Carpenter's death.
"Our hearts are heavy and filled with great sadness that we had to tell an amazing man, leader, and friend goodbye yesterday," he wrote. "He was a great friend of mine. Nevada has lost a true leader."
A funeral will be held at the Elko Convention Center at 10 a.m. on Saturday.
Contact Sean Whaley at swhaley@reviewjournal.com or 775-461-3820. Follow @seanw801 on Twitter.