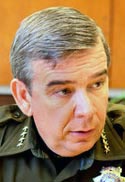 Clark County Sheriff Doug Gillespie said Thursday that he still plans to seek an additional quarter-cent sales tax increase from the Legislature to hire more police officers this year.
By June, the previous quarter-cent increase will have added roughly 600 new officers to the Metropolitan Police Department since it was started in 2005. It also has added hundreds more to the departments in North Las Vegas, Henderson, Boulder City and Mesquite.
"In my opinion, it's been very successful," Gillespie said.
But he acknowledged an uphill battle with the downturn the economy has taken. A bill draft request was prepared last summer before the economy nose-dived and when polls showed overwhelming support for the additional increase.
Las Vegas police Lt. Tom Roberts, the department's chief lobbyist in Carson City, said, "The timing might be bad."
Sen. Mike McGinness, R-Fallon, is sponsoring the bill. Roberts said other legislators are not committing because everyone is still uncertain about how bad the budget deficit is going to be.
"What we've been told is that it will be considered with everything else," Roberts said.
Gillespie attributes decreases in crime over the past few years to the increase in police officers.
Since 2006, the number of automobile thefts have dropped more than 40 percent, robberies have dropped 13 percent, and traffic-related fatalities are down 30 percent, according to the department's figures.
The More Cops advisory question in 2004 was narrowly approved by county voters. It called for two quarter-cent increases in sales tax to pay for an estimated 1,700 new officers for the five departments in the county.
Roberts said that even if the second quarter-cent increase is approved, the department might not be able to hire the additional 600 officers it was looking for. The number might be closer to 500 or 550, he said.
If the increase is not approved, he said, there should be enough funding to maintain the additional officers the department has hired.
Gillespie is pursuing the tax increase while seeking a new 370,000-square-foot headquarters for the department. The building would be built at the corner of Alta Drive and Martin Luther King Boulevard.
Contact reporter Lawrence Mower at lmower@reviewjournal.com or 702-383-0440.
Sheriff Gillespie speaks with the Review-Journal Editorial Board