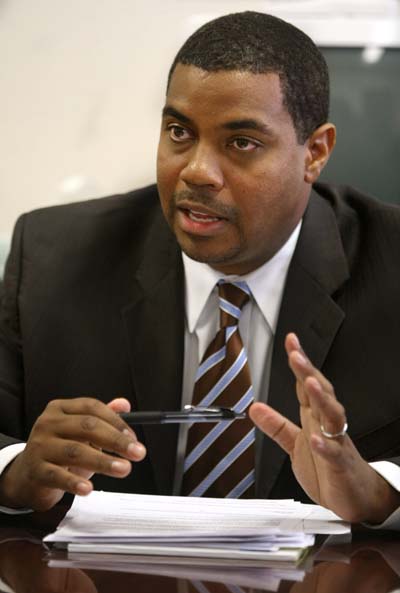 CARSON CITY — Steven Horsford, the new Senate majority leader, begins the 75th session of the Legislature today already having rejected Gov. Jim Gibbons' spending plan as not fitting his vision of Nevada as a great state that cares about its less fortunate.
"We will do the job the governor has failed to do," Horsford, D-Las Vegas, said of lawmakers. "It is very grim today. That is the reality of how bad the economy is. We can do better."
Horsford, a thoughtful man, talks about the "morality" of spending cuts and quotes President Barack Obama.
Horsford becomes majority leader today at a time when the state is suffering through its worst recession since the largely forgotten mining collapse in the 1880s and 1890s, which was harder on Nevadans than the Great Depression.
Assembly Speaker Barbara Buckley, D-Las Vegas, Horsford and other legislators intend to work starting Tuesday on a new budget plan that could result in asking taxpayers to pay more.
Why tax already suffering Nevadans?
Republican Gibbons' $6.17 billion plan is "ridiculous and irresponsible" and will drive Nevada toward mediocrity, Horsford said.
With tax revenues declining for the past year and a half, Gibbons has proposed a two-year general fund budget that is 9.3 percent less than the one legislators backed in 2007. The proposal cuts state support for higher education by 36 percent.
"You cannot make such draconian cuts to higher education. How can you cap health care for children when there are 3,000 children on a waiting list to get in?
"Cutting teacher salaries is the same thing as putting a tax on teachers of the state. We can do better."
At noon, Horsford becomes the first black to hold the majority leader's post. At 35, he is the youngest majority leader in Nevada's recorded history.
Unemployment has reached 9.1 percent, the highest in nearly 26 years. But Horsford has hope.
What's more, his party has a 12-9 majority in the Senate and a 28-14 veto-proof advantage in the Assembly.
He is encouraged, he said, because Obama is bringing a more optimistic spirit to America, and the new president reaches across the aisle to his political foes.
If Obama can do that in Washington, then, Horsford said, Nevada legislators can work together and craft a budget that does not hurt its public servants, students and the poor.
Gibbons has known Horsford only a short time and doesn't like all of the criticism he receives from Democrats. Nonetheless, the governor offered praise.
"I have come to respect him greatly." Gibbons said. "He has a different political philosophy, but I have the utmost respect for Steven."
Horsford said he worked with the governor two years ago on an empowerment school plan under which individual schools set many of their own teaching policies. A bill was approved, but then the plan was scrapped in the wake of budget cuts.
"I respect the role and office of the governor," Horsford said. "This current governor has not provided the vision the state needs. That said, we will work with him. We will work in a bipartisan fashion."
Horsford and Gibbons early in their careers both worked in the mining industry.
"When you have similar background and interests, there is a common ground," Gibbons said. "I hope we can work together. I hope partisanship does not get in the way."
Horsford intends to create a new spending plan that does not dramatically cut education spending, reduce state salaries or leave the needy unable to find doctors. There will be cuts, he added, but not nearly as much as Gibbons wants.
"The governor would leave children in medical need without a safety net during a time when they need help the most. I think that is morally wrong."
Horsford was reared in a family that included drug addicts. His father was murdered when he was 19.
He credits teachers at Clark High School with instilling in him a "Yes I Can" attitude. He became a student government leader and a member of the debate team, both in high school and at the University of Nevada, Reno.
While in college, he served as a legislative intern during the 1993 session. Former Assemblyman Wendell Williams and Clark County Commissioner Lawrence Weekly mentored him as he moved into a political life with his election to the Senate in 2004.
In his private life, Horsford runs Nevada Partners, a non-profit organization that provides job training for people in Southern Nevada.
He and his wife, Sonja, an assistant professor in the educational leadership program at UNLV, are the parents of three children.
Horsford said that without his wife's support, he could not have a political life.
"Public service is a family effort. A lot of time I am not available," he said, adding that family members "give up a lot."
Horsford served as the state chairman for Obama's presidential campaign.
Like 2 million others, he attended the Jan. 20 inauguration in Washington, D.C.
He recites almost verbatim a telling phrase from Obama's address:
"The question we ask today is not whether our government is too big or too small, but whether it works — whether it helps families find jobs at a decent wage, care they can afford, a retirement that is dignified."
Contact Review-Journal Capital Bureau Chief Ed Vogel at 775-687-3901 or evogel@reviewjournal.com
Majority Leader Steven Horsford's opening remarksCALLERS CAN GET ANSWERS ABOUT LEGISLATUREThe state Library and Archives will help citizens with their questions about the Legislature through a hot-line phone service. Call 1-800-995-9080 between 8 a.m. and 5 p.m. weekdays and ask for the legislative hotline. Operators will provide the status and summary of bills, committee agendas and schedules, legislator contact information, legislator voting records and identification of bills by subject. Hot-line operators also will tell callers how to receive copies of bills and help them navigate the legislative Web site(http://www.leg.state.nv.us/). Gov. Jim Gibbons' full budget can be found atwww.nevadaspending.com. The hot line will be open through the end of the Legislature on June 1. REVIEW-JOURNAL