McConnell pays tribute to Nevada's Sen. Dean Heller
Updated November 29, 2018 - 4:16 pm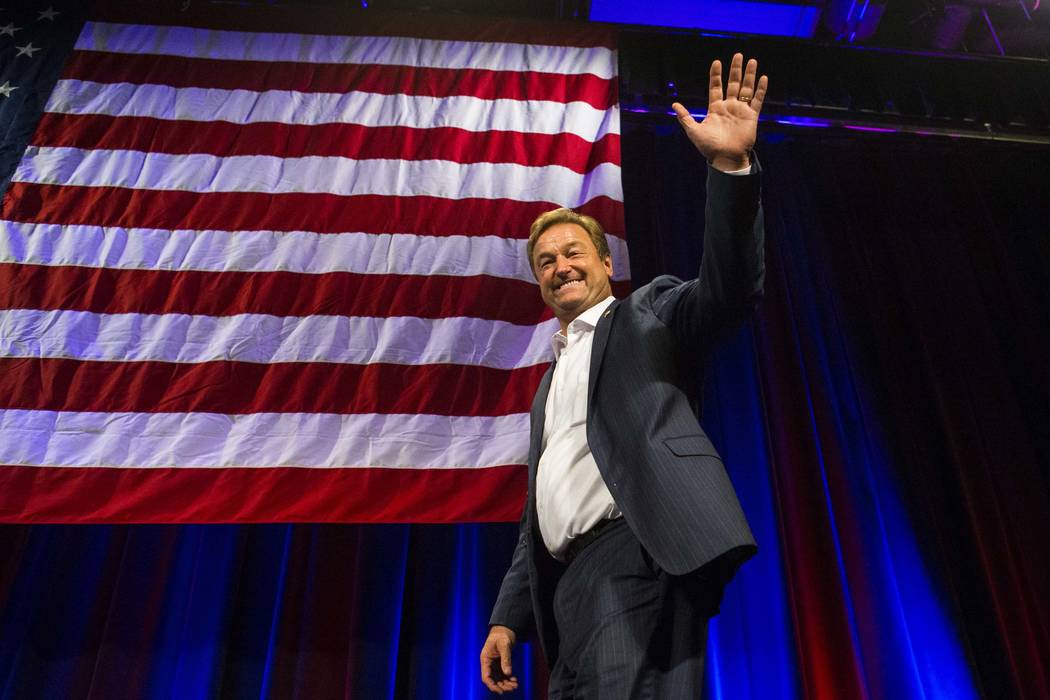 WASHINGTON — The top Republican in the Senate, Majority Leader Mitch McConnell, paid tribute Thursday to Dean Heller, the only GOP senator to lose a reelection bid this month.
McConnell said Heller pushed an economic agenda during his two terms, fought for Nevada homeowners during the housing crisis and helped reform veterans health care services in the state.
"Today, Nevada's doing better. Our nation is flourishing, and Dean Heller was there every step of the way," McConnell said in a Senate floor speech.
Heller, 58, of Smith Valley in Northern Nevada, lost his bid for a third term on Nov. 6. He was defeated by Rep. Jacky Rosen, a Democrat who represented the congressional district based in Henderson.
Heller had received the backing of President Donald Trump, who nudged a GOP primary opponent, Las Vegas lawyer Danny Tarkanian, out of the race.
McConnell praised Heller for being a "happy warrior" and working in the trenches for Nevadans.
Heller said later that the tribute underscored the "friendship that we have developed over the past seven years."
"His speech was from the heart, and I appreciate his reflection on my privilege of serving the people of the great state of Nevada in the United States Senate," Heller said.
Heller helped write 100 pieces of legislation that became law.
"Whatever it is Dean does next, he should take with him great pride in all he has accomplished here," McConnell said.
The majority leader said Heller's work ethic came from his working-class parents; he's the son of a school cafeteria worker and an automobile mechanic who raced stock cars.
"And their son grew up to be the only sitting senator I'd trust to replace my transmission," McConnell quipped.
Heller was appointed to the Senate in 2011 by Gov. Brian Sandoval, a Republican, to serve out a term when Sen. John Ensign, R-Nev., resigned. Heller was elected in 2012.
Prior to the Senate, Heller served from 2007-2011 in the House, representing Northern Nevada. He also previously served as secretary of state and in the Assembly.
Heller and his wife, Lynne, maintain a ranch and appear at parades on horseback.
McConnell said the couple "must be looking forward to saddling up their horses and setting out for the Sierras a little more often than they've been able to lately."
Contact Gary Martin at gmartin@reviewjournal.com or 202-662-7390. Follow @garymartindc on Twitter.