Mike Pence returning to Nevada to campaign for Dean Heller
Updated March 1, 2018 - 1:36 pm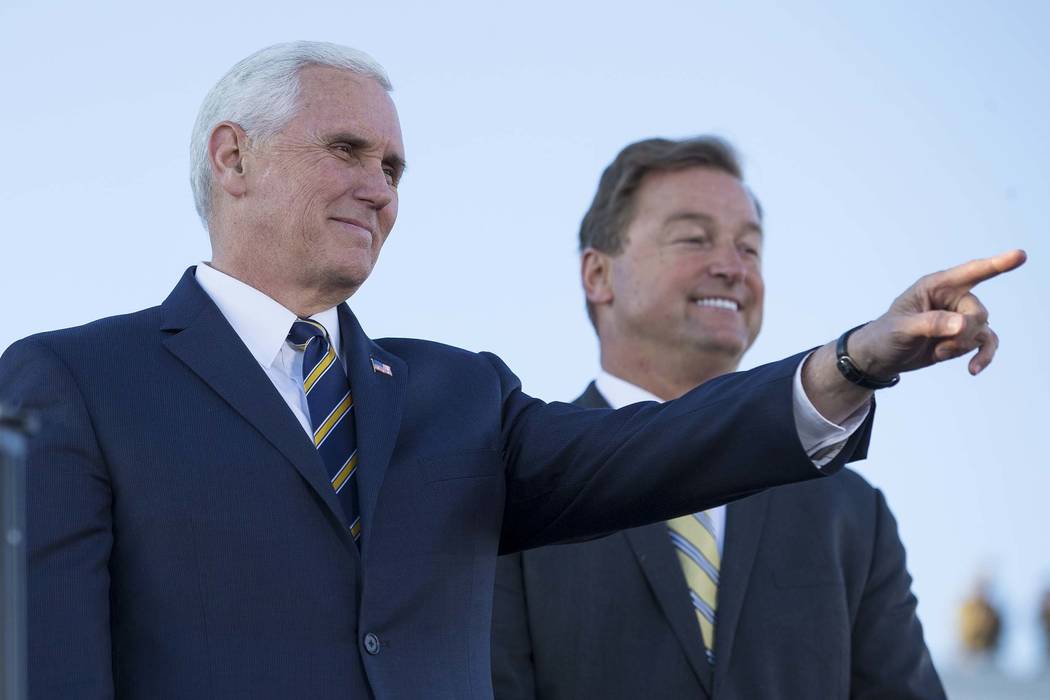 Vice President Mike Pence is headed to Las Vegas in April to campaign for Republican U.S. Sen. Dean Heller, marking the Pence's second visit to the Silver State this year.
The April 13 campaign event includes a $1,000-per-plate lunch to benefit Heller's re-election campaign. A 15-minute photo reception with Pence will kick off the event — but it will cost $10,000 to get a photo with him.
"The Pence visit is a smart move by national Republicans," said Eric Herzig, chair of the political science department at the University of Nevada, Reno. "He's had an on-again-off-again relationship with Trump, and Pence can talk to that part of the Republican base."
Heller, considered the Senate's most endangered Republican, faces an uphill battle for re-election. In the last quarter of 2017, Heller's fundraising haul lagged far behind Democratic U.S. Rep. Jacky Rosen. Rosen raised more than $1.5 million, while Heller raised $820,687.
"Sen. Heller jumped off President Trump's ship when it was sinking, and now that he's drowning in his Republican primary he's shamelessly trying to climb back on board," said Stewart Boss, a spokesman for Rosen's campaign. "Dean Heller has no core beliefs and will always do what's politically convenient to try to save his career. If Sen. Heller makes it to the general election, running as a spineless rubber stamp for Trump's White House is clearly a losing strategy."
Heller is the only GOP senator seeking re-election in a state won by Hillary Clinton in 2016.
Heller is also fending off a primary opponent, Danny Tarkanian, who slammed the incumbent senator over his wavering support of Donald Trump and "flip-flopping" on issues such as immigration, funding Planning Parenthood and repealing the Affordable Care Act.
"I think Heller needs the vice president to come out here and do a fundraiser for him because he needs to raise twice as much money to defend both sides of each issue he's been taking," Tarkanian said. "I don't believe he has strong conservative convictions."
The Heller fundraising luncheon begins at noon on April 13 at an undisclosed location. To attend, RSVP to Tim Perez by calling (702) 242-1414 or email tperez@octoberinc.org.
Pence also stopped in Nevada in January to attend Air Force events with Heller. Pence spoke at the grand opening of AFwerX, a $2 million Air Force program designed to attract entrepreneurs and innovators to improve Air Force operations. He also addressed airmen and their families at Nellis Air Force Base.
Contact Ramona Giwargis at rgiwargis@reviewjournal.com or 702-380-4538. Follow @RamonaGiwargis on Twitter.