More ethics complaints filed in Heller-Rosen Senate fight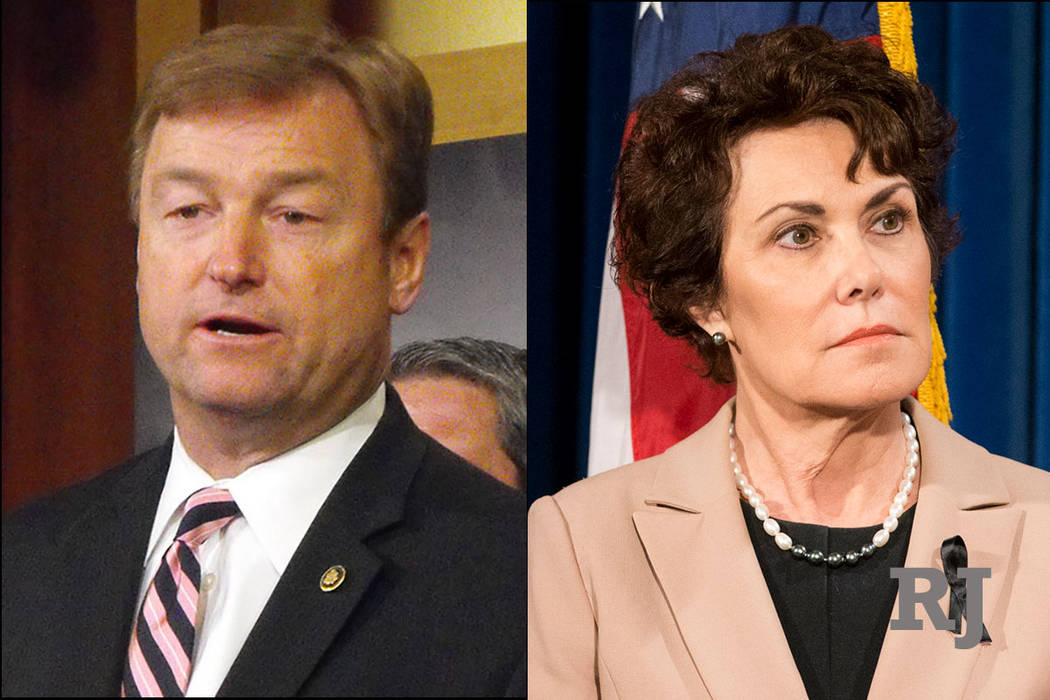 Two Nevada political parties filed new ethics complaints against Republican U.S. Sen. Dean Heller and Democratic opponent U.S. Rep. Jacky Rosen, the latest salvo in Nevada's contentious Senate race.
The complaint against Heller is the fourth filed by the Nevada Democratic Party, this time alleging that campaign ads on at least 10 electronic billboards fail to disclose who paid for the ads.
Election law requires all campaign materials disclose who paid for them.
"Once again, Sen. Heller has been caught breaking the rules in a desperate effort to boost his failing campaign," said Nevada State Democratic Party Chair William McCurdy II. "Nevadans have come to know Sen. Heller as nothing more than a desperate, self-serving career politician who will do anything to stay in office. These ads appear to violate campaign finance laws and FEC regulations, and they raise serious questions about the Heller campaign's continued unethical conduct. We are calling on the FEC to investigate these improper ads, figure out how widespread this problem is, and use is authority to take enforcement action."
Heller's campaign spokesman dismissed the allegation as a distraction from real issues.
"This is a meritless complaint meant to distract voters from Rosen's inability to get results for Nevada," said Keith Schipper, Heller's communications director. "This ad was done by a third party and was not paid for or authorized by our campaign."
The Republican Party's complaint against Rosen called for the House Committee on Ethics to investigate a Feb. 24 email that apparently asked people to help her save net neutrality. After recipients clicked on a link and submitted their name and contact information, they were asked to take a survey and donate money to Rosen's campaign.
Tying the solicitation of money to a promised legislative action is illegal, the complaint said.
"This is a desperate and disingenuous attempt to distract from Sen. Heller's extensive record of unethical behavior, and the incompetent staff at the Nevada GOP seem to have accidentally admitted that Heller is guilty of impermissibly using his taxpayer-funded office for political purposes to help his re-election campaign," Rosen spokesman Stewart Boss said. "The complaint has no merit, and any intelligent person who reads the email could figure that out."
Munford will chip in
Las Vegas City Council candidate Harvey Munford will donate half of his city salary to Ward 5 schools, if he's elected later this month. Munford, a former educator and Nevada assemblyman, would direct the roughly $39,000 to school supplies to be shared among the 22 schools in the ward. Munford is among 11 candidates who will appear on the ballot in the March 27 special election.
"If elected, I will have a full plate of Ward 5 issues to address but improving our schools and graduating our kids has to be a top priority for me and all our community leaders."
Endorsements
■ After Democratic Assemblyman Elliot Anderson announced he won't seek re-election, four Democrats have jumped into the race to replace him: Juan Manuel Chavez, Michael Gandy, Andrew Bryan Spivak and Howard Watts III. Watts landed the endorsement of the Nevada Assembly Democratic Caucus.
■ Laborers' Union Local 169 endorsed Democratic Senate Majority Leader Aaron Ford for attorney general.
Events
— Victoria Seaman, one of nine Republicans running in the 3rd Congressional District, is hosting a fundraising brunch and fashion show on April 7. Tickets are $100. For details, contact Charity Stevens at 202-701-5487 or charity@victoriaseaman.com.
Contact Ramona Giwargis at rgiwargis@reviewjournal.com or 702-380-4538. Follow @RamonaGiwargis on Twitter.
Review-Journal writer Jamie Munks contributed to this report.