Murder victims' families testify in favor of DNA testing legislation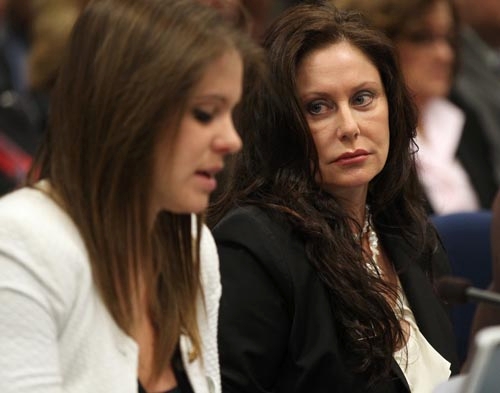 CARSON CITY — Jayann Sepich endured more than three agonizing years: from the day her daughter Katie was raped and murdered and her burned body was dumped near her New Mexico home until the man who killed her was convicted.
She doesn't want anyone in Nevada to endure the same thing.
"Our family fell into a pit so deep, so black, that we felt we would never see light again," Sepich said, describing the ordeal. "All joy was gone."
That's why she and relatives of another murder victim, Brianna Denison, testified Wednesday in favor of Assembly Bill 552, a measure that would have police gather DNA samples from people arrested for felonies and certain sex offenses.
Had such a law been in place earlier in New Mexico or Nevada, the Sepich and Denison families believe the men who killed Katie and Brianna might have been caught sooner.
That's because both men had been previously arrested and investigators in the Sepich and Denison cases would have submitted crime scene samples to a DNA database and probably would have gotten a match.
"If this law isn't passed, we will see repeats of the same horrible crimes that could have been prevented," Bridgette Zunino-Denison, Briana's mother, told the Assembly Judiciary Committee.
Denison was abducted from a friend's home in Reno in January 2008, and her body was found a month later. James Biela was later convicted and sentenced to death for killing her and assaulting two other women.
Edward Smart, whose daughter Elizabeth was kidnapped from the family's Utah home in 2002, also spoke in favor of the bill. Although his daughter was returned to him, Smart said, he is part of a club "no one wants to belong to." The motivation behind AB552 is simple: "The bottom line is we love our children and don't want to see them suffer."
DNA samples from SUSPECTS targeted
The Assembly Ways and Means Committee, chaired by Assemblywoman Debbie Smith, D-Sparks, sponsored AB552 with support from Assembly Speaker John Oceguera, D-Las Vegas, and prosecutors and police agencies from Clark and Washoe counties.
The idea is to collect the DNA when a suspect is arrested, rather than wait for conviction, similar to what happens with mug shots and fingerprints.
An increase of $1 for every $10 in fines or fees imposed on people convicted of misdemeanors or felonies would pay for the new system, according to the bill. That would allow police to compare the DNA to a database to match evidence from unsolved crimes sooner.
Under the bill, the DNA could be included in an FBI database called CODIS and compared to people who have been arrested or convicted elsewhere.
"It increases the number of people who are in the database," said Frank Adams, executive director of the Nevada Sheriffs and Chiefs Association.
Adams compared it to 1985 when Nevada and other Western states created a computerized fingerprint network.
That system allowed police to compare unidentified, or latent, crime scene fingerprints with prints of people who had been arrested or convicted elsewhere.
"We had no idea who the latent belonged to until we put it in the automated system," Adams said.
Still, he said, matching a fingerprint or DNA from a crime scene with a database doesn't necessarily solve a crime.
"All that is is just a lead," Adams said. "That doesn't mean the person has committed the crime."
Civil libertarians FEAR PROBLEMS
Public defenders from Clark and Washoe counties and the American Civil Liberties Union of Nevada testified against the bill.
If the bill is deemed to be unconstitutional, they said, it could mean people convicted through use of its provision could be freed, even if they were guilty.
"Federal courts are all over the map," said Orrin Johnson, a Washoe County public defender describing rulings on similar laws that have been enacted in 24 states, including New Mexico after the Sepich slaying, and at the federal level.
"The argument is whether or not this crosses a constitutional line that will put future convictions at risk," he said.
Johnson and Rebecca Gasca, a lobbyist for the ACLU, said many courts do not think that DNA samples are akin to fingerprints or mug shots. People who have not been convicted of a crime have a higher expectation of privacy, she said.
"It is not as clear if they are going to apply that same privacy standard to people who have not yet been convicted," Gasca said.
She also questioned assurances from AB552 proponents that people who are found not guilty can be assured there will be a credible process to have their DNA data expunged from the database.
"There is no way that the state can actually require that something be expunged from CODIS," Gasca said.
Judiciary Committee members appeared unswayed by opposition testimony and the suggestion that lawmakers should wait for more court rulings before approving a version of the bill.
"We only meet every two years. That is why we are here," said Assemblyman Mark Sherwood, R-Henderson. "We don't defer."
The Associated Press contributed to this account. Contact reporter Benjamin Spillman at bspillman@
reviewjournal.com or 702-477-3861.