Nevada Assembly kills 'campus carry' gun amendment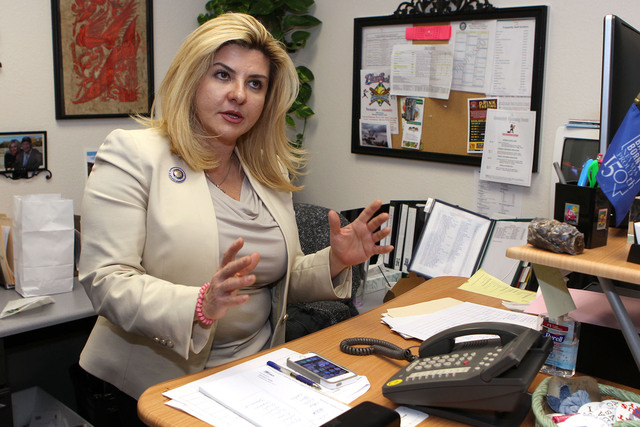 A "campus carry" amendment that would have allowed firearms on college campuses in Nevada was removed from a gun bill Thursday.
The Assembly voted 24-18 to kill the controversial proposal. The rest of the bill is still alive.
But Assemblywoman Michele Fiore, R-Las Vegas, still intends to make a long-shot effort to revive the issue in the waning days of the session, which must end by June 1. She said she's not giving up and hopes to attach the amendment to a different bill.
The amendment proposed to Senate Bill 175, authored by Fiore and Assemblyman Ira Hansen, R-Sparks, would have allowed those with concealed weapons permits to carry their weapons on college campuses.
There has been widespread, but by no means unanimous, opposition to that proposal from students, faculty and administrators of the Nevada System of Higher Education.
Fiore and Assembly John Hambrick, R-Las Vegas, also had a public spat that led to her being temporarily barred from the Assembly floor for the day. She later apologized for storming off and was allowed to return. The fight stemmed from Fiore's push for a roll call vote, which Hambrick denied.
After a voice vote failed to show how many Assembly members favored the amendment, Hambrick called for lawmakers to stand up if they supported it.
The intact provisions of Senate Bill 175 would expand and clarify Nevada's justifiable homicide law and prevent people convicted of misdemeanor domestic violence from possessing firearms.
It further would prohibit anyone under an extended protection order from acquiring weapons during the time the order is in effect and abolish Clark County's "blue card" ordinance requiring registration of firearms, a local law that has been on the books for more than six decades.
SB175 would also expand the current law recognizing other states that offer concealed carry permits and allowing residents of those states to carry weapons in Nevada. States that require a class, program or training to obtain a permit would be granted reciprocity, expanding the number of such states by about 10.
SB175 is expected to come up for a final vote in the Assembly on Friday and go to the governor for a signature.
Hambrick barred Fiore from the Assembly floor for the day after she stormed out of the chamber. She was allowed back in after publicly apologizing to her Assembly colleagues.
"I want to apologize to the body for storming off," Fiore said.
The dust-up happened when Fiore requested a roll call vote, which Hambrick denied.
She then requested a one-minute recess to discuss the matter. After Hambrick didn't allow that either, she walked out, slamming the door behind her.
In her legislative office, Fiore told the Review-Journal she's seeking advice from the Legislative Counsel Bureau as to whether any rules were violated when Hambrick denied a roll call vote.
Fiore said it's important to have the votes of Assembly members entered into the record.
She also decried the fact that eight of her fellow Republicans voted against the amendment.
Fiore said she intends to seek a similar "campus carry" amendment in another bill this session, but declined to identify which bill so she wouldn't show her hand to opponents.
Hambrick later said his decision not to allow a roll call followed the rules, per the advice he received the LCB.
Currently, concealed weapons are prohibited on campuses unless an individual obtains permission from the college president. Permission is rarely granted. Nevadans must be at least age 21 to have a concealed weapons permit.
Contact Ben Botkin at bbotkin@reviewjournal.com. Find him on Twitter: @BenBotkin1.

RELATED STORIES
Assembly panel hears support for gun law reform bill
Gun background bill clears Senate, moves to Assembly
Campus carry gun bill sent to Nevada Assembly floor
Nevada gun bill makes it illegal for domestic violence convicts to own guns
Gun, pot initiatives appear headed to the ballot
Nevada rape victim tells her story at gun campus-carry hearing
See all of our coverage: 2015 Nevada Legislature.
RELATED
Campus carry added to another gun bill, clears Assembly panel
Campus carry gun bill dies for Nevada legislative session