Nevada bans dog breed discrimination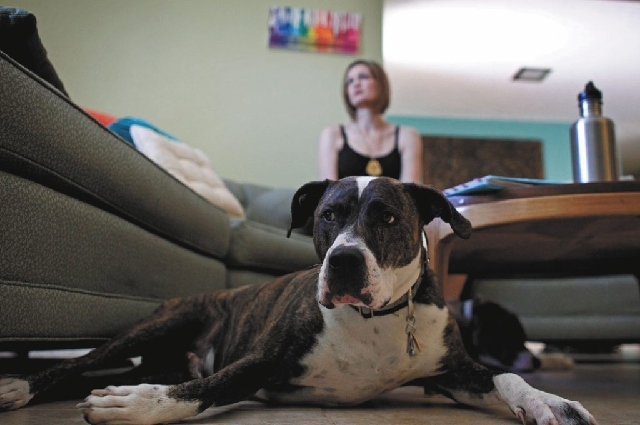 When visitors stop by the Clemens home, Duke and Louis barrel toward them, jump in their laps and sniff them.
"Don't worry, they're friendly," their owner, Jesica Clemens, says.
Duke, a pit bull mix who turns 6 next month, and Louis, a 4-year-old pit bull, were rescued years ago by Clemens, founder of a nonprofit called Incred-A-Bull that aims to restore the positive image of "pit bull-type" dogs.
Incred-A-Bull is one of many animal rights advocacy groups celebrating the passage of Assembly Bill 110, which prevents local governments from enacting laws against a dog, or any other family pet, based solely on its breed.
"We've faced a lot of discrimination based on the way these guys look just from people in the neighborhood, people in town," Clemens, 38, said. "They're all individuals just like we are all individuals, and they deserve to be treated and acknowledged as such."
Gov. Brian Sandoval signed the bill May 24, making Nevada the 14th state to prohibit breed-specific legislation. The bill goes into effect Oct. 1.
The new legislation allows local governments to continue passing laws that target dangerous or vicious dogs so long as the laws are free from breed bias.
This upholds current Nevada law, which says a dog may be euthanized if law enforcement deems the dog "dangerous" or "vicious," such as in the case of Onion, a 120-pound mastiff-Rhodesian mix who remains in Henderson Animal Control custody after fatally attacking his owner's 1-year-old grandson in April 2012.
The Nevada Supreme Court has scheduled a July 3 hearing to determine Onion's fate after a New York-based rescue group, The Lexus Project, intervened in the hopes of sending Onion to an animal sanctuary in Colorado.
The bill's elimination of breed-specific laws has received large support from the Henderson Police Department and Animal Control division, a spokesperson said. It also received widespread support in the Nevada Legislature with a 40-0 vote in the Assembly and a 20-1 vote in the Senate. The sole opposing vote was made by Sen. Debbie Smith, D-Sparks. She could not be reached for comment Thursday.
Assemblyman James Ohrenschall, D-Las Vegas, the bill's primary sponsor, said he was pleased to see it pass, and that local governments should evaluate problem dogs on a case-by-case basis rather than place a blanket ban on any breed.
"All the evidence I've seen where local governments enacted laws that are breed specific, it doesn't work out positively for the owners and the dogs," Ohrenschall said. "A lot of dogs are destroyed who are not dangerous and who aren't vicious."
Ohrenschall pointed to Denver's ban in 2006 on the ownership, transportation or sale of pit bulls as an example of unnecessary legislation that forced pit bull owners citywide to give up their dogs.
Clemens, who is from Denver, called its ban on pit bulls a shame.
"My dad still lives there, and he constantly tells me, 'Come home! Bring the dogs,'" Clemens said. "Well, I'm not going to bring my 'kids' to a place where someone can knock on the door and seize them and kill them just because of the way they look. That's like Nazi Germany in my mind."
She added, "It's a really slippery slope when you allow that kind of discrimination into your public policy."
Contact Melissah Yang at myang@reviewjournal.com or 702-383-0491. Follow her @MelissahYang.