Nevada businesses got nearly $6B in federal paycheck loans
Updated July 7, 2020 - 5:40 pm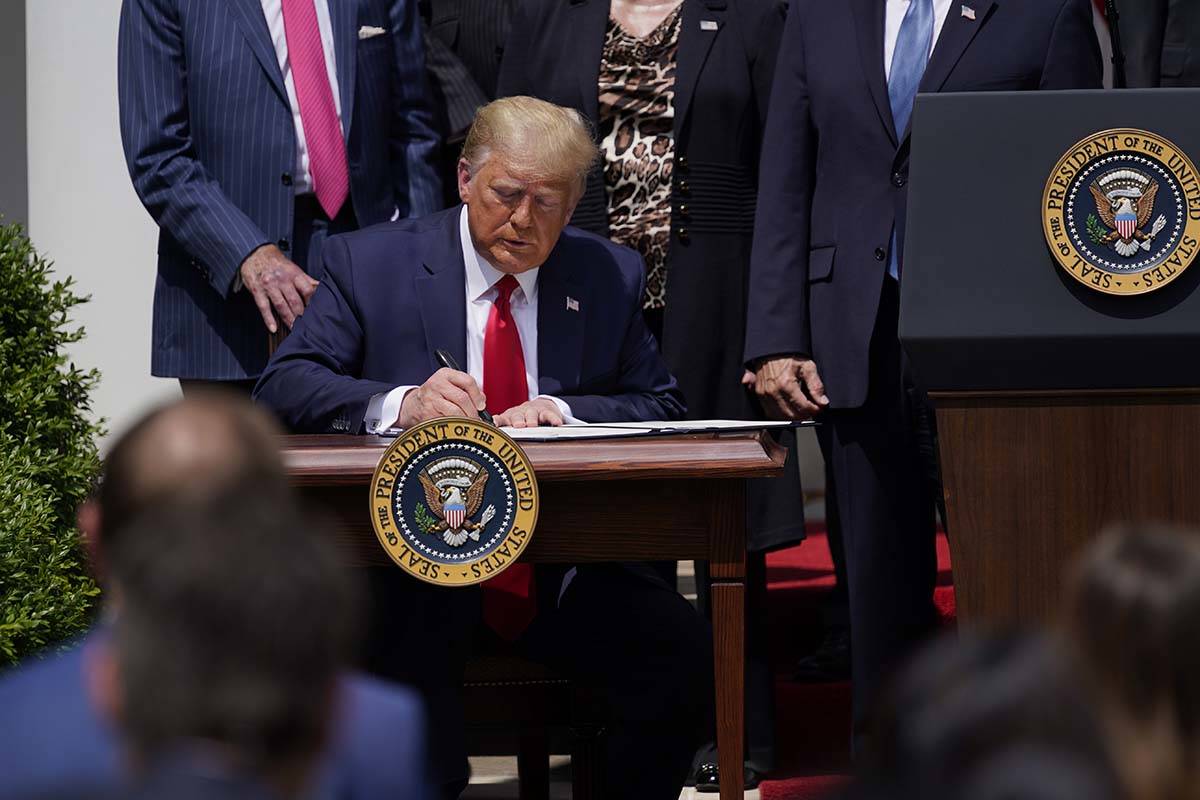 CARSON CITY — More than 42,000 Nevada businesses received pandemic-related small-business loans ranging from just a few dollars to as much as $10 million, telling the federal government that the up to $6 billion combined sum would help them preserve more than a half-million jobs in the state.
But federal records on the loan program show that more than 4,400 Nevada firms listed no jobs that would be retained with the funds they received, including 210 firms that received at least $150,000. More than 29,000 promised 10 or fewer jobs, and 3,717 firms listed no job figures at all.
The information on Nevada loans comes in the release of data Monday by the Small Business Administration on the $660 billion Paycheck Protection Program, authorized as part of the $2 trillion CARES Act for COVID-19 pandemic relief. About $521 billion in loans has been distributed.
The SBA data has gaps. Firms that received as much as $150,000 are categorized by industry and listed with specific amounts received, but are not identified by name. In Nevada, 36,586 businesses received loans of $150,000 or less.
Companies that received loans of at least $150,000 up to $10 million are named, with the amounts listed as a range. In Nevada, 631 businesses received loans of at least $1 million: 25 businesses received between $5 million and $10 million; 175 got between $2 million and $5 million; and 432 got $1 million to $2 million. A total of 5,542 businesses got loans of $150,000 or more.
Loans versus jobs saved
Nationwide, the records list 660,000 small businesses and nonprofit organizations that received at least $150,000 in funding
The smaller loans of $150,000 or less to Nevada businesses total a little more than $1.2 billion. Loans of more than $150,000, reported as a range, total from $1.96 billion to as much as $4.75 billion. At the top end of the range, the combined loans to Nevada businesses could reach $5.96 billion, or about 1.1 percent of the total distributed nationwide.
As part of the filing, businesses applying for the loans listed the jobs that would be retained with help from the loans. Businesses that received $150,000 or more in aid pledged a combined 305,664 retained jobs, and businesses that received up to $150,000 pledged to retain 220,019 jobs, for a combined total of 525,683.
That number is almost equal to the job losses Nevada has seen since the onset of the pandemic-created unemployment surge. From the week ending March 14 to the week ending June 27, Nevada reported 528,350 initial unemployment claims, with nearly 287,000 full-time workers still unemployed at the end of June.
Top recipients by business, city
The 25 Nevada businesses that received between $5 million and $10 million cover a range of industries and professions including farming, health care and medical staffing, advertising and marketing, publishing, contracting, professional and legal services, fast-food restaurants, gas stations and nonprofits, including the Roman Catholic Diocese of Las Vegas. Of those 25 businesses, 18 are in the Las Vegas Valley, three in the Reno/Sparks area, and one each is in Carson City, Gardnerville, Mesquite and Yerington.
As expected, Nevada's largest cities dominated in terms of recipients and amounts received. Nearly 20,800 Las Vegas businesses, not identified by name in the records, received individual loans up to $150,000 that total $662.7 million, an average of $31,884 per business. Reno and 4,772 businesses received a combined $173 million, or $36,412 on average. Henderson, Sparks and North Las Vegas were third, fourth and fifth, respectively.
For businesses that received $150,000 or more, 3,180 Las Vegas firms shared at least $1.13 billion and as much as $2.73 billion, according to the range provided. In Reno, 778 firms shared between $263.5 million and $637 million. Henderson, Sparks and North Las Vegas again rounded out the top five.
Contact Capital Bureau reporter Bill Dentzer at bdentzer@reviewjournal.com. Follow @DentzerNews on Twitter.
PPP Loans in Nevada by Las Vegas Review-Journal on Scribd