Nevada candidate Horsford unveils prescription drug plan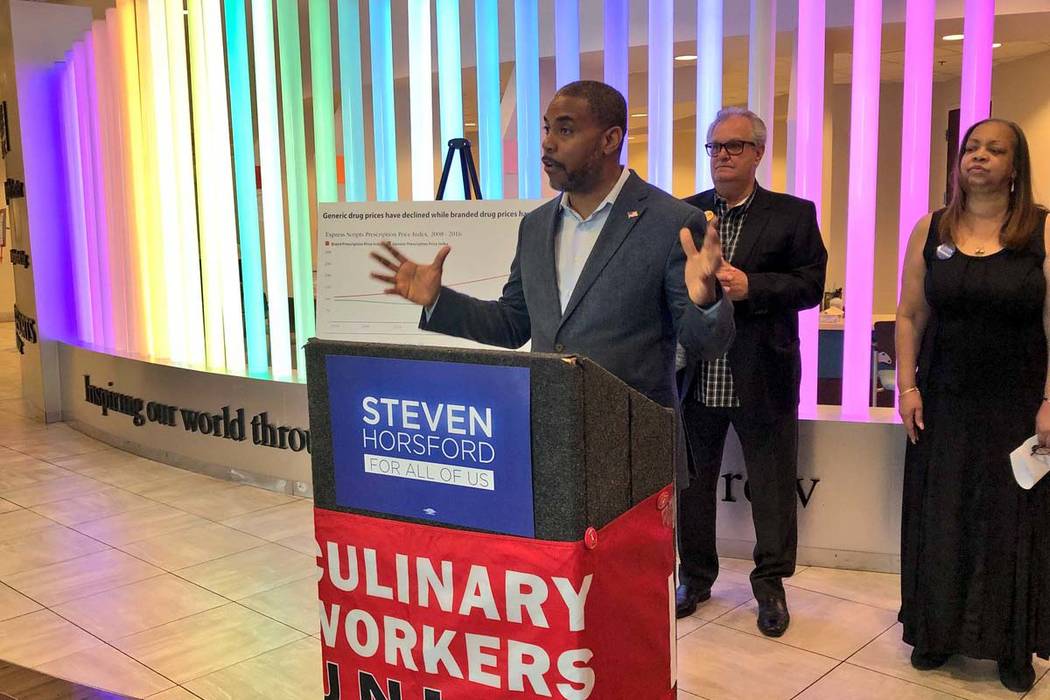 Having survived heart surgery five years ago, former U.S. Rep. Steven Horsford — who's running for his old congressional seat — unveiled a plan Monday to lower prescription drug costs, increase access to generic drugs and hold pharmaceutical companies responsible for price gouging.
The Affordable Prescription Plan outlines a three-step approach. The first step is to bring generic drugs to the market faster, allowing quicker access for patients. The second step would empower patients to seek legal damages and make it easier for patients to sue drug companies that block access to generic drugs. The final step would establish a drug pricing commission with the authority to investigate drug market manipulation and to bring criminal or civil charges.
"Make no mistake. This will be a difficult fight. But the stakes could not be any higher. These are people's lives we are talking about," Horsford said during a news conference with Culinary Local 226 on Monday. "Prescription drugs are a trillion-dollar industry, and it will take all of us to win against their army of lobbyists."
In 2013, Horsford went to the doctor for a routine checkup and learned he needed a risky six-way open-heart bypass surgery. The 45-year-old said he now takes a "series of medications" and may have to do so for the rest of his life.
"I survived my close call and was able to receive the medical attention I needed," Horsford said. "But I shudder at the thought of so many of our neighbors and seniors facing near-death experiences as they ration the pills they can barely afford."
State Sen. Yvanna Cancela, D-Las Vegas, who in 2017 introduced a bill to increase drug price transparency, said 12 percent of all Nevadans have diabetes, but that figure is expected to reach 34 percent in three years.
"Those numbers are a public health crisis," Cancela said Monday. "And at the same time we've seen the cost of insulin rise anywhere from 100 to 1,000 percent."
The senator said 12 percent of all health care spending is for drugs, and those costs have doubled — forcing people to choose between keeping their lights on or taking lifesaving drugs.
Tanya George, a 62-year-old retired financial analyst, said she had to choose between paying rent or buying insulin medication.
"There was a time when I couldn't afford my diabetes medication and I had to take drastic measures to get lifesaving medication," said George, who was diagnosed with Type 2 diabetes two decades ago and had to pay $240 every two weeks for insulin. "It's still a struggle."
As part of the plan, Horsford, who represented Nevada's 4th Congressional District from 2013 to 2015, is asking Nevadans to submit stories about their battle with rising drug costs on a new website.
Also Monday, the Culinary union — Nevada's largest labor union, with 57,000 members — endorsed Horsford. He is running in a crowded Democratic June 12 primary that includes high school principal John Anzalone, state Sen. Pat Spearman, state Regent Allison Stephens, Amy Vilela and Sid Zeller.
"We know (Steven) is going to fight for the working people," said Geoconda Arguello Kline, secretary-treasurer of the union.
Six Republicans are running for the seat, including former Rep. Cresent Hardy, who, like Horsford, held it for one term.
Contact Ramona Giwargis at rgiwargis@reviewjournal.com or 702-380-4538. Follow @RamonaGiwargis on Twitter.