Nevada Democrats will not hear ESA bill
Updated March 24, 2017 - 9:35 pm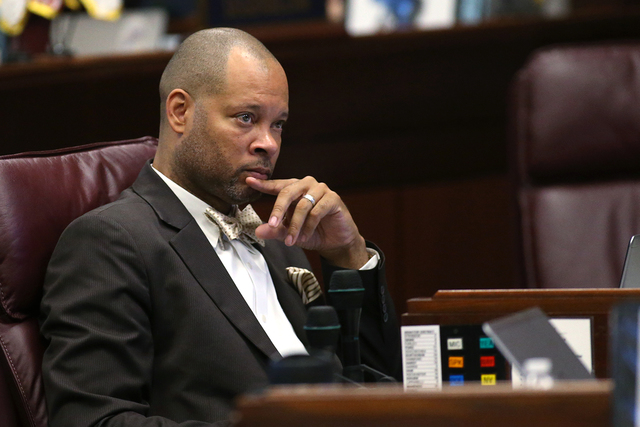 CARSON CITY — Senate Democrats will not consider a Republican bill to resurrect education savings accounts, Majority Leader Aaron Ford told reporters Friday.
"No," the Las Vegas Democrat said when asked if Senate Bill 359, sponsored by Senate Co-Minority Whip Scott Hammond, R-Las Vegas, would get a hearing.
Hammond's bill, introduced Monday, would appropriate $60 million for the program that Gov. Brian Sandoval included in his budget proposal. It would also cap enrollment in the program at 5 percent of the average daily enrollment of pupils in a school district in any given school year.
Education savings accounts were a Republican priority in 2015, when the GOP controlled both the Senate and the Assembly. The Nevada Supreme Court upheld the law allowing the use of taxpayer dollars to pay for private school, but it said the program cannot be funded from an account reserved for public schools.
Fast forward to 2017.
Democrats, who are uniformly opposed to the school voucher-type program, now have control of both chambers.
"I think the general opposition to the concept is sufficient, frankly, for us to not be considering public money going to private schools, and that's what that voucher program does," Ford said.
But the Democrats' objections don't mean education savings accounts are dead this session. Sandoval's office will sponsor its own legislation to implement the program. The bill is likely to be introduced Monday.
Ford did not outright dismiss whatever the Republican governor may propose.
"We'll take a look at the governor's bill when we get it and make a determination afterwards," Ford said.
"At this point our focus is on public school education and public money being spent on it," he said.
The fate of ESAs are likely to be a key bargaining chip toward the end of the session.
Democrats lack the margins needed to override a governor's veto. Republicans could use ESAs in exchange for helping Democrats save one of their priorities that might otherwise be doomed by Sandoval's veto pen.
Contact Sandra Chereb at schereb@reviewjournal.com or 775-461-3821. Follow @SandraChereb on Twitter.